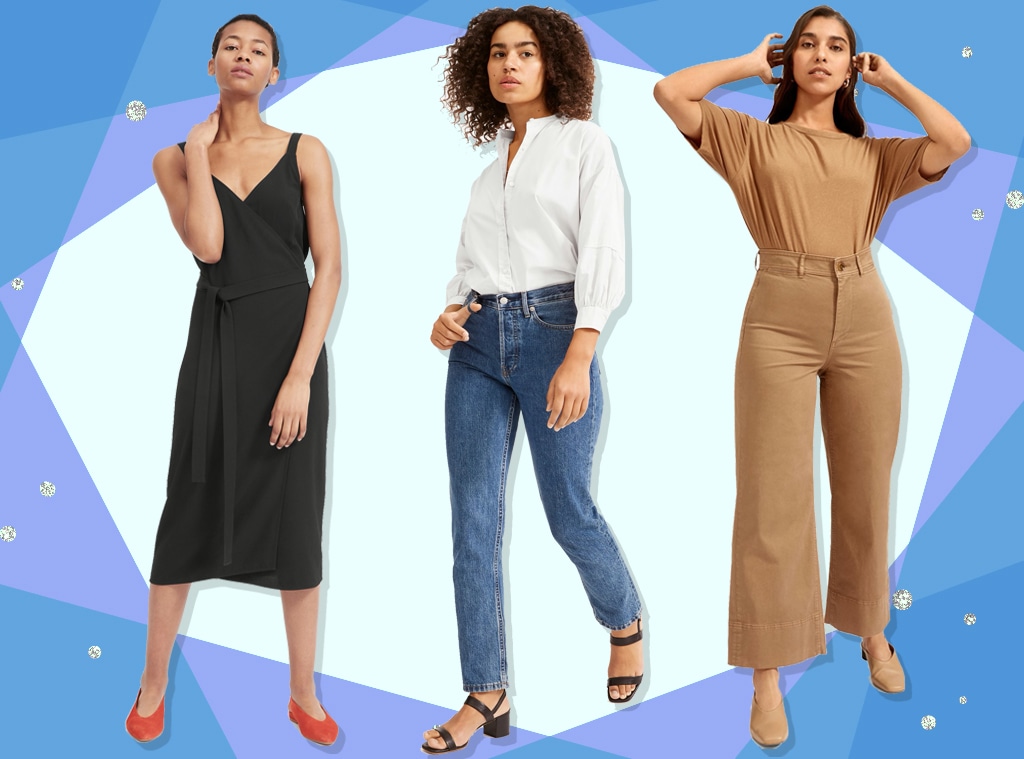 We think these products are useful and we hope you do too. E! has affiliate relationships, so we may get a small share of the revenue from your purchases. Items are sold by the retailer, not E!.
Do not pass go, do not collect $200: Everlane's Choose What You Pay Sale is back, and it's packed with deals you won't want to miss!
If you've never shopped an Everlane sale, you should know they're not like everyone else's sales... and that's because you get to choose what you want to pay! Granted, they give you a scale to choose from, but ultimately it's up to you if you want to take a lighter discount (and in turn, offer further support to their transparent production chain), or if you want to opt for a deeper discount and go ham by buying even more. Either way, make sure you grab what you love fast... 'cause these deals aren't going to last forever, and Everlane fans are snapping them up quick!
There's so much sale goodness to choose from that we almost don't know where to start, but we picked out a handful of our faves and shared them below to get you started. Who knows? You might find a new wardrobe favorite!
The Lightweight Wide Leg Crop Chino
The Collarless Air Shirt
Guess what? We have this shirt, too (we really love Everlane!). It's another summer classic in the making for the same reason as the chinos, with a cute 3/4 sleeve, relaxed silhouette, and breathable cotton that gets softer every time you wash it.
The Japanese GoWeave Tank Wrap Dress
Okay, we don't have this dress, but we do have other things in Everlane's Japanese Go Weave fabric, and we highly recommend it. Sometimes "lightweight" can mean "wrinkle trap," but that's not the case with Go Weave. It somehow magically keeps its shape no matter what you put it through. And in this wrap-dress style, it'll drape your figure like magic.
The Day Glove
There's a reason why this shoe is an Everlane fan favorite: because it fits like a—wait for it!—glove. Made of buttery soft Italian leather that seems to form fit to your foot, you'll be able to run around all day with comfort and ease... maybe to the point where you forget there's shoes on your feet.
The Wide Leg Jean
Of course, we couldn't do an Everlane story without highlighting some of their Damn Good Denim. Their wide leg jeans are the stuff of legend, built on the same foundation that informs their wide leg crops, with a higher rise, a smidge of stretch, and pockets perfectly set to make your butt look its best.