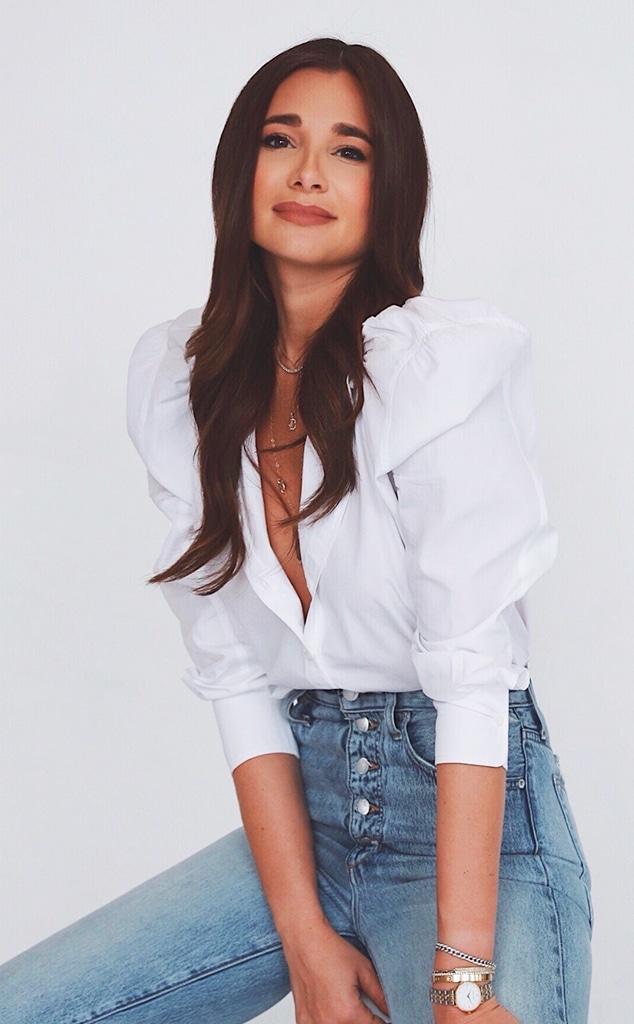 We love these products, and we hope you do too. E! has affiliate relationships, so we may get a small share of the revenue from your purchases. Items are sold by the retailer, not E!.
Before influencer was an aspirational career millions of girls would kill for, the modern equivalent of landing the job of Miranda Priestley's assistant if you will, Danielle Bernstein was one of the original fashion bloggers to help define the word.
Born and raised on Long Island, Bernstein started her blog We Wore What in 2010, when she was just 18, mostly just to document her daily outfits for her friends. But what started as a creative side-hobby turned into a full-blown career in the decade that's followed, with Bernstein amassing 2.4 million Instagram followers and launching a fashion empire that includes her own clothing line, collaborations with brands and major endorsement deals.
Now, the 27-year-old multi-hyphenate is adding author to her ever-growing list of job titles, with her memoir This Is Not a Fashion Story now available wherever books are sold. 
And if loyal We Wore What fans who've been following Bernstein for years think they already know her journey from struggling sophomore to CEO, they are missing out on the inspiring story's best chapters.
"Everything," Bernstein told E! News when asked what readers would learn about her through the pages of her intimate memoir rather than the curated grid on their feeds.
This Is Not a Fashion Story: Taking Chances, Breaking Rules, and Being a Boss in the Big City by Danielle Bernstein
"The way I grew up, how I, how I became the way that I have my past relationships, my business successes and failures," she continued. "It's like it's how to make it in New York through my eyes and my story. It's chockful of so much advice. There's a ton of advice in there. Somebody referred to it as a modern-day version of Sex in the City, which I love."
Even if someone isn't an avid follower of We Wore What or constantly double-tapping Bernstein's OOTD posts, the mega-influencer is hoping they "will feel like they are a lot closer to me. I hope that they will feel inspired and motivated by [my story]."
Given her longevity in the influencer space and how she's been able to build an emerging fashion empire through social media, Bernstein has become an inspiration to many. But she's far from finished when it comes to her aspirations for her ever-growing career.
"I think it's continue to grow, continue to expand," she said of her hopes for the next 10 years of We Wore What. "I like to think of myself as a serial entrepreneur. So I want to continue to create new businesses and grow my current ones and really be the voice of this new age of fashion."
Already one of the biggest names among fashion influencers, making Forbes' Under 30 list when she was just 25, Bernstein is hoping to "position" herself as one of its long-term leaders.
"The influencer industry is still so new and still so undefined and it really needs a leader in a sense," she explained. "And I hope to position myself as such. And even for young women and young entrepreneurs, like I really want to share not just my outfit posts but why I've done this, and how I've done this. That's why the book is so important. I'm so excited for that."
Amid the ongoing coronavirus pandemic, Bernstein has launched We Gave What, the charitable arm of We Wore What, which is supporting small business, raising awareness and funds for organizations, including $50,000 for the Food Bank of New York and over $30,000 for the River Fund, and has donated over 19,000 masks to healthcare workers.
"This whole quarantine has created this newfound sense of responsibility that I feel towards my community and my followers and industry as a whole," she said of its genesis. "And so the raising awareness for small businesses and raising money for different organizations has been probably the most fulfilling work of my career and has really become such a huge passion of mine."
And it's a passion Bernstein is looking forward to continuing even after the stay-at-home orders are lifted, with the influencer looking at Bethenny Frankel's B Strong initiative as an "extremely aspiring" example for We Gave What to follow moving forward.
"I hope that it will motivate my community to help give back together as well, and get my followers more involved, and really just to help small businesses more than anything," Bernstein said. "So we have a ton of stuff lined up and I'm excited to launch the website and really build out We Gave What even more, but it's really going to be a place for all of these initiatives and amazing work to live what, even when this is all over. It will be a way to continue everything past the pandemic."