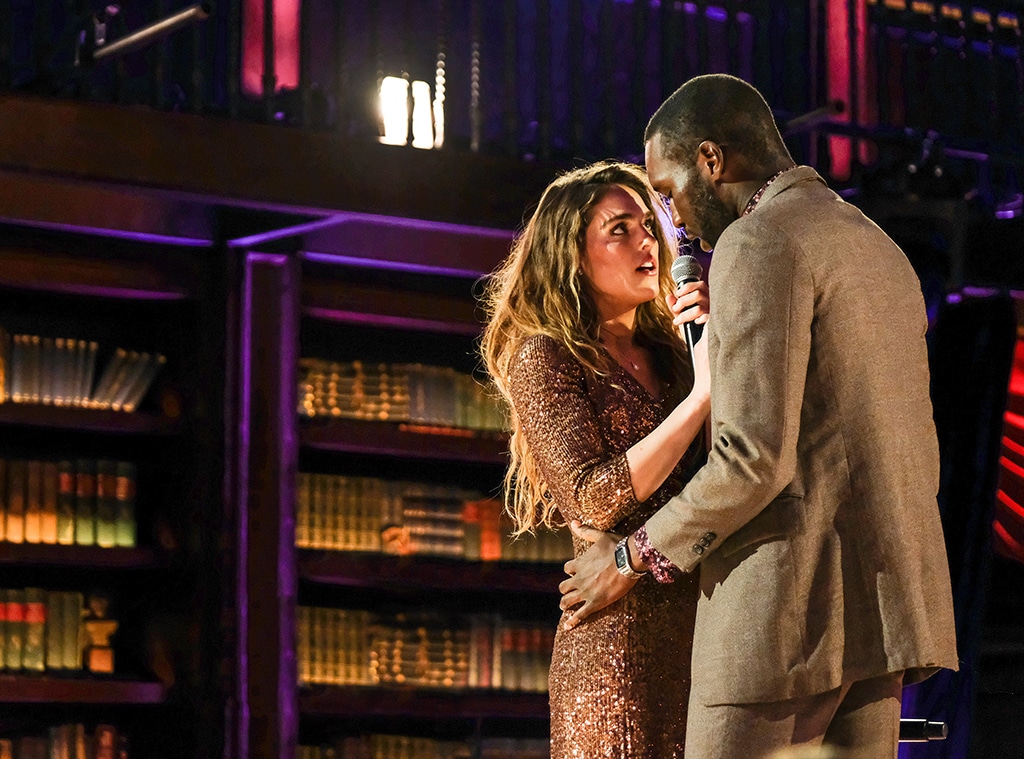 ABC
Ah Las Vegas, the perfect place to start to begin to possibly start falling in the direction of love. 
The Bachelor Presents: Listen to Your Heart abandoned the mansion this week to take the remaining four couples on a trip to Sin City where they went on dates and prepped for their biggest performances yet. Two couples also prepped for their biggest conversations yet, with varying results. 
Last week, Chris and Bri just straight up said "I love you" on stage in front of everyone, and this week, Jamie and Rudi lost their minds as they got ready to tell their TV boyfriends that they were starting to fall in love with them, that classic relationship stage that only exists in the Bachelor franchise and requires zero commitment compared to actually expressing love, and is yet a massive deal. 
But clearly that seemingly meaningless sentence does actually mean something, because the one couple who did not have that conversation were sent home for a disconnected performance, so what do we know? 
This week was really the Matt and Rudi show, as the two of them hijacked their tour bus to take their own little overnight adventure instead of meeting the other couples at the hotel. And as much fun as a free night in a room shared with other people at a fancy Vegas hotel sounds, Matt and Rudi managed something that seemed a little more romantic. 
Unfortunately Matt's not totally sure if he's falling for Rudi, but he might be, but he's confused. So when Rudi confessed to Matt that she was falling in love with him, he responded in maybe the worst way possible. Worse than "and I hate you" because at least that's an answer. 
What Matt said was, "You're very courageous for speaking your truth, and I appreciate you doing that. So." 
And then silence! No follow up! Then he explained to the cameras that he wanted to make sure he wasn't rushing anything and that everything he said was true, and for some reason he only said it to the camera and not to Rudi! 
Meanwhile, Jamie told Trevor she was falling in love with him, and he said he was falling in love with her too, and that was much less awkward to watch. 
Once again, the dates the couples were each sent on felt oddly imbalanced. 
Chris and Bri were sent to a wedding chapel to sing an intimate song for a newly married couple (and Bri wore white, which feels rude). Matt and Rudi went to a Shaggy concert and got up on stage to join Shaggy in singing the world's most romantic song, "It Wasn't Me." Jamie and Trevor got a whole ice rink to themselves, and Ryan and Natascha got to crush cars with bulldozers. 
Now don't get us wrong, we would love to crush cars with bulldozers, but it felt like the show had already cast Ryan and Natascha out. We didn't even get to see them get their date card or discover what they were doing. We just came upon them already busy crushing cars with bulldozers, and then they shared some champagne near the crushed cars. In a way, very romantic. In other ways, sort of a slap in the face. 
In the end, they tried too hard to rework Ed Sheeran's "Perfect" to the point where they were barely performing the same song, and at one point Natascha handed Ryan a microphone while he was playing guitar, forcing him to hold a microphone and strum with the same hand. It was the end for them, but we're going to guess it's not the end for Natascha's career, because that girl can sang. 
Finally, in next week's finale, we'll find out which couple wins this insane competition and if any of them have actually survived past filming and into quarantine, or which ones might have a future in this franchise. We truly cannot wait. 
The Bachelor Presents: Listen To Your Heart airs Mondays at 8 p.m. on ABC.