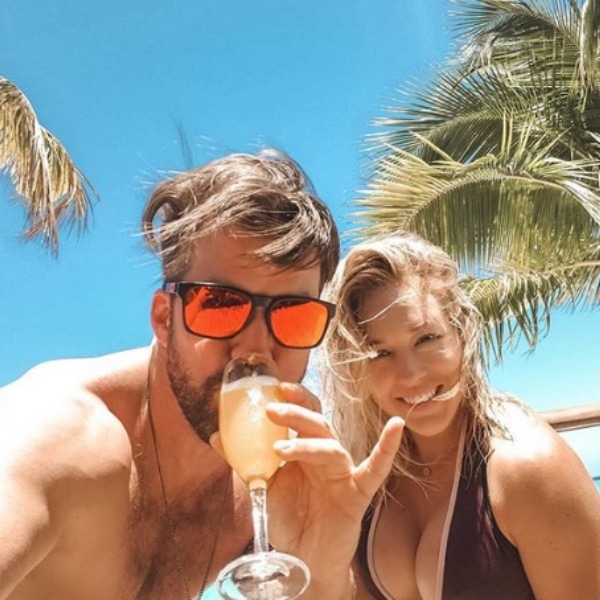 Instagram
What's it like dating Johnny Bananas?!
Admit it, it's a question many viewers of The Challenge have asked themselves when watching the MTV veteran compete on more than a few seasons of the hit reality show.
But while fans may be used to seeing a super competitive, no nonsense athlete on the small screen, a private gentleman stands far away from the cameras hoping to win over girlfriend Morgan Willett's heart.
"It's so funny because people always say, 'You're dating Johnny Bananas!' And I'm like no, I'm dating John Devenanzio!" Morgan shared with E! News exclusively before celebrating her birthday today. "He really does a good job at separating his TV character from his real life character. And while yes, he still cracks jokes constantly (mainly on my behalf), he's a sweetheart and really affectionate."
She added, "My favorite is when he wakes up, usually a solid two hours before me. He always gives me a kiss on the cheek and leaves the room to let me keep getting my beauty sleep."
It's a side you likely won't see from the reality star currently competing on The Challenge: Total Madness. But it's the reality for a private couple who continues to surprise fans.
Sparks first flew on The Challenge: War of the Worlds when Johnny competed with his rookie partner from Ex on the Beach. While they were sent to the bottom two early on in the season and eliminated, they surprised fans at the reunion episode when they raised a few eyebrows. 
Johnny told host Mike "the Miz" Mizanin they they were more than friends but less than lovers.  Fast-forward to today and yes, they've been dating and quarantining together. 
"I was a little worried about how quarantine would go for us, but it's been absolutely great. With Johnny traveling so much for work, I don't get to see him for long periods of time before he takes off again so I've loved being able to have this time together," Morgan shared with us in between recording new episodes of her podcast Quarter Life Crisis with co-hosts Kaitlyn Herman and Amanda Kozimor-Perrin. "[Before quarantine] we went on a camping trip to Joshua Tree which was incredible to get away for a bit and a fun one to vlog. My favorite memory was playing scrabble, making s'mores and accidentally head butting his drone out of the sky...we still laugh thinking about that."
Closer to home, the pair cooks new recipes, have watch parties for The Challenge and Johnny's new show Worst Cooks in America. And yes, they even plant succulent gardens together.
"Morgan can attest to this. When she first met me, she said, 'You are not who I expected you to be off the show.' When I'm home, when I'm not filming, I'm home. I have my house that I grew up in. I'm still incredibly close to my family, my sister, my mom. Having a very normal home life helps but also, I disconnect from reality TV," Johnny previously shared on Morgan's podcast. "When I'm off The Challenge, I'm not one that wants to be involved in the drama year round because you need that break."
In fact, you won't see this couple walking every red carpet together. Even their Instagram shots are limited. But each party is more than happy to support the other and bring out the best in each other.
"Johnny's awesome when it comes to supporting me. Obviously, I'm his No. 1 fan when it comes to all his TV shows, but he's always looking out for me too," Morgan shared. "He's gotten guests for my podcast, Quarter Life Crisis, and he's been on before too. Johnny is also the one who gave me the idea to start my online training system and fitness app, Move Like Morgan! Although now he might be regretting that because I've taken over his home to film workouts."
According to a recent podcast episode, Morgan is still trying to get her man to watch Mean Girls. But perhaps it's the small things like cooking and drinking wine together that keeps this couple connected no matter what challenge comes their way. 
"I am a difficult person to date because I have a wacky lifestyle. I've never been a person that plans. I'm not a planner. I'm a spontaneous person. I have to be because my life changes from day to day," Johnny shared on Quarter Life Crisis. "Since the day I've met her, she's always been able to roll with the punches and go with the flow."
So how are other couples from The Challenge doing? You may be surprised to find out the latest in our gallery below.
The Challenge: Total Madness airs Wednesday nights at 8 p.m. on MTV.