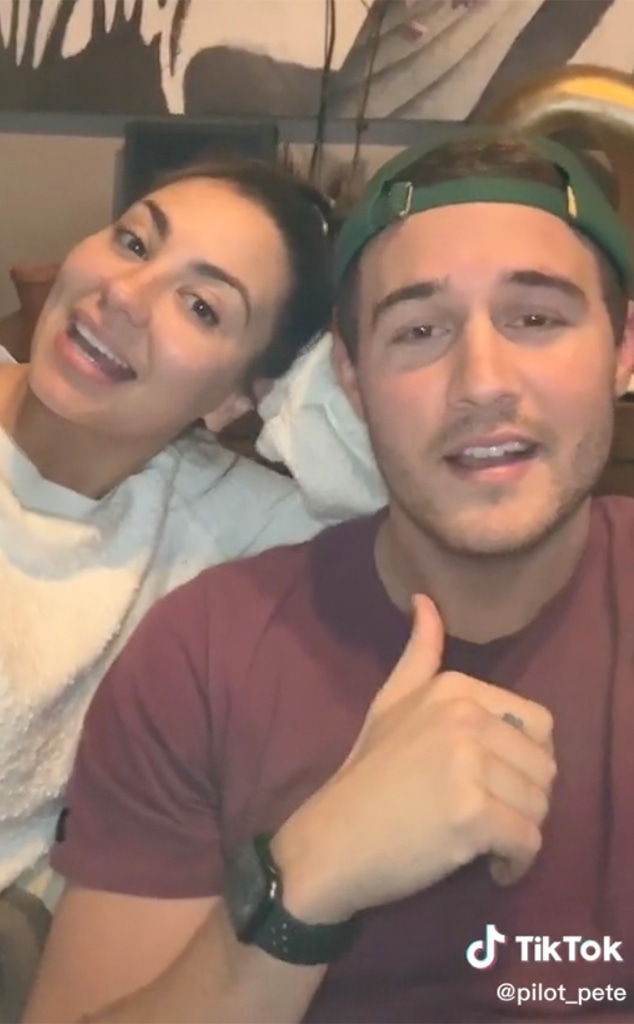 tiktok
Hey Alexa, play "Don't Matter" by Akon.
Bachelor Nation's most talked about couple at the moment appears to be getting some mixed reactions from pop culture fans. While some are quick to ship Peter Weber and Kelley Flanagan, others have a few more questions before they give these two a rose.
Ultimately, the new couple appeared to address the critics and doubters in a new TikTok video. On Friday morning, Peter and his leading lady sang some noteworthy lyrics from Akon's hit song "Don't Matter."
"Nobody want to see us together, but it don't matter, no. Cause I got you," the pair sang while getting pretty cozy on a couch.
So why did the two feel the need to address the critics? We'll let them explain when they'd like. But after Peter and Kelley spent nearly a month quarantining together, a source confirmed to E! News this week that they are "officially dating."
"They have been pretty inseparable this last month and Peter is still quarantining with Kelley in Chicago. Peter had an idea that things would play out like this," our insider shared. "He knew what he was doing when he first flew to Chicago. He was very interested in Kelley from the start, and after spending a lot of time with her, he decided he wanted to be exclusive."
Watch:
Peter Weber Sets the Record Straight About Kelley Flanagan
For those who may not recall, the couple first sparked romance rumors when they were spotted canoodling in Chicago.
Perhaps it also helped that Peter's family totally likes Kelley. Yes, everyone. Barb approved!
"They had a long talk about their relationship status, and Kelley wanted to be reassured Peter could be trusted," our source added. "She was a bit hesitant at first. Peter knows Kelley is out of his league."
While it's still in the early stages, many are curious to see what life in quarantine will bring to these two lovebirds. But according to those close to the couple, they are simply enjoying the moment.
"They really don't have any set plans on how their relationship will work once 'normal life' resides, and are really just enjoying the downtime together right now," our insider shared.
So guys, what's next on the music playlist?