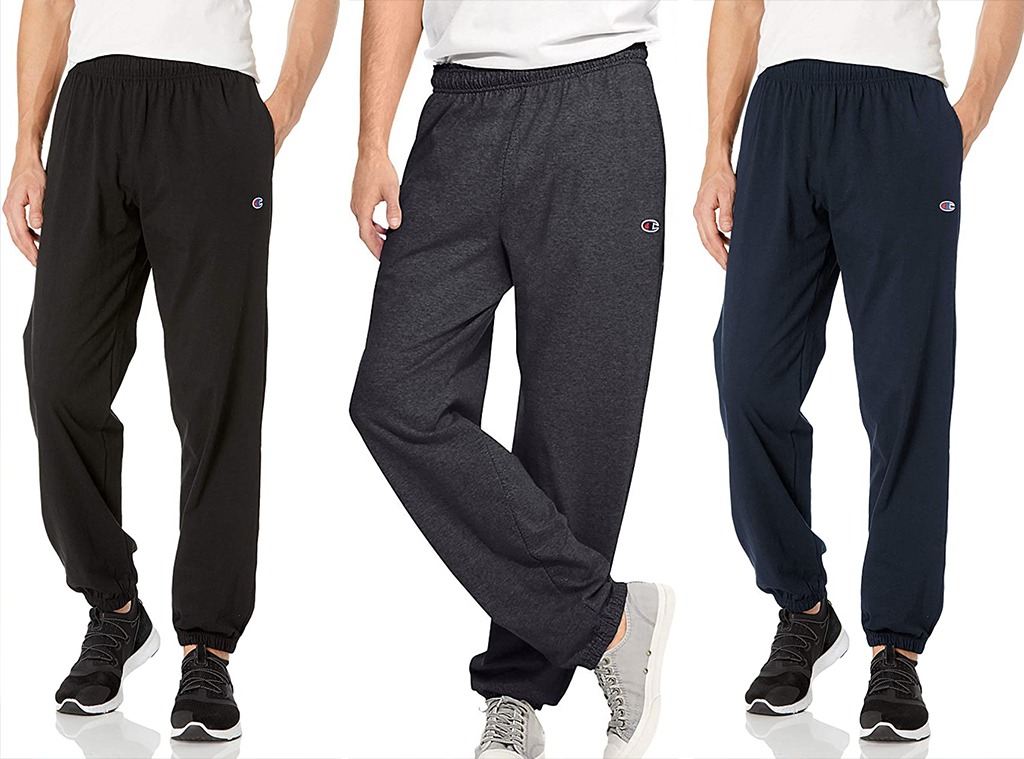 We independently selected these products because we love them, and we hope you do too at these prices. Shop with E! has affiliate relationships, so we may get a commission if you purchase something through our links. Prices are accurate as of publish time. Items are sold by the retailer, not E!. 
There's nothing better than a pair of sweatpants for lounging around at home. But since it's summertime, you need a pair of sweats that's not only comfy, but lightweight and breathable as well. That's where Champion's top-rated men's sweatpants come in. 
These sweatpants are made of lightweight cotton jersey knit fabric, and are described to be "just as soft and comfortable as your favorite tee." They're perfect for the warmer months of the year, come in several highly versatile colors, and they're an Amazon best-seller with over 29,000 five-star reviews. The best part is, they're on sale today for less than $20!
If you're looking for a solid Father's Day gift to give your husband, your dad, or any other dad in your life, these Champion sweatpants are an excellent option. They're guaranteed to get a ton of use. 
Find out just why these lightweight sweatpants are so beloved, and then shop them below.
Champion Men's Everyday Cotton Closed Bottom Sweatpants
These classic cotton sweatpants from Champion are available in five versatile colors, including navy, black and grey. They also feature a relaxed elastic bottom band that reviewers love. Right now, you can get this on sale for less than $20. 
What are reviewers saying? Check it out:
"The jersey weight fabric is just right and not too hot like heavier sweats. I have them in multiple colors. The elastic cuffs eliminate the need to worry about hem length. Side pockets are generous enough for a wallet, keys and phone and the style is presentable enough for a trip to the grocery store without looking like a bum. The fit is generous and comfortable. After numerous washes I have not seen any issues with durability or stitching coming loose."
"I found the fit and quality to be consistent across all the colors so I will be ordering the maroon to complete the set."
"Lightweight fabric, great for warmer weather."
"Considering that I am very lazy at writing reviews, I must say I'm a very satisfied customer. At the price point, I highly recommend them to anyone looking for a decent pair of sweatpants."
"I would buy these again in a heartbeat."
"Nothing is too tight: not the waist band or the ankle bands. I also love the weight of the material. Not too heavy and not too light. The fabric is not too stiff nor too flimsy. I bought more and will buy more. Highly recommended."
"These are my most favorite pants! I have two pairs! I bought them after stealing my brother's one day and they're just great! Girls, if you want a perfect fitting sweatpants, get these! And guys, if your girlfriend or boyfriend, wants sweatpants as a gift, these are perfect! They are bunched at the ankles, have huge pockets, and the waist is perfect for the 'slim thick' look!"
—Originally published May 1, 2020, at 4:00 a.m. PT