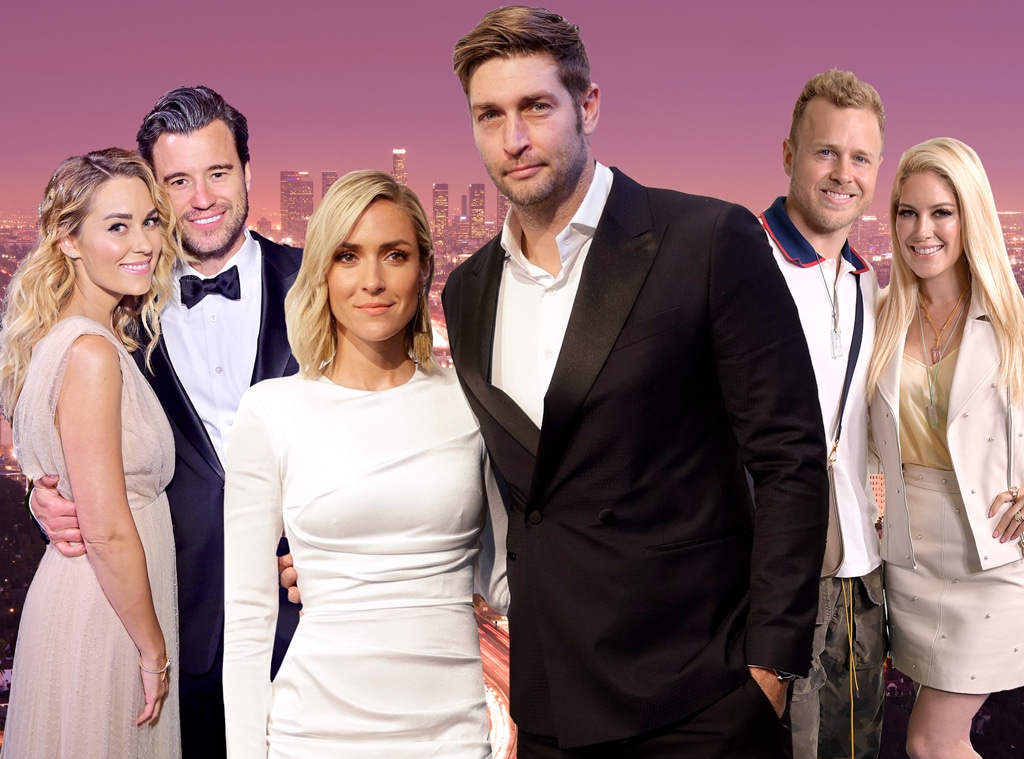 Shutterstock; Getty Images/E! Illustration
For a show in which relationship drama lurked around every corner, most of the stars of The Hills have had relatively undramatic personal lives since venturing out into the real world—the one with no studio backdrop, that is.
Of course, just a few months of Heidi and Spencer Pratt's antics back in the day more than made up for the lack of any shocking scandals coming from, say, Whitney Port's corner, but truly, compared to some shows' casts, these folks have proved to be pretty chill in their later years (i.e. their early 30s). 
And yet a love story doesn't have to be explosively dramatic for it to take a wrong turn, as Kristin Cavallari proved last year with the news that she and Jay Cutler were divorcing after almost seven years of marriage and 10 years together. (Not that things didn't get a little dramatic before settling down.)
"From the outside, things are so perfect and things are so great," the mother of three mused on Very Cavallari. "But actually, they're not. And that sucks. It sucks. That's the thing, though, with marriage... it's ups and downs."
And then there's Lauren Conrad, who's celebrating her 35th birthday Feb. 1—and whose marriage to William Tell continues to hum along after six years at a very even, no-news-is-good-news frequency.
Meanwhile, Jason Wahler and his wife just revealed today that they're expecting their second child, happy news all around and yet still a reminder that Lauren had her own hill to climb on the way to finding lasting happiness.
But when you take a group of people, such as the cast of an iconic MTV show that helped define the '00s, and examine how life has unfolded for them since, you're bound to get a variety of outcomes when it comes to their romantic relationships. 
As for LC, she'll surely be spending her birthday doing something picturesque but private, the entrepreneur doing a masterful job of keeping the glimpses of her family life carefully curated while she makes sure her various businesses get lots of time in the spotlight.
Talking to E! News' Carisa Culiner last summer, she explained with a smile why there had been a slight uptick in photos of her boys on Instagram mid-pandemic: "They're the only people I hang out with these days. They're the only people I have to post."
(Originally published April 28, 2020, at 9 a.m. PT)