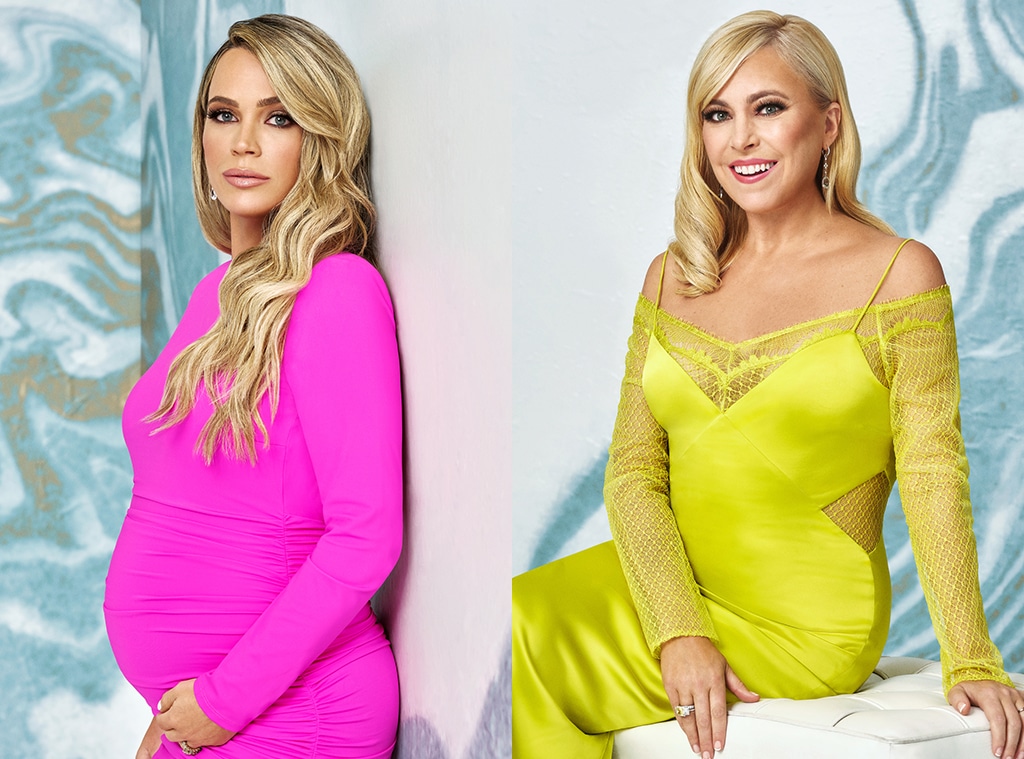 John Tsiavis/Bravo
Yet another dinner party from hell!
It seems as though the ladies of The Real Housewives of Beverly Hills just aren't destined to have a peaceful sit-down meal. And while their latest attempt won't include the infamous psychic medium Allison DuBois, things still end in tears, as shown in this exclusive clip of Wednesday's all-new episode.
The group is at Kyle Richards' house, including Lisa Rinna's friend Sutton Stracke. At the beginning of the sneak peek, the socialite is mid-conversation with Teddi Mellencamp, who recently invited everyone to her ALL IN Retreat with a sassy text invitation—something that clearly didn't sit well with Sutton.
"I'm gonna be very honest. I thought that, Teddi, maybe you were gonna be a little boring," she says, prompting an awkward laugh from Teddi. "I'm sorry. Are we supposed to be honest or not?"
Sutton continues, "That was my first impression. And then pregnant? God help us."
To the surprise of those around her, she keeps going.
"But you're way more interesting than I thought!" Sutton says. "I didn't know the depth of who you were."
Teddi expresses her confusion, asking Sutton if she's done something to offend her.
"Because you kind of come at me," Teddi says, which is intercut with a previous scene of two going back and forth over her retreat invitation. "Like, what's happening here?"
She ends up telling Sutton that to make things "really easy" for her, she just shouldn't come to the retreat.
Seemingly attempting to help, Lisa and Garcelle Beauvais then chime in about how they both were relieved they didn't plan to attend. This, however, results in Teddi crying. 
"If nobody wants to come, don't come!" an emotional Teddi says. "I've got my people there."
Kyle rushes to comfort her, but the damage appears to be done. 
While Sutton's honesty may of shocked the RHOBH ladies, it seemed to also impress one of them.
"Women like Sutton are few and far between in Beverly Hills, but there's a whole world of women like Sutton out there," Erika Girardi says in a confessional. "And you know what? God bless them."
Check out the entire exchange in the above clip, and watch tomorrow's brand new RHOBH at 8 p.m. on Bravo to see how things shake out.
(E! and Bravo are both part of the NBCUniversal family.)
TV keeps getting better. How you watch it does too. With Xfinity X1 you can catch up on all of your favorite shows. Just say your favorite show into the Voice Remote for easy access.