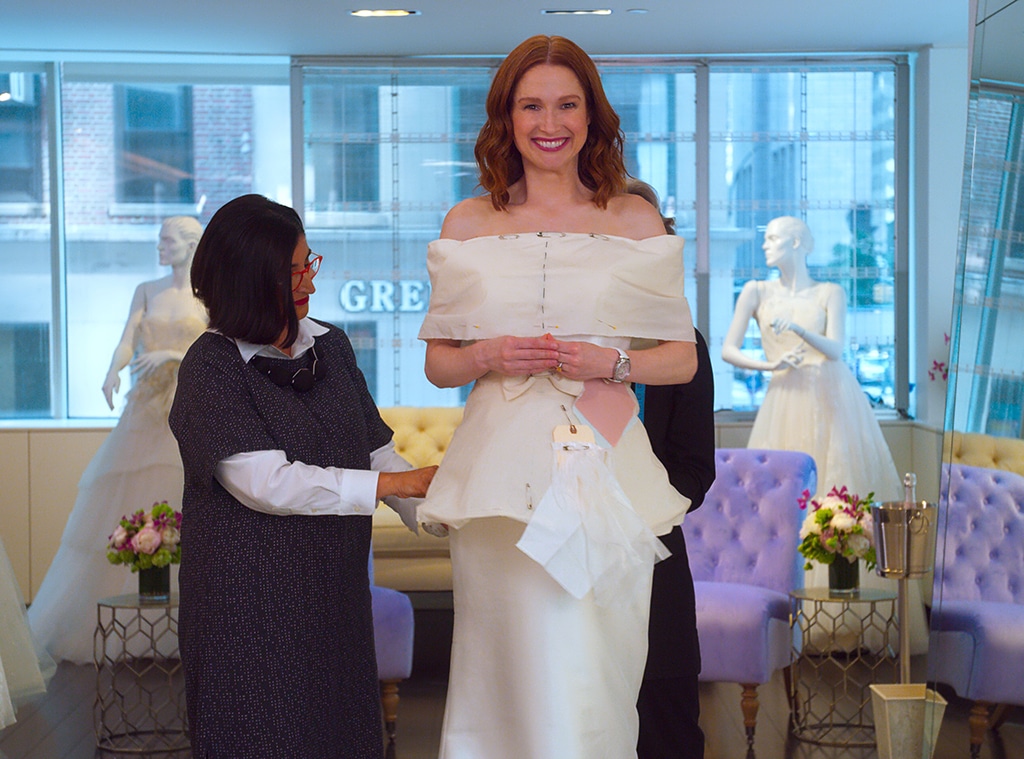 Netflix
If you had to choose between marrying Daniel Radcliffe and rescuing a potential bunker full of women in danger, which would you choose? 
You better figure it out, because pretty soon that's one of the choices you'll have to be making. Kimmy Schmidt (Ellie Kemper) is making her return in Unbreakable Kimmy Schmidt: Kimmy vs. the Reverend, but there's a twist: it's an interactive special, and you have to make all the decisions! 
A new trailer gives some insight to the story. Kimmy is about to get married to Frederick (Daniel Radcliffe), only as she's planning her wedding, she discovers that the reverend (Jon Hamm) might have another bunker of girls hidden away, and it's up to Kimmy (and also the viewer) to save them. There's literally the option to "get married" or "rescue the girls," and then another option to "wait for Uber" or "walk." 
It looks like some of those choices will definitely lead to a less than satisfying ending, so prepare to choose wisely. 
Per Netflix, Kimmy vs. The Reverend finds Kimmy setting off on "her biggest adventure yet. Three states! Explosions! A dancing hamburger! And you, the viewer, get to decide how the story goes. Will you foil the Reverend's evil plan and get Kimmy to her wedding on time? Or will you accidentally start a war against the robots? So grab your remote and a tray of delicious scrod, 'cause Kimmy's got her own Netflix interactive special!" 
It looks like nearly every major character from the series will make their return, while some of them will even be there to judge our choices. 
The idea for the special came about as the series was ending in 2018, when creators Robert Carlock and Tina Fey thought there might be more story to tell. 
"We were finishing up the series and I think that with any good series there are hopefully still stories you want to tell and so we floated that notion to Netflix," Robert Carlock said. "We wondered if there was an opportunity for a conventional movie-length special and they came back to us with this! To get to be the first comedy to use this technology was really exciting. We thought it would be fun to tell some stories we hadn't told and maybe wrap up certain loose ends we hadn't fully explored. The idea of being able to go down avenues and tell stories in this entirely different way was incredibly exciting."
Watch:
Ellie Kemper Is "Happy" With "Unbreakable Kimmy Schmidt" Ending
"We immediately felt like it would be a real match for our universe, and particularly the tone of the comedy that we do with Kimmy Schmidt because it's this densely joke populated and sometimes absurdist comedy. We thought it would be a really nice fit," Tina Fey added. "We were also really excited because as a crew, we were sad to be wrapping up the series. It was nice to know that there would be this one final hurrah, this nice button on the series, and that we would be able to work together again." 
Netflix used the same technology previously for Bandersnatch, the interactive Black Mirror special that came out in late 2018.
Unbreakable Kimmy Schmidt: Kimmy vs. the Reverend will debut on Netflix on Tuesday, May 12.