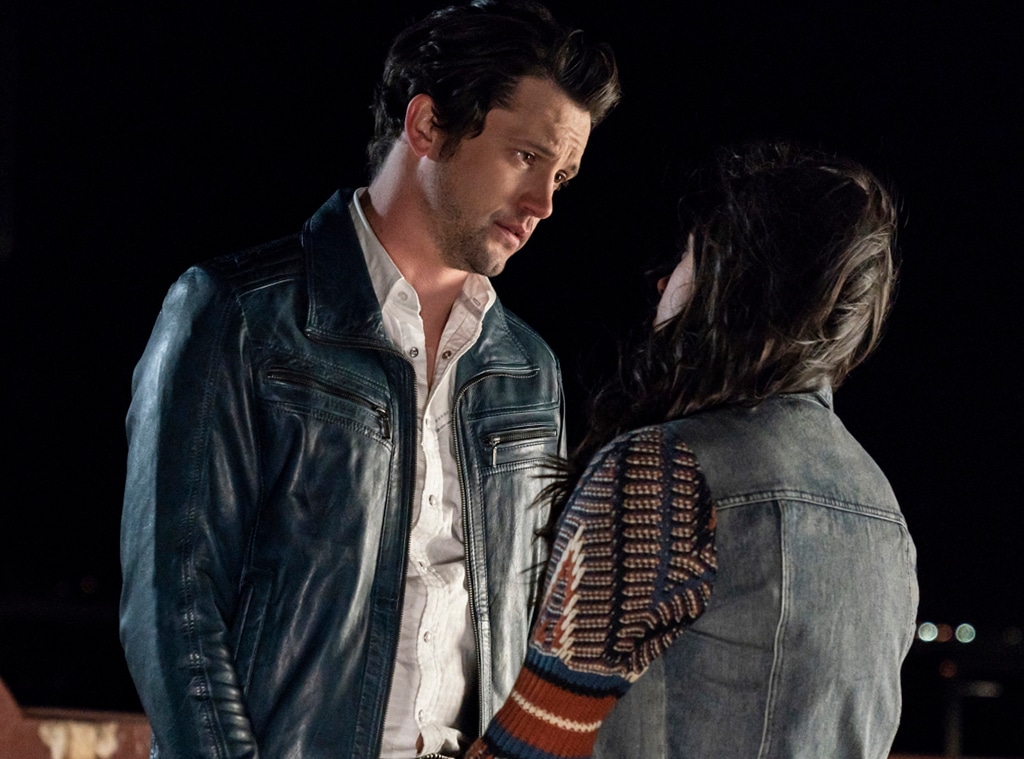 The CW
It's been a weird season of Roswell, New Mexico so far for Max Evans (Nathan Parsons).  
After dying via sacrifice in the season one finale, he's been dead for months, appearing only in nightmares had by Rosa (Amber Midthunder) and hallucinations had by Isobel (Lily Cowles). Now, he's been revived, thanks to the heart of an alien enemy and a little help from the formerly dead girl he sacrificed himself for. We all knew he'd be back eventually (he's Max Evans), but it took a while, and it certainly took a toll on both Max and Nathan. 
"It was definitely harder than I thought it would be," Parsons tells E! News. "First couple of months of filming was sort of moping around, being a zombie, being a figment of your imagination, being all these fun, quirky things and then it's like you hit the ground running and everyone else is already halfway through the year and they have all these full blown stories and it's just sort of a tidal wave of 'what's happening?!" trying to catch up." 
But he's not mad at it. 
"I always love playing catch up. It makes you work harder and work faster, and you know, we have this sort of new Max, if you will." 
New Max
Resurrected Max is a whole new guy. He started out angry and dangerous, but a newly powerful Isobel quickly took him down a peg. Then we learned this was a Max free of any memories of Liz (Jeanine Mason), which had visibly changed him. 
"In essence, perhaps maybe a little less jaded," Parsons says. "Now we get to sort of have a clean slate, so it was nice to sort of rediscover who I was in that character." 
Max's full memory loss didn't last all that long. By the end of the episode, he remembered Liz, they were sleeping together again, and he genuinely seemed so happy. In fact, everyone seemed happy. Isobel was discovering herself at a gay bar, while Guerin, Maria, and Alex were having a threesome, and all seemed weirdly, dangerously well.
Happiness Is a Bad Sign 
"That's always a bad sign," Parsons says, referring to just general happiness. 
"I think the question is okay, so all this baggage that you had before, where did it go? What happened to it? Is it still there? What's going on? And we start to see little flashes here and there, this sort of bubbling back up of this old self," he says of Max's particularly questionable happiness. "But there's still a naiveté, if you will, because all of the memory that hurts so much, the heartbreak, the loss, all that's gone. So we see this sort of bright-eyed, like oh, the world is still new." 
"We don't know" how much of his memory he got back when he did remember Liz at the end of the episode, Parsons says, but he definitely also got back some memories he didn't even have before. 
"We're starting to see even memories that were suppressed right before we landed in the pods. Those are starting to bubble to the surface, which were never there before. So it's sort of a question of how much does one's memory actually hold?" 
Those new memories include the ending scene of last week's episode, where a man put his hand on the shoulder of a young Max in a weird alien cave, which you can bet Max will be trying to figure out in the coming episodes. 
How to Be Resurrected on TV 
This isn't the first time Parsons has played a character who came back to life, especially after being in the Vampire Diaries world on The Originals, and he's learned a few things. 
"I've learned that people like to see me die," he joked. "It's so different in every situation. Resurrection as a concept is just interesting to examine, and to live in whatever context you're living it in, you have to ask what were the circumstances when you died? What was dying like? What did it feel like? That depends on how you die. What was the moment before you knew this was going to kill me? What goes through your head?" 
And then to come back, you still have all those memories of your life flashing before your eyes, the questions, the fear, the loss, the anger, the whatever it was, all of that is kind of right there and it's like you wake up in a bad dream," he continues. "'That was weird, that was crazy, I don't understand what just happened, how do I move forward?'" 
Max's case is a little different, because so many of his memories are gone. 
"So you sort of wake up with this question of what the hell am I? Where am I? Who are these people? What is this world? At least for Max, for me, it brings me back to a time before that first heartbreak, before that first big love was lost, that burden that you were carrying is now lifted. So there's like a jubilance, a euphoria, a childishness is back. But every resurrection is different, you know. What can I say? I feel like I'm getting the Sean Bean effect." 
Watch:
Shiri Appleby Talks "Roswell" Reunion With Jason Behr
Coming Up for Max and Liz 
In tonight's episode, Liz's mom returns to town and shake things up a bit. Parsons says she's a "force of nature" but "it's the same as meeting any partner's parents."
"It's intimidating for anybody," he says. 
Max and Liz are obviously not quite like a regular couple, since he did just come back to life with her help, and it's not all going to be smooth sailing ahead, as resurrection presents some hurdles. 
"So much time has passed for Liz, from Rosa's resurrection and my dying to me coming back to life," Parsons explains. "I mean for me, that time is pretty quick. But months and months have passed for Liz where she's dealt with the loss of a loved one, and all these questions of ethics and morality in terms of stealing equipment to bring Max back to life, and all these things that she went through that she has a clear memory of. But I have no memory of that. I didn't go through any of that. So there's a little resentment there, because for me, it was like a flash, and in the meantime, she's gone through this whole journey of ups and downs." 
It all continues tonight and every Monday at 9 p.m. on The CW.