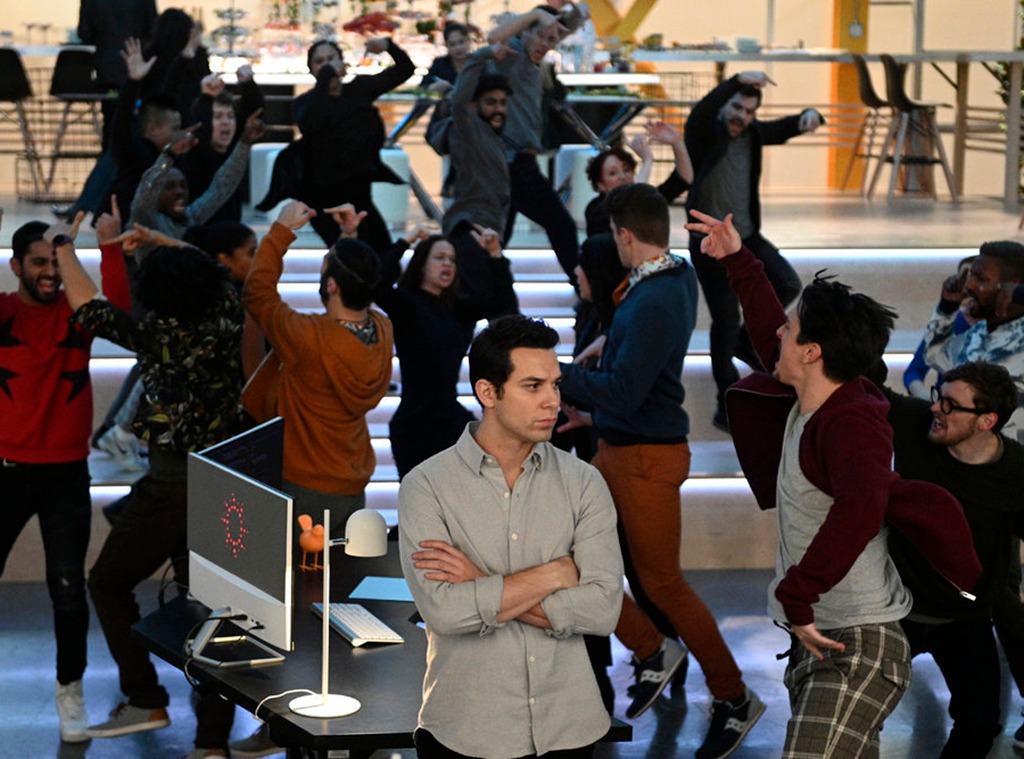 NBC
Skylar Astin may be an accomplished Broadway, TV, and movie performer who has performed some of the greatest songs with some of the most talented people, but there are musical moments he still gets giddy over. 
Like, for example, that time in last week's episode of Zoey's Extraordinary Playlist when he got to be the titular Boy in a duet/battle of "The Boy Is Mine," performed by Lauren Graham and Renee Elise Goldsberry. 
"Talk about a sandwich I was delighted to be in," he told E! News we asked about that moment. "Oh my god. Goddess women, talent, comedy, drama, music—those girls could to anything individually, and together? One of my favorite days. I had the best job, by far. The hardest thing was probably to not smile." 
The trick of Zoey's Extrarodinary Playlist is that only Zoey (Jane Levy) can hear the musical numbers, so as Max, Astin just had to pretend he was hearing a "mundane" conversation about him. 
"Meanwhile, I'm getting the full Brandy and Monica treatment by theatre and TV and film royalty, in my opinion," he said. "Just every take was flawless. There were a couple setups where I wasn't on camera, and I was filming the monitor like a fan." 
Moments like this come frequently on this show, and are all answers to the question, Astin says, of how this show is different from every other show. 
This week, Astin gets to live out another late 90s/early 2000s dream, singing NSYNC's "Bye Bye Bye" in a moody bar sequence. 
"I am living a lot of my dreams," he says. "I get to sing "Bye Bye Bye" on the 20th anniversary of that song's release! I don't know if it's to the day, but I know it's to the year, and those are my idols! 
("Bye Bye Bye" was released in January 2000, so close enough.) 
Astin is extremely into boy bands, and even wrote and sold a show that didn't end up getting picked up all about a former boy bander, with original songs also written by Astin. You could say it's a passion of his. 
"I hope to write more poppy, boy band things in the future for my solo stuff, so the fact that I got to channel one of the most popular songs, thanks [creator Austin Winsberg]." 
Max is a fellow computer programmer and best friend of Zoey's, though right now the two of them are going through a rough patch for a classic reason: he's in love with her, and she's worried about messing with their friendship. She clearly feels something for him, but also has feelings for another, previously engaged guy, and she's also dealing with her dad's impending death and is very busy just generally. It's just a bad time for a relationship to blossom, but the damage to their friendship has been done since both Max and Zoey have heard each other sing their deepest feelings. 
His issues with Zoey are part of the reason he got himself a new gig on the sixth floor at the tech company Sprq Point, leaving her behind on the fourth floor, but Astin says there's a lot more to it. 
"I think Max is team Max right now, and I don't mean in terms of Zoey, but I think Max is thinking about his career. He's thinking about his own life and his lifestyle and who he is as a creator and as a boss and as a member of an organization," he says. "I really take Max as seriously as Max does." 
He sees Max's career move as a "gift," and it's a bit of a roller coaster. 
"We get to see Max go from the new boss to member of the squad and being their leader," he says. "And you eventually get to see him face some adversity when the wind gets pulled out from underneath, and how he'll go on moving forward." 
As for Max and Zoey, Jane Levy had her thoughts earlier this season when she told us "these men need to give her a goddamn break," and Astin has his own opinions on behalf of Max. 
"Max and I have the same thought on this. We're not pushing her for anything. We're not forcing an answer. I mean, we literally put our heart out there and what she did with that information was her prerogative," he says. "I don't think we're forcing her to do anything." 
Astin doesn't blame Levy for thinking Zoey needs a break, but every character, whether they be a lovestruck coworker or a mass murdering supervillain, has to have a point of view. 
"Jane, who, by the way, is one of my favorite people on this planet, of course takes that stance. Jane cares about Zoey more than maybe anybody in the world, and so of course she's taking that. Not to say that we can't check our characters, but you know, we have integrity in these characters," he says. "Even if you're playing a villain, you have to have a point of view. Like Thanos is one of the most evil characters, but he had a clear point of view and opinion on why he does what he does, right?" 
"So when we're in the psychology of a character like Max, who, by the way, I think makes some great points, you may side with him or at least have a full understanding and empathy for their perspective, no matter what part we play." 
Watch:
Jane Levy on Why She Took "Zoey's Extraordinary Playlist" Role
Spoiler alert: Max's rendition of "Bye Bye Bye" is all about Zoey, but Levy teased a number between the two of them in next week's finale that is "sexy" and that fans are going to love. But could Astin add anything to that?
"No." 
Guess we'll just have to wait until next week, but in the meantime, there's plenty to enjoy in tonight's episode! 
Zoey's Extraordinary Playlist airs Sundays at 9 p.m. on NBC. 
E! and NBC are both part of the NBC Universal family.