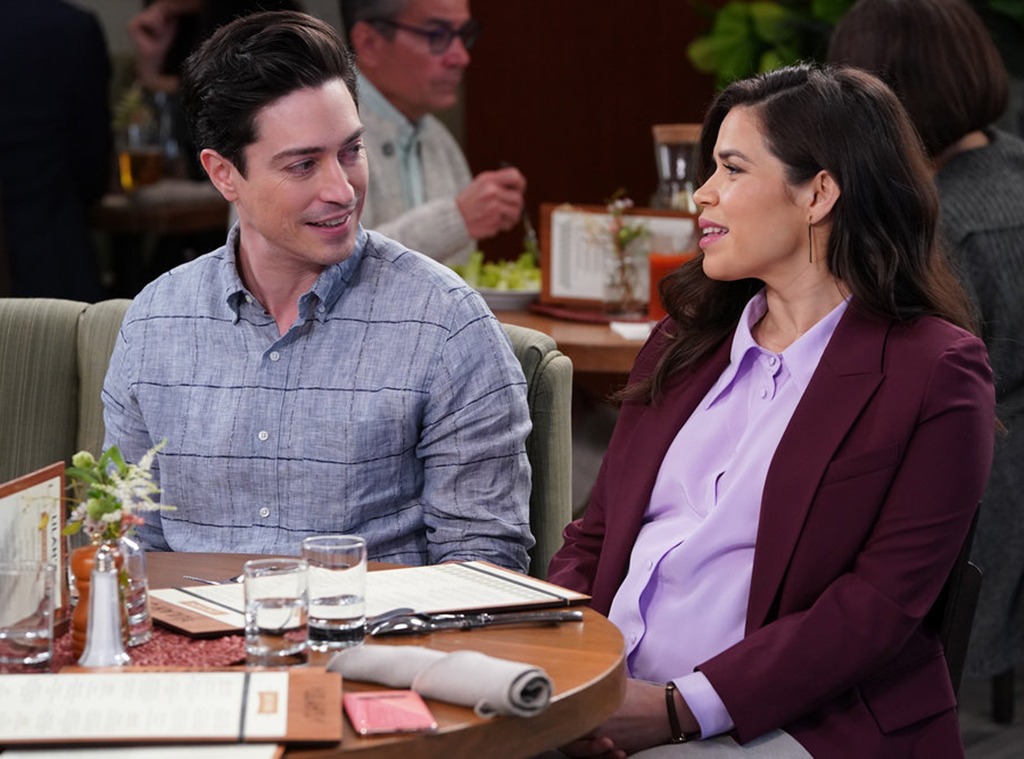 NBC
Superstore's fifth season might have been cut slightly short, but don't let that make you think tonight's finale doesn't deserve your attention. 
"California, Part 1" finds Mateo and Cheyenne trying to figure out how to celebrate her 21st birthday while Glenn tries to help Sandra and Jerry expand their family, and Dina desperately tries to keep a secret of Amy's from Jonah. 
"California, Part 2" would have served as America Ferrera's swan song, so this just means we get to wait a little longer before we have to bid her farewell, which is good news for all of us who were rattled by the news of her departure. 
In honor of Superstore's season five finale, we're here to gift you with the best Superstore binge watch star Ben Feldman (with help from Ferrera and Lauren Ash) could come up with. All episodes are available on Hulu and NBC.com, so what excuse do you have to not have a good time? 
S1E9, "All Nighter" - "This is a fan fav but its also unanimously was one of the cast's favorites to do and to shoot. We're stuck in the store all night and get super drunk (still not convinced America wasn't *actually* drunk shooting it)." 
S2E22, "Tornado" - "We don't mess around with season finales. This one involves a natural disaster (ill leave it to you sleuths to guess what kind) but also two characters finally kiss which I guess makes this an important episode." 
S3E5, "Sal's Dead" - "Our Halloween episodes are consistently bananas but this one cold opens on a dead guy stuck in a wall so I'm choosing it over the others."
S2E14, "Valentine's Day" -  "One of my all time favorite storylines was in season 2 about a lonely character who created a fake romance with another character who was actually dating a different character and this is most ridiculous episode from that storyline. Also I go undercover to catch a thief. 
S2E13, "Ladies Lunch" - "Another cast favorite. The women on this show are insanely funny and smart and different and weird and ridiculous. This episode highlights that, while mostly cutting the fat (the boys). Also a chance to see the late, GREAT Linda Porter do what she did best on our show (be offensively off-putting) and we introduce one of my favorite guest characters, Jerry." 
Watch:
America Ferrera Honors Honduran Heritage at 2020 Oscars
S4E6, "Maternity Leave" - "Amy has to come back to work like 2 seconds after having a baby because she doesn't have maternity leave and its a disaster. Curious why America is a huge star? She has a breakdown in this episode that is a masterclass in stupid hilarity and genuine emotional diarrhea." 
S5E15, "Cereal Bar" - "It's about suspicions of corporate ulterior motives but it's also got this super funny/creepy romance between one of the more eccentric characters and a criminal."
S2E4, "Guns, Pills & Birds" - "One of my favorite "me" episodes, but its also about gun rights and contraceptives, perfect guest cast and an all around great/emblematic Superstore episode." 
S2E21, "Cheyanne's Wedding" - "Another perfect Superstore episode with high stake work issues, adorable romcomy vibes, dancing, real heartache, rap, formal attire and the most ridiculous and legendary returning character on the show, Bo." 
S3E13, "Video Game Release" & S3E20, "Gender Reveal" - "I told America Ferrera and Lauren Ash that I'd include these episodes as they (respectively) directed and wrote them And I'm scared of both of them. But also they belong on quintessential Superstore best of lists anyway. VGR is my favorite of the eps AF directed and its filled with weirdo cosplaying gamers and America and I go on an adventure in a tunnel! It's a really smart and well done episode. Gender Reveal is all babies all day and its insanely funny but it also ends with a crazy emotional moment and a major announcement."
Superstore's finale airs tonight at 8 p.m. on NBC. 
E! and NBC are both part of the NBC Universal family.