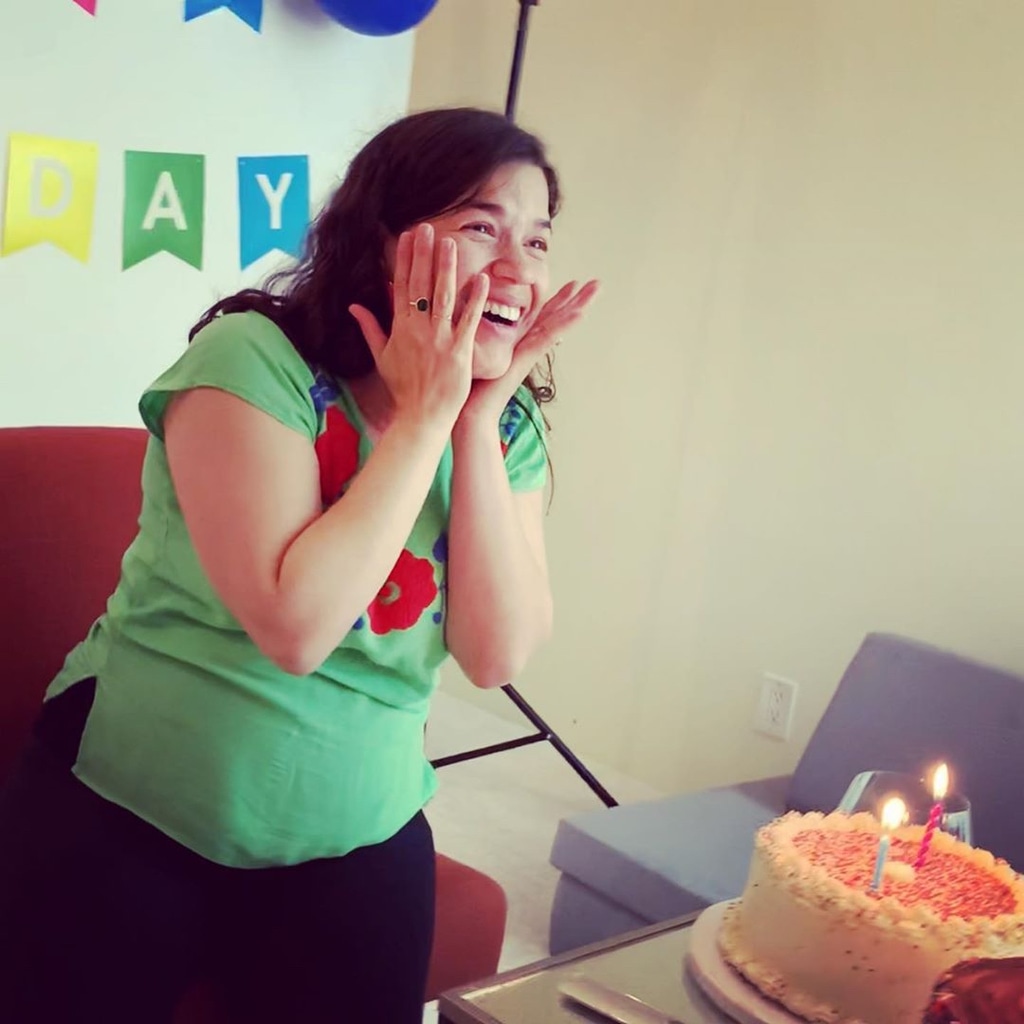 Instagram
America Ferrera is celebrating her "sweet 36." 
While people continue to practice social distancing, celebrating birthdays with your friends and extended family has been ruled out. But even so, people have found creative ways to keep the party going. 
On Sunday morning, the Superstore actress took to Instagram to share that her "sneaky and dear" husband Ryan Piers Williams surprised her with a "zoom birthday party" on her birthday April 18.
"I have to be honest, I've seen a million of these posted and thought 'how could that be fun?' But as you can see from these pictures, I was completely overwhelmed with joy & love! I had no idea how much I wanted to be with my community and to see the faces I love so much!" she wrote, alongside pictures of herself in front of her birthday cakes and Zoom party. 
She went on, "@ryanpierswilliams you turned my quarantine birthday into one of the most joyous and memorable!" 
"You filled me with love and cake and ended it with a virtual dance party!!" she added. "You are the best. So grateful for community and friendship and love. #birthdaygirl #besthusband #virtual #surprise #danceparty #togetherapart." 
On the day of her actual birthday, Ferrera also shared a picture of herself in front of her birthday decorations at home and another photo of herself walking with her son Sebastian Piers Williams. She wrote, "Sweet 36! This Birthday Gal is so happy and grateful for all the love and friendship and well wishes! Happy Birthday to all my fellow April 18thers! I'll be spending the day raking with my boss (swipe for evidence). #birthday #grateful #36 #aries." 
Watch:
America Ferrera Honors Honduran Heritage at 2020 Oscars
Friends including Reese Witherspoon, Brie Larson, Octavia Spencer, Abbi Jacobson and Natalie Portman all wished her a happy birthday in the comments. 
But perhaps the best birthday post of all was that from Ferrera's former Sisterhood of the Traveling Pants co-star Amber Tamblyn. 
The fellow 36-year-old posted a video of herself twerking for Ferrera in honor of her birthday  (or as she jokingly says in the video "Happy Birthday America Beyoncé Ferrera Knowles"). She wrote, "Happy birthday to the only woman in the world I would break a tit and hip for. I love you, Ms. Ferrera. I wish we were doing this in person, at 11pm (which is like 2am for moms in their late 30's), at some amazing club on the Lower East Side, screaming at the top of our lungs with joy. Someday soon. I promise. #BirthdayGirl #QuarantineMadness #WhiteGirlFriend #IAmSoSorry #SendMeAllTheIcePacks #CantFeelMyButt."
Ferrera commented back, "This is all I've ever wanted!!! I love you!!"