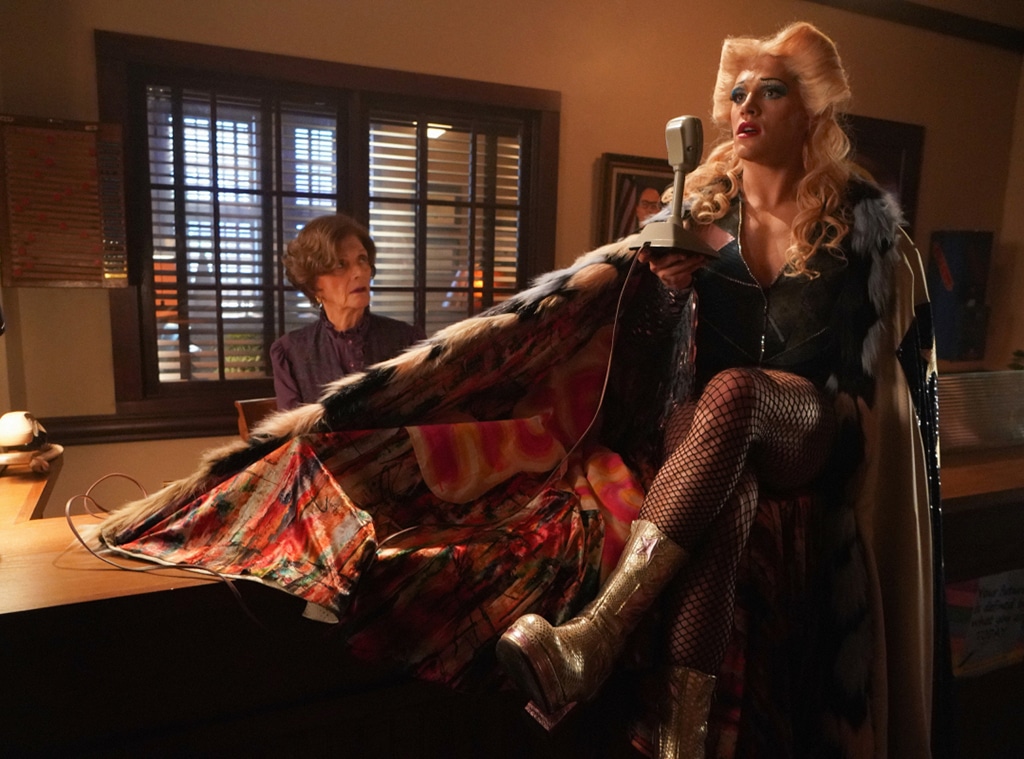 The CW
It's Kevin Keller's time to shine. 
Sure, tonight's musical episode of Riverdale has a lot to deal with in terms of typical core four drama and those mysterious video tapes that have been making their way around town, but it's Kevin (Casey Cott) who organizes a rebellion against Principal Honey when he won't allow anyone to perform a number from the musical Hedwig and the Angry Inch in the school variety show. It's also Kevin who gets to get all dolled up as Hedwig herself, and perform in the halls of Riverdale High. As you can see above, he looks awesome. 
"My Hedwig outfit was custom-made by our costume department," Cott tells E! News. "It was fun, 'cause Kevin kind of wears a lot of sweaters and a little more bulky clothes, so it's fun to wear something like that. And then the wig I wore for Hedwig was the actual wig from the Hedwig movie, that John Cameron Mitchell wore." 
There was one other outfit option and a few makeup tests to be done, and ultimately Cott helped with the final say.
"I felt like such a head-turner when I was walking on set," he says. "And you know, the pumps I wore were awesome too. They were really cool, and the fishnets were really fun. The whole outfit was a blast, and it was really fun to strut around in." 
While Kevin gets the standout performance moment in the Hedwig look, there's a moment where the entire student body of Riverdale joins in his protest in their own form of the outfit, including Charles Melton as Reggie. 
"It was crazy seeing all those people in drag, and it was fun watching some of the guys obviously," Cott says. "Charles took full advantage and was very excited, and watching everybody lean in and have a blast was awesome." 
Cott had seen Hedwig on Broadway and had seen the movie and already knew "a decent amount" of the music before shooting the episode, and he's not the only fan in the cast. It's Cole Sprouse's favorite musical, and he does more singing here than he's done in any musical episode before. 
But this also isn't a typical Riverdale musical episode. 
"We're not really putting on a musical. Kevin's more organizing a variety show, so it's more kind of showing the tone." 
And yet, there's a bigger focus this time on the music than there usually is. 
"It's more actually about the musical this time than it is about the past episodes, when Riverdale's kind of going through really intense situations. Obviously they're going through really intense situations this year, but we got to focus a little more on the musical, even though we weren't performing the actual musical." 
One thing is for sure (even amongst the endless Betty/Jughead/Archie/Veronica drama) about this production that's not really a production: it is Kevin's show. 
"I think it's a huge breakout moment for Kevin," Cott says. "I think it's a huge relief for Kevin. Kevin's been, for almost two seasons now, kind of riding this follower wave where he's kind of just sad and trying to communicate that he's lonely and stuff, and all of a sudden this episode happens, and he just kind of loses his mind in the best way. So I think it's kind of an explosion for Kevin, and I hope it kind of carries on for the rest of Riverdale, this new Kevin who's not afraid to strut his stuff." 
Kevin's spent the season recovering from his time on the Farm (remember when he literally gave up a kidney?) and Cott says this episode might just be a turning point. 
"This might be the end of that recovery, or it could be just a new beginning for Kevin." 
The musical episode of Riverdale airs tonight at 8 p.m. on The CW.