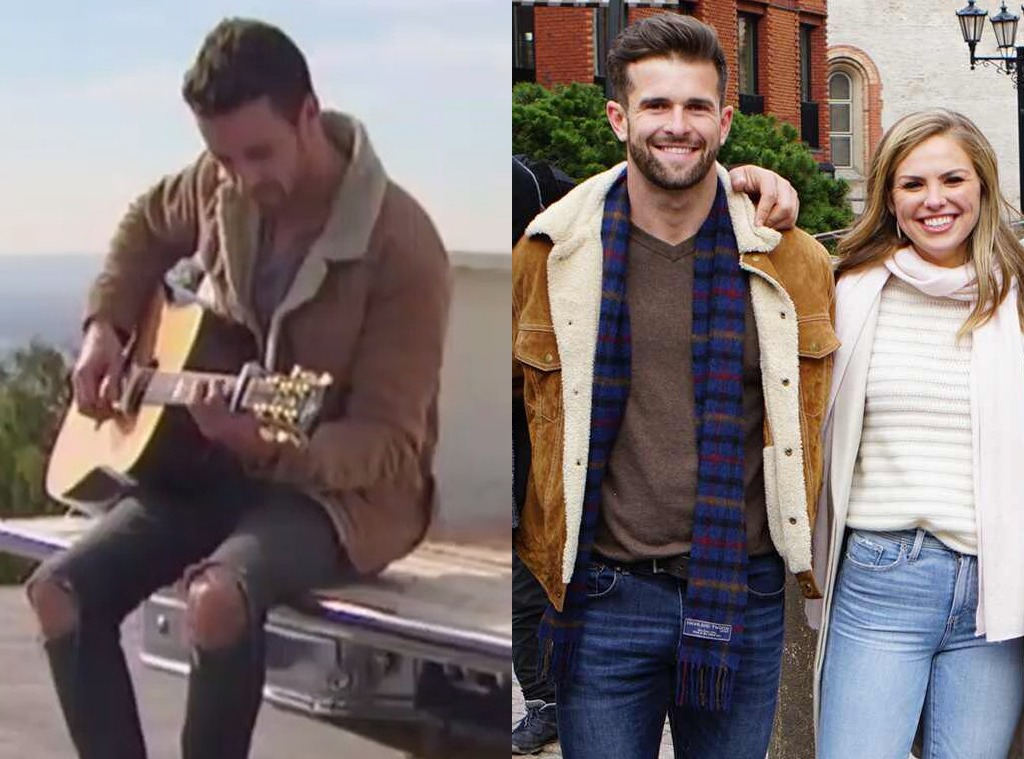 ABC/Mark Bourdillon
The Bachelor's new show The Bachelor Presents: Listen to Your Heart premiered on Monday and fans already think they've met this season's villain.
Mere minutes into the series, people on social media began to suspect that Trevor Holmes is Jed Wyatt 2.0. For one, the 29-year-old is an aspiring country pop singer, as was Jed. Secondly, the star chose of his own volition to wear a jacket with a sherpa lining, similar to the one Jed wore when he tried to serenade Hannah Brown.
The former Bachelorette herself was watching the premiere and tweeted, "I'm triggered by this whole thing. @chrisbharrison #TheBachelorLTYH."
"We've seen how this whole look turns out already..." other contestant Tyler Cameron added, alongside a photo of Trevor in his sherpa-lined coat. 
Even Jed agreed there are too many coincidences. "Something about this new show feels familiar," he joked on Twitter. "Maybe it's Trevor's jacket, maybe it's all the guitars. Stay tuned."
All in all, this doesn't bode well for Holmes, especially since Wyatt is now one of Bachelor Nation's most infamous contestants. He landed himself a spot in Bachelor history when he proposed to Hannah without disclosing the fact that he was in a relationship with another woman just days becoming joining her season. 
That being said, many people believe the show was basically inspired by Jed's dream of achieving fame through a dating show—in reality, it was inspired by A Star Is Born. But, as Tyler Cameron pointed out, "They should give Jed producer credits because he is definitely the creative idea for this show." 
Watch:
Peter Weber's Message to Fans After Messy "Bachelor" Finale
Of course, things didn't pan out so well for good ol' Jed, but there's hope for the musicians who joined this series. Each couple will have the chance to perform covers of songs, which will then be judged by a panel of judges. In doing so, they garner thousands of views and fans, thus increasing the possibility of being signed to a major record label. 
There's also the fact that they could meet the love of their life on the series, something that the contestants told E! was highly appealing. 25-year-old Savannah McKinley shared, "I was really excited about the fact that I get to be surrounded by you know 20 plus musicians who are like-minded and you know whether I leave this experience with, like, a new best friend out of the deal or find the love of my life, I'm like I'm here to make those authentic connections. I'm just a people person so I'm like hell yeah let's do this."
Now, all that's left for these stars to do is to listen to their heart