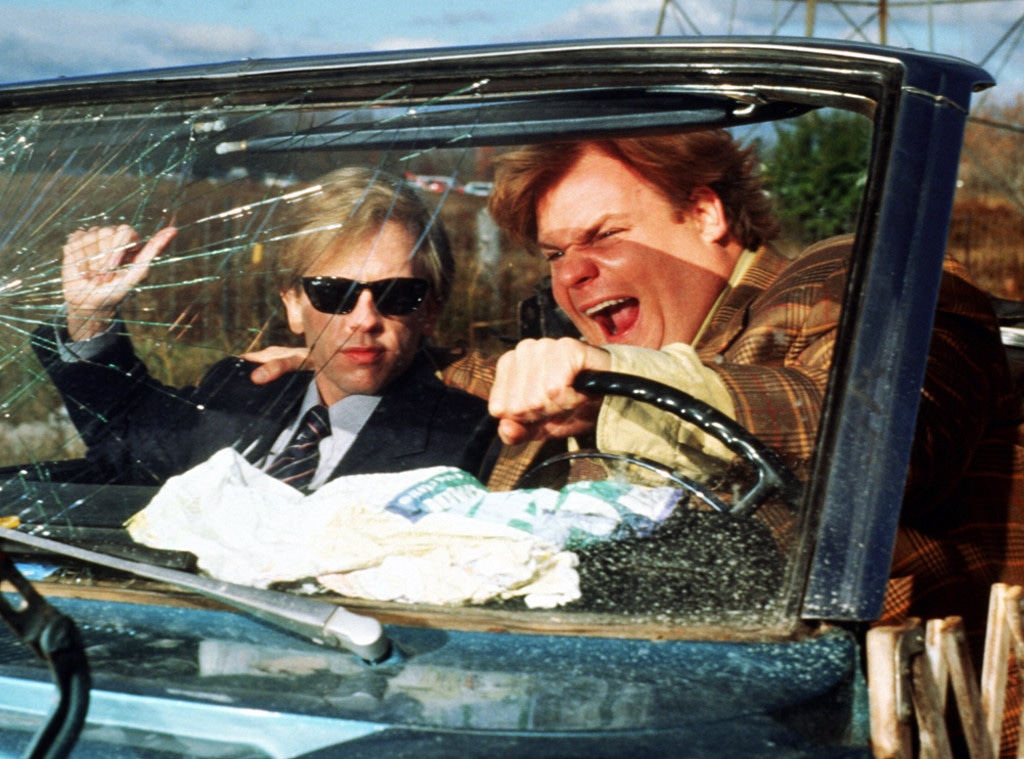 Paramount Pictures
Happy anniversary, Tommy Boy!
The comedy turned 25 years old on Tuesday. The film opened in theaters on March 31, 1995.
Chris Farley, who passed away just two and a half years after the release, and David Spade starred in the movie. Rob Lowe, Dan Aykroyd, Bo Derek, Brian Dennehy and Julie Warner appeared in it, as well.
For those who haven't seen the movie, the flick begins with Tommy (Farley) barely graduating from college and returning to his hometown in Sandusky, Ohio, where his dad (Dennehy) owns an auto parts plant. Tommy is immediately given a job with a big office and shown the company's new brake pads division. His father also announces he's getting married to Beverly (Derek) and that she has a son named Paul (Lowe). But on the day of the wedding, Tommy's dad suddenly passes away. The company is left in jeopardy and is at risk of being bought out by competitor Zalinsky (Aykroyd). So, Tommy offers to drive across the Midwest to sell the new brake pads and save the family business. However, he doesn't know anything about them. So, he brings along his dad's righthand man Richard (Spade), who always seems annoyed by Tommy's ability to skate by in life. Their road trip makes for one hilarious and bumpy ride. 
From the sidesplitting scenes to the quotable one-liners, there are lots of things that make this movie a classic. But there are still some secrets even the most devoted fans might not know.
Watch:
Rob Lowe Reveals His Secret to Looking So Young!
In honor of Tommy Boy's anniversary, here are 25 surprising secrets about the movie.
Now, who's ready to watch it all over again?