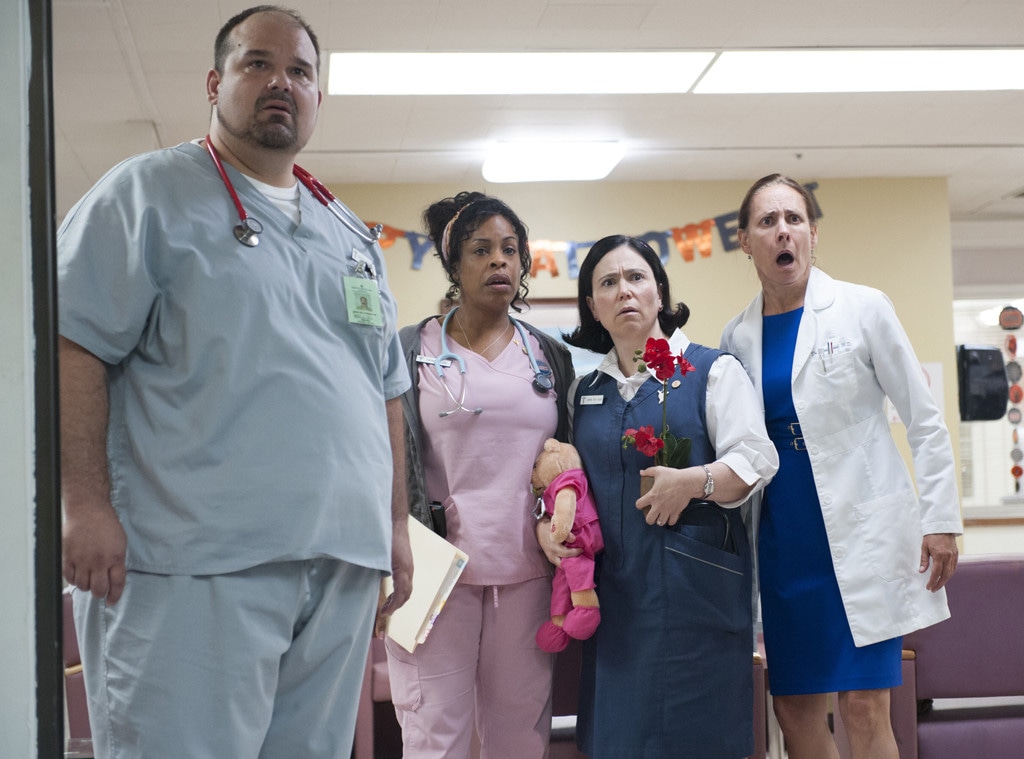 HBO
Television has been an overwhelming comfort while millions have been doing their part and social distancing in the fight against the spread of coronavirus. And because so much TV is being consumed, both old and new, we couldn't help but think how some of our old favorites would handle the current situation.
How would your favorite character be social distancing? How would some dearly departed medical shows handle the very real pandemic? So, we asked those who helped bring those shows to life over the years how their series would handle life in the time of coronavirus.
Created for American television by Big Love's Will Scheffer and Mark V. Olsen, Getting On ran for three seasons on HBO. The series was set in the geriatric extended care facility and followed the beleaguered doctors and nurses who cared for the patients day and night. Laurie Metcalf, Niecy Nash, Alex Borstein and Mel Rodriguez starred.
E! News asked Scheffer and Olsen how their Emmy-nominated series would handle the coronavirus. Here's their interpretation, titled Getting On: "Pandemic."
"Long Beach: hit hard by the coronavirus. Billy Barnes Long Term Care Unit, rebuilt, up and running. As yet, the virus has not spread to the ward. Dawn [Borstein], now with kidney transplant, and Jenna [Metcalf], her donor, both are vulnerable-- but together with Didi [Nash], they've thrown themselves into their work as public health servants. Since medical professionals are no longer allowed to take public transit, Dawn and Didi carpool in Jenna's Volvo. This is the day they must pick up Patsy [Rodriguez], too, all four now crammed in the vehicle. Jenna confides, "I feel bad about how bad I feel about how much money I 'm losing while so many people are dying." Didi, Dawn, Patsy, all in the back seat, share a look.
"It's a s--t show at the main hospital—it's gone all virus, all the time—all ancillary services were moved out; four rooms in Billy Barnes have been requisitioned for Maternity. Meantime, triage decisions have been made by hospital administration: since the aging women of Billy Barnes are the least likely to survive the virus, vents have been reallocated to the main hospital, and equipment is heavily raided daily (masks, gowns, gloves).
"Jenna, fed up with the perpetual disrespect shown to geriatrics, locks down the ward: no one (doctor, intern, administrator) from main hospital is allowed entry, no more raiding their supplies. They've stuck an IV pole through the handles on the main entry double doors; Dawn mans the doors like a bulldog—they WILL protect their vulnerable charges. Main hospital is furious at the insurrection. Billy Barnes has cut themselves off like the Donner party.
Watch:
Niecy Nash Reacts to 2016 Emmy Nomination
"A SCREAM. A young woman is in labor. The on-call OBGYN has tested positive and is in self-quarantine. Jenna is detained at the main gate in an act of bureaucratic harassment (the temperature gun thermometers "can't get a read"). Patsy is useless; Dawn in a dither—per usual, circumstances call on Didi to step up to the plate. She orders Dawn and Patsy from the room ("You're upsetting the patient!") and delivers the baby.