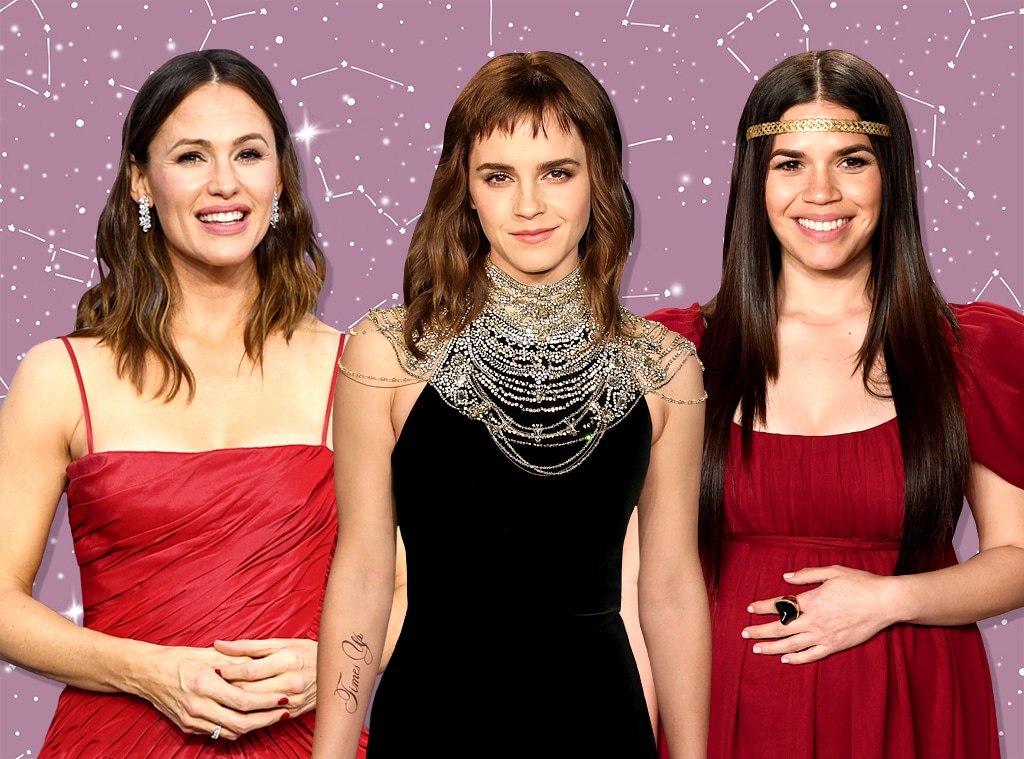 E! Illustration
We love these products, and we hope you do too. E! has affiliate relationships, so we may get a small share of the revenue from your purchases. Items are sold by the retailer, not E!.
It's April, dear readers. A new month in a whole new normal for all of us. "Funny how the common wisdom is stay safely home and the astrology favors those who do a little soul searching this month," notes our resident spiritual advisor Lisa Greenfield. "Because new levels of creativity and breakthroughs happen when you invest some quality time with the inner you."
"You might be surprised to find you are better company than you realize," Lisa forecasts. "When you can't do what you've always done, you have two choices: Be bothered or try something new. Even if you can't start yet, make fresh plans for when things calm down. It's spring and time for planting seeds of possibility you can enjoy when they mature later this year. Here's some fun ideas to help you look and feel your best while you do."
Aries
"My impatient rams don't do well boxed in for long. But this month your imagination is where the wild beasts can be set free. Put those dreams to good use with a MasterClass program. Your compulsive overachieving could set records when it comes to inspired plans and dreams. Visualize your plan of action first so it won't be to irritating when you have to take it step by step."
Taurus
"What a month ahead you have, my stubborn one. Time to put a desktop sand art up to show you how beautiful it can be when the world turns upside down. Take a few minutes each day and admire how gracefully things can flow into place without control. Art emerges with every flip and it's always perfect. Let that soothe your nerves as things shift and change around you."
Gemini
"Oh, you are so good at leaping tall buildings in a single thought. This is a great time to invest in a classic pastime that gives your mind both a focus and rest. Choose a book series that gives you a run for your money, like Tolkein, C.S. Lewis or Ludlum and hold something in your hands while your imagination soars. It gives your brain a world to play in and your body in rest in this one."
Cancer
"My homebody gets a boost from the current state of affairs and, surprise, it makes you want to reach out! Invest in beautiful personalized stationery and bring back the art of letters that speak a visual language too. Your inspired communication may wind up framed on a loved ones wall in years to come."
Leo
"Oh, does the world need your light and leadership in these difficult days. I'd upgrade your smartphone so you can stream your sunny self to those who could use your laughter and shine to help brighten a dark day. Who better than a Leo to take center stage and send an uplifting or entertaining message to those in need?"
Virgo
"The sunshine pours love into your life, even in the midst of social distancing. Take your love up to gold with a Power Gemstone Locket With Manifestation Stone Pack that says what your heart feels. Beam love and watch it stream back your way. Mind your tendency to edit as a natural curb to feeling so good. You deserve the love, let it in, and touch the necklace every time you doubt it to remind you love is pure gold and real."
Libra
"You struggle with the world as it is now, there's no sugarcoating it. So rather than fight the feelings of despair reach for some camouflage. Just putting on camo suits you up to remember that all things change, this is just one more in the chain of life. Look fabulous in it and feel better with such stylish preparations for the mental battle with fear. Spoiler alert, you win!"
Scorpio
"It's back to basics for you, my deep one. While investing a great armchair to curl up in might be a stretch, smart athletic wear is in reach anytime. Plus, it keeps you motivated to do those at home exercises and looking oh-so-hot instead of sinking into couch oblivion. Your inner child needs firm boundaries to feel good, so put your exercise gear on and get that body in top sexy form. You'll be oh-so-glad you did on the other side of social distancing."
Sagittarius
"Keeping you in the house can be like caging a wild horse. You need to feel your impact to keep the demons from the door. Grab an Atari Flashback and go wild on the old video games. Find an online community to share your successes with and broaden your circle as the world outside is on pause. You can always find a new arena to explore, and you need one."
Capricorn
"What's cooking my sturdy goat? You are. To do it well, you need a knife set—the kind top chefs use. Get those groceries delivered, stroll into the kitchen and prepare meals fit for royalty with your exquisite tools in hand. You look good, eat well and can have so much fun. Bonus, extra can be shared with neighbors or frozen, making you a hero for the hungry."
Aquarius
"With Saturn and Mars in your sign putting a serious damper on going out, you need a new breakfast spot. Fix up that bedside table and turn it into a tempting place to start your day. Do it dressed in a robe that makes the transition from night to day tempting. Choose a bright and cheerful wrap to start your day off right even if you aren't going far. You'll look forward to getting up just to feel good wearing it."
Pisces
"My dreamy one, you have to deal with so many harsh facts this month, and it can be oh-so-jarring. What you need are eyelet pajamas, where you see what's there beneath the veil, but in soft focus. Difficulties and imagination can work well together—just like your jammies. This way you can look at the harshness of the world with kind eyes that act just like that veil. Wear it, enjoy how beautiful you are and remember dreams and facts can work well together."