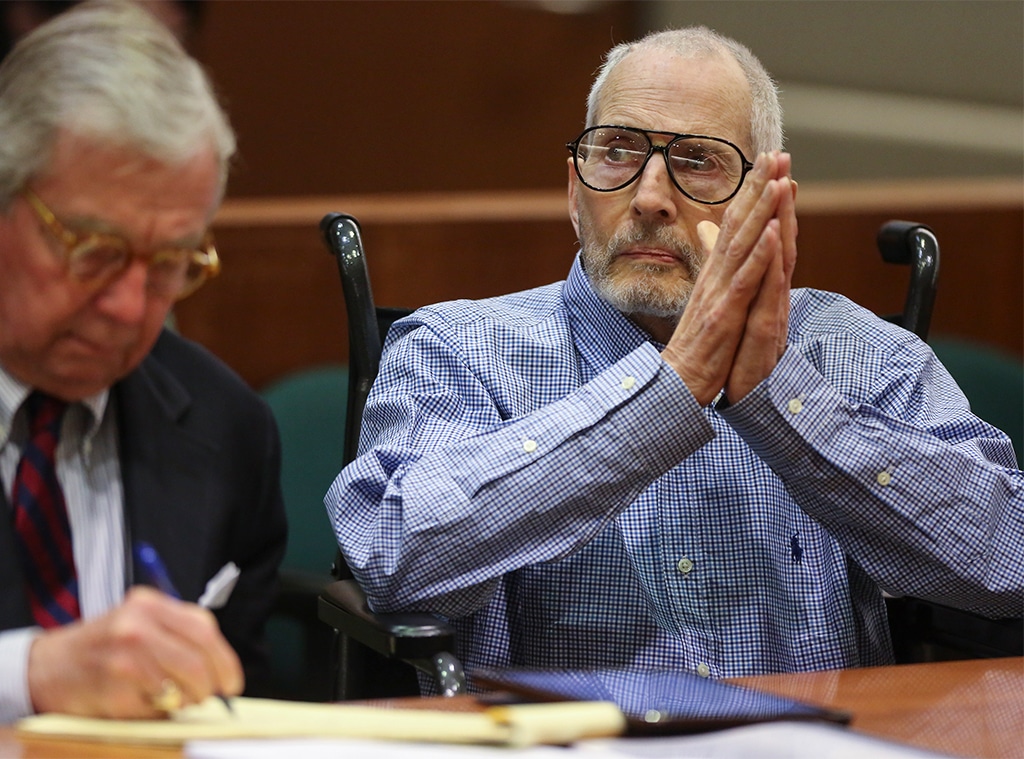 MARK BOSTER/AFP via Getty Images
Now 21 years after Susan Berman was shot to death in her Benedict Canyon bungalow, Robert Durst is on trial for her murder.
Opening arguments began more than a year ago but proceedings were postponed due to the coronavirus pandemic. On May 17, court resumed with questions for the jury that was seated in March 2020 to determine if this is still the same panel that should sit in judgment of the 78-year-old Durst, whose eventful life came into focus in the 2015 HBO series The Jinx.
Durst, who according to his attorneys is battling bladder cancer and other health issues, was not present. Los Angeles Superior Court Judge Mark Windham denied the defense's request for another postponement, while Deputy District Attorney John Lewin called the request to have Durst released to a hospital for treatment a "get out of jail free card."
He has pleaded not guilty to the 2000 murder of Berman, a close friend whom prosecutors allege he killed to silence before she talked to detectives about the 1982 disappearance of Durst's wife Kathie.
Meanwhile, the defense team for Durst, the privileged heir to a New York real estate fortune, has insisted that whatever people think was a big gotcha moment in The Jinx was not the confession it was made out to be.
There's no doubt, however, that the details are stranger than fiction.
After Berman's death, Durst moved to Galveston, Texas, where in 2001 he fatally shot and dismembered his neighbor Morris Black—because, it was said at trial, that Black had discovered who Durst really was despite the defendant's attempts to disguise himself by wearing women's clothing. Durst pleaded not guilty, saying he acted in self-defense, and was acquitted of murder. 
In September 2004 he pleaded guilty to two counts of jumping bail and one count of evidence tampering (for dumping the remains) and was sentenced to five years in prison, including about two years of time served. He was paroled in July 2005, sent back for a violation that December and ultimately released in March 2006. 
Also among the clues that led to Durst's 2015 arrest in New Orleans and subsequent extradition to Los Angeles were a murder scene that indicated Berman knew her killer and two identical misspellings of "Beverley Hills"—one purportedly on an envelope Durst sent to Berman that was unearthed on The Jinx and, the other, a note sent to Beverly Hills police around the time Berman was killed. The entirety of the message to police was the word "cadaver" and what turned out to be Berman's address.
After Durst's legal team initially tried to block handwriting experts from testifying, they dropped the matter and, according to court documents filed in December 2019, Durst admitted to writing what detectives called "the cadaver note."
Watch:
Nancy Grace Gives Rapid Fire Answers on True Crime Cases
"When Bob showed up and found her dead, he panicked," lead defense attorney Dick DeGuerin told the jury in his opening argument in March 2020, per the Los Angeles Times. "He wrote the anonymous letter so her body would be found, and he ran."
After COVID-19 shut everything down on March 12, 2020, Durst's attorneys first tried to get the judge to declare a mistrial the following month, arguing that the delay, however long, would prevent their client from getting a fair trial. The defense team submitted a list of potential questions to ask the 12 jurors and 10 of the 11 alternates who were seated last year, but according to Sacramento's KCRA.com Judge Windham wouldn't allow it, saying he himself would ask if the jurors had read or heard about the case over the past year, or whether serving now would cause undue hardship. 
If all goes on according to plan, finally, the cast of characters is only going to grow (more than 100 prosecution witnesses were reportedly on tap to testify), so let us unpack what you need to know to have a working grasp of the case before it gets more complicated:
If the judge accepts the jury as is, the prosecution and defense will be granted up to two hours each to make new opening statements, a refresher course on the details as the years-in-the-making trial gets underway.
(Originally published March 11, 2020, at 9 a.m. PT)