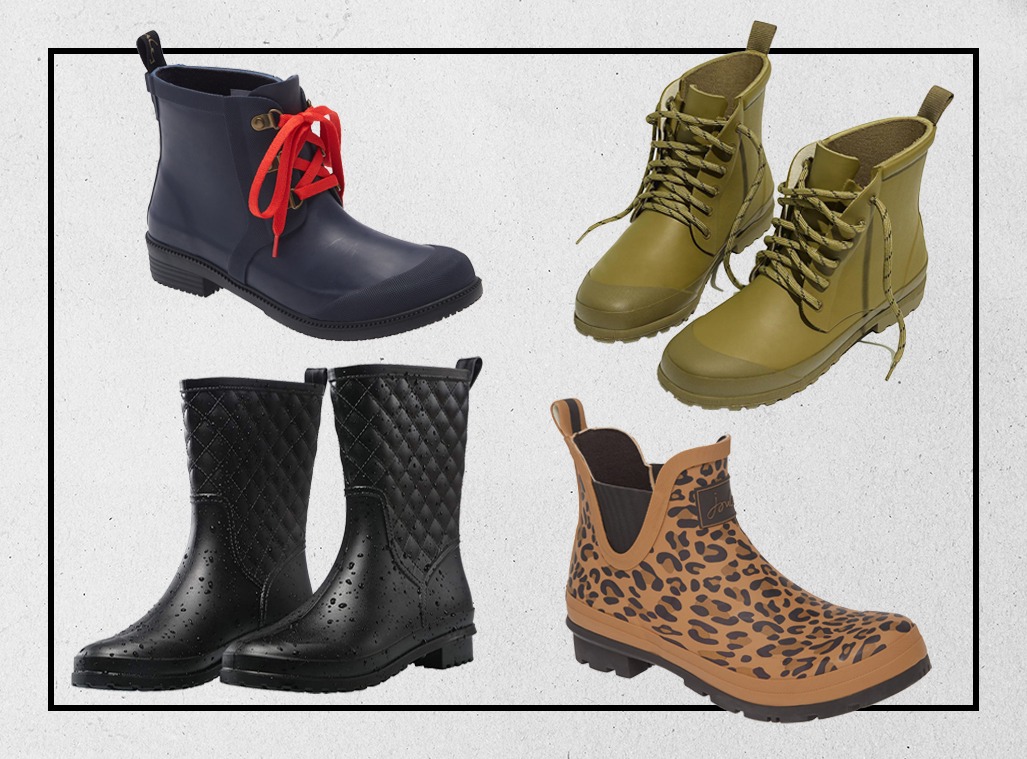 E! Illustration
We love these products, and we hope you do too. E! has affiliate relationships, so we may get a small share of the revenue from your purchases. Items are sold by the retailer, not E!.
Do you tell yourself every year that you need to invest in rain gear, only to forget about it until it inevitably downpours? We feel you. So take this as your reminder to get ahead of the fall showers by purchasing a pair of cute rain boots. 
If you think rain boots can't be cute, we're here to show you otherwise. A number of brands like Coach, Madewell and Ugg have come out with their own versions of rain boots that are perfectly unique to their style. Target even has a few trendy pairs that you can get for a really affordable price. Best part is, many of these rain boots look like actual boots you could wear everyday. 
It may not rain a lot where we're from, but we're still going to snag a few of these anyway. They're just that cute. Check out our picks for this season's must-have rain boots below. 
A New Day Women's Camille Heeled Boots
The Camille Heeled Boots from A New Day are so chic, you'll want to wear these rain or shine. You can even choose between black, bone and burgundy. Then again, you may love these so much, you'll want to get them in all three colors. 
Madewell The Lace-Up Lugsole Rain Boot
It may not look like it, but these stylish boots are actually rain boots. It comes in black and olive, and features Madewell's MWL Cloudlift insoles for extra comfort.
Western Chief Printed Tall Waterproof Rain Boot
We love these rain boots for the variety of fun prints it comes in. You can choose between plaid, polka dots, florals and more. There's something for everyone's tastes. 
Hunter Original Refined High Gloss Quilted Waterproof Rain Boot
We never thought we'd use "rain boots" and "chic" in the same sentence, but these Hunter rain boots are just that. Their diamond-quilted rubber is reminiscent of high-end riding boots. 
Madewell The Zip-Up Lugsole Rain Boot
Leave it to Madewell to give us another pair of rain boots that are both stylish and comfortable. These boots have trendy rugged soles and Cloudlift insoles. You can also get these in true black and ashen silver. 
Coach Rain Bootie
This pair of booties are at the top of our favorites list. Coach's rain bootie comes in dark jade, black and black glitter, and subtly features Coach's signature pattern. Plus, you can snag these for 15% off right now. 
Joules Wellibob Short Rain Boot
Make a statement with these Chelsea-style rain boots from Joules. It comes in several playful and bold prints like leopard, stripes, flowers and gold ducks. Plus, Nordstrom shoppers rate these highly. 
J.Crew Short Lug-Sole Rainboots
We love the rosy pink color of J.Crew's Short Lug-Sole Rainboots. The style itself is very in for this season, it comes in six different colors and it's on sale right now.
Petrass Women Rain Boots
These rain boots are lightweight, comfortable and pretty fashionable. It has over 3,000 five-star reviews on Amazon, and many rave about the good quality. 
Asgard Women's Ankle Rain Boots
If you're looking for something simple, chic and affordable, these rain booties are it. You can even choose between 13 different color options. We personally recommend the dark green!
Joules Ashby Waterproof Rain Boot
We're obsessed with Joules' unique styles of rain boots, and this lace up pair is no exception. Adorable.
Hunter Original Play Waterproof Rain Bootie
Hunter is known for their iconic rain boots and we're loving the navy hue of these rain booties. Plus, check out their contrasting striped pull tabs. So cute!
Ugg Chevonne Rainboots
As much as we love a nice sunny day, we can't wait for it to rain just so we can wear these Chevonne Rainboots from Ugg. It comes in six colors, and we're completely obsessed with this striking ribbon red. 
—Originally published Mar. 12, 2020, at 3:30 a.m. PT