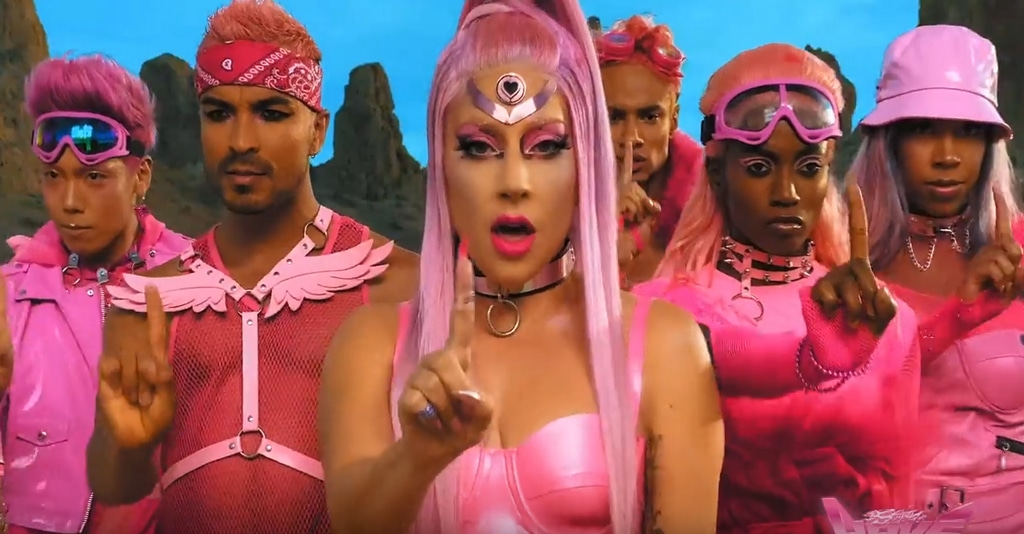 YouTube
Tell me something, girl.
On Thursday, Lady Gaga sat down with Apple Music's Zane Lowe ahead of the release of her highly anticipated single "Stupid Love," which debuted on Friday, to chat about all things music. During her Beats One interview, the "Shallow" singer explained where the inspiration for the upbeat dance anthem came from, crediting some unlikely colleagues with helping her find the right sound and lyrics.
"Sometimes you have to move your body and your spirit and your soul that really even access what you're actually feeling and I was feeling so down so many days when I was, you know, before I went into the studio to work, and then I would go in and I would just, I, I would sit there with [producer] BloodPop and go, 'Okay, I'm gonna open the portal, I'm gonna listen, I'm gonna talk to all my fairies,'" Gaga said. "All the fairies that help me write music and I'm gonna ask them what the world needs to hear."
She continued, "And then we would make records and it—it turns out that they were happy and it, it was, I used to cry a lot in the studio because I, I would listen back to what I was singing and I would hear my voice and I would hear the music and it would be so joyful and I, and celebratory, and it, I would, essentially see the arc of my entire day."
In addition to consulting with her mythical beings, Gaga shared that "Stupid Love" came from accepting her past and channeling her learnings. "I mean, the first lines of Stupid Love are, 'You're the one that I've been waiting for / Gotta quit this cryin' / Nobody's gonna heal me if they don't open the door, / Kinda hard to believe, gotta have faith in me,'" she shared. "Like, it's right there…I'm pretty sure that when we all decide to be vulnerable, it's really scary, and I think it's very scary for a lot of people and there's all kinds of laws and constructs and things that have built all around us."
While displaying that vulnerability is difficult for the "Just Dance" singer, she said that she hopes it empowers her Little Monsters to heal as well. Gaga added, "I really want to do and want this song to come out and I'd love for it to collapse as many of those walls as possible and people to be saying, 'I want your Stupid Love. I love you.'"
If one thing is for sure, it's that her sixth studio album is going to have fans everywhere on their feet. "We are definitely dancing," she declared while explaining what her goal was for her upcoming album. Compared to 2016's Joanne, she told Lowe that her new body of work will feel totally different as her last album was "for my father, an album about the trauma of my family, an album about how we pass things on generationally to each other," as well as "my relationship with men."
This time around, Gaga said, "This was much more like, 'You know what, guys? It turns out, I just sobbed for three minutes and this is what came out, and this is what should be there.' And it was so real and it was so, like, like, all my gears, all my musical bells, all my artistic thoughts, the way that I see music and experience music like a wall of sound, everything was just firing on all cylinders and it made me feel so happy because I thought to myself, wow, even when you feel six feet under, you can still fire on all cylinders."
Mirroring her sentiments regarding creating music that uplifts people, she continued, "You know, someone asked me the other day what my goal was with this album and it actually sounds ridiculous when I say it out loud. But I go, I said, 'I would like to put out music that a big chunk of the world will hear, and it will become a part of their daily lives and make them happy every single day.'"