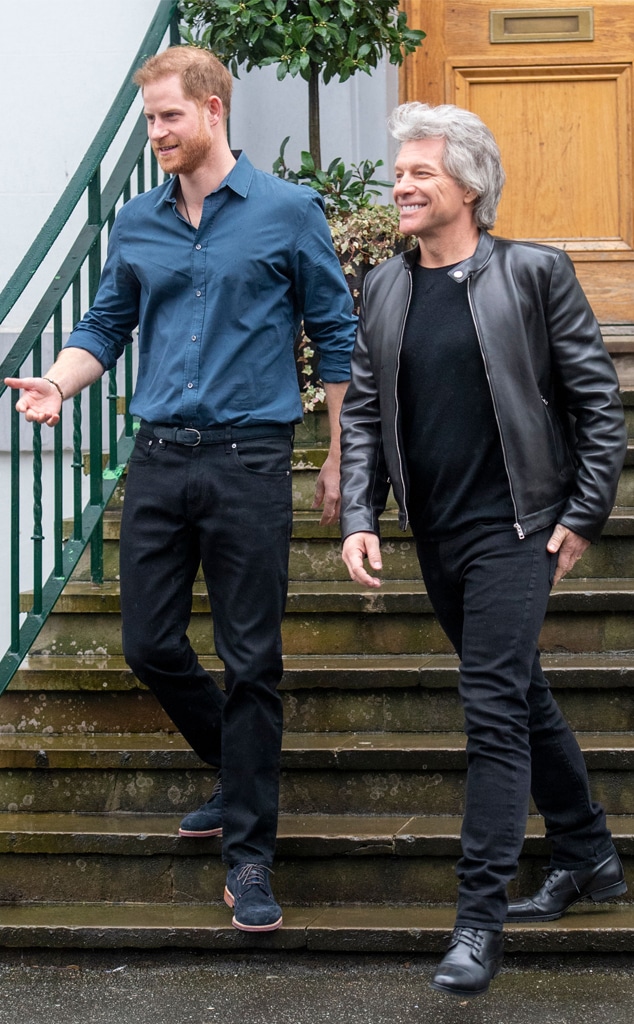 Tim Rooke/Shutterstock
Who is ready to rock with Prince Harry and Jon Bon Jovi?
The 35-year-old Duke of Sussex and the 57-year-old singer visited Abbey Road Studios in London on Friday. There, they met members of the Invictus Games Choir and recorded a single, "Unbroken," for the Invictus Games.
Harry and Jon teased the track by sharing a video of themselves in the studio. However, fans couldn't hear the music. They then released a snippet of the song via Instagram later that day.
"The Invictus Games Choir, made up of wounded, injured and sick veterans and serving personnel from all services and different ranks of the UK Armed Forces, have come together to use the power of music to aid their recovery," part of the post read. "Although The Duke was unable to sing, leaving the vocals to the professionals, the special single that was recorded in Studio 2 where The Beatles recorded 11 out of their 13 albums, and will be released in March in support of the @WeAreInvictusGames."
According to the foundation—which uses "the power of sport to inspire recovery, support rehabilitation and generate a wider understanding and respect for wounded, injured and sick servicemen and women"—the Grammy winner wrote the song after hearing stories of U.S. veterans with post-traumatic stress injury. The single was released last year in support of the movie To Be of Service. Jon then wrote to Harry and offered to re-record the tune for the Invictus Games.
Jon also told BBC's The One Show that all of the proceeds are being donated to the Invictus Games.
In addition to recording, Harry and Jon posed at the famous Abbey Road crossing, where The Beatles shot the cover of their eleventh studio album.
The Invictus Games organization is near and dear to Harry's heart. Not only is he patron of the foundation, which he founded in 2014, but he also served in the British Army for a decade.
The collaboration came less than two months after Harry and Meghan Markle announced their plans to step back as "senior" members of the royal family and split their time between the U.K. and North America. As a result, the Duke and Duchess of Sussex must step back from royal duties, including military appointments, and they will no longer receive public funds for such duties. They will also no longer be allowed to represent Queen Elizabeth and they will no longer actively use their "HRH" titles. However, they will maintain their private patronages and associations and will be announcing a non-profit organization later this year.
The couple will begin this next chapter starting March 31.
Watch:
Prince Harry & Meghan Markle to Drop "Royal" Branding
The 2020 Invictus Games will take place in The Hague this May.