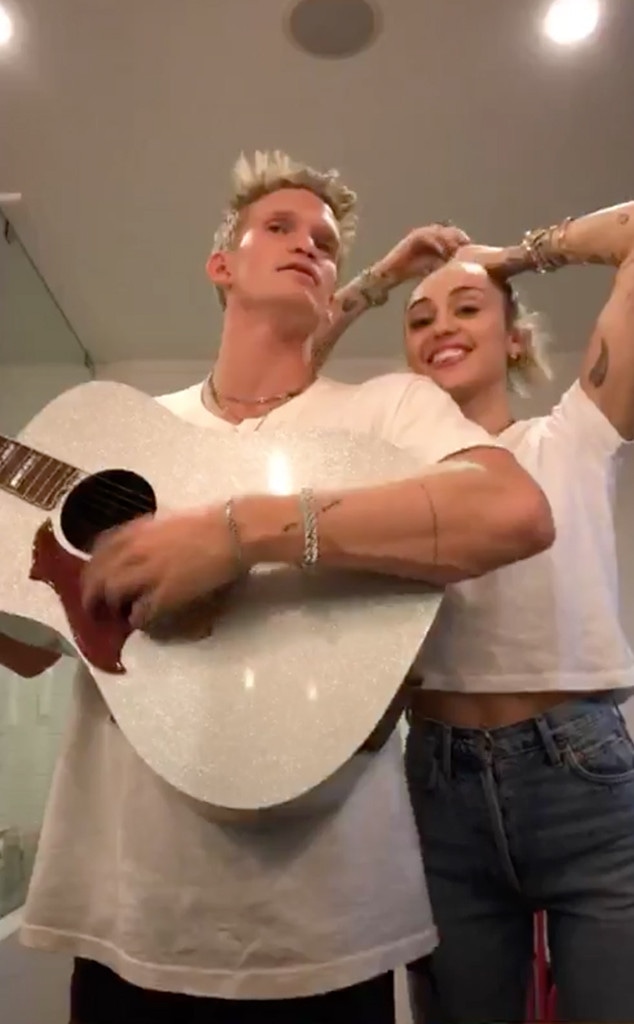 Instagram / Cody Simpson
She's just being Miley!
On Wednesday, Miley Cyrus joined beau Cody Simpson in the recording studio…and things got a little NSFW. 
After the Australian singer shared a series of candid snapshots from his recent jam session, where Cody can be seen flashing a smile as he sings into the mic, on Instagram, Miley teased what went on behind the scenes with a cheeky comment.
"Where's the screen shot of me flashing my boobies while u record," the "Slide Away" singer wrote. "Tip: smiling when you sing helps pitch by brightening the sound! You're welcome for all the above!" 
Since they first started dating back in October 2019, the couple have been known for making their love known and packing on PDA. For Halloween, Miley and Cody dressed up as rock icons Perri Lister and Billy Idol—complete with edgy wigs and tons of leather. After documenting getting suited up in their costumes, Miley shared several pics of the duo locking lips in a steamy make out session.
Despite rumors that their whirlwind romance had ended around the holidays, Miley and Cody continue to prove that their relationship is still going strong. Before their recent trip to the recording studio, the pair had an adorable twinning moment while out and about together.
Donning matching rectangular black sunglasses and effortlessly cool outfits, they posed for a picture together on Miley's Instagram Story. She captioned the snap, "Always feel cool after a trip to Herbergerzzz."
Rocking similar clothes isn't the only way the couple has cemented their romance. Shortly after confirming that they were an item, Miley and Cody got rock 'n' roll-inspired tattoos together.
Staying on theme, Miley got the image of a heart with a dagger stabbed through it on her arm. A banner across the tat reads, "ROCK N ROLL HEART." For his part, Cody got an illustration of a skull and cross bones inked on his chest.
Watch:
Miley Cyrus & Cody Simpson Continue PDA & Liam Hemsworth Hangs In There
And, to further declare his love for the "Mother's Daughter" singer, Cody even wrote a song for her. After they started dating, he released his song "Golden Thing," which serves as a tribute to Miley and their newfound romance.
Around the time of the song's debut, a source told E! News that Miley has become Cody's muse. "Cody is focused on his music and living a healthy lifestyle and she really likes that," the insider shared. "It feels good for Miley to be surrounded by his positive energy. They play music together and hang out in the studio…They have gotten a lot of attention teasing it to the fans and they are having fun with it."