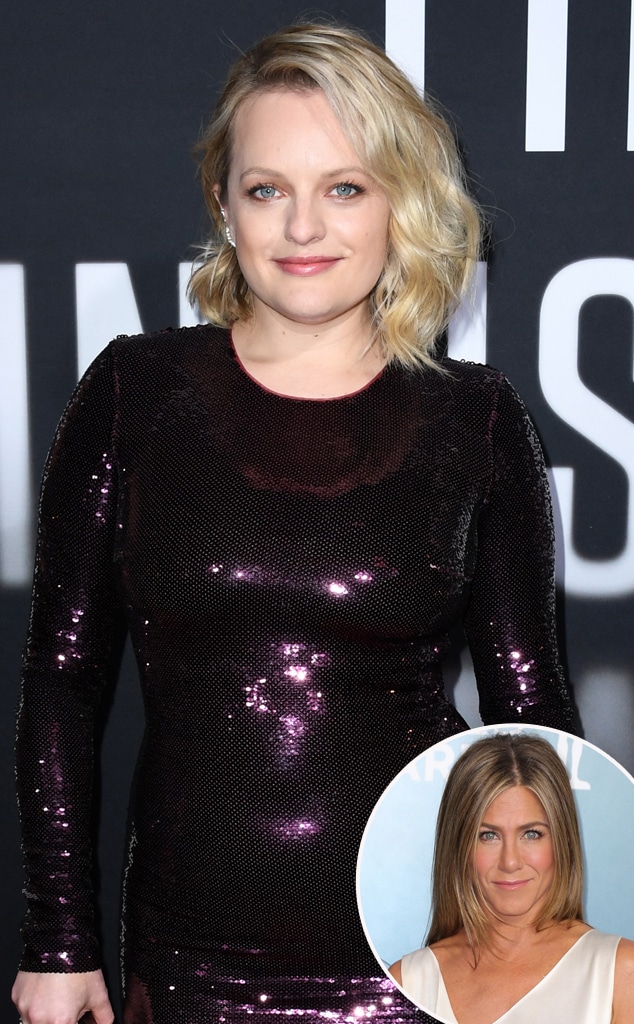 Jon Kopaloff/FilmMagic, Leon Bennett/Getty Images
Same, Elisabeth Moss. Same.
On Tuesday, The Handmaid's Tale actress recalled the sweet moment she shared with Jennifer Aniston at the 2020 SAG Awards back in January during her visit to Jimmy Kimmel Live. While reminiscing about the friendly embrace, Elisabeth joked that she was one of her pals now and relived the time the media thought she attended Jen's star-studded 50th birthday bash last year.
"I've never met her," she told host Jimmy Kimmel. "I literally have never officially met her. And we were staying—well, I was at this hotel and my brother was dropping me off…and I walked into the hotel and there were all these paparazzi outside, so I was like, 'Who's here?' And I asked and they said it was Jennifer Aniston's birthday party."
"And then the next day, I had all these interviews and they were asking me, like, 'Oh, my God. Did you have an amazing time at Jen's party? Oh, my God. You went to Jen's birthday party?'" Elisabeth continued. "And I decided I wanted to just, kind of, go with it. I wanted to be like, 'Yeah, I did. We're really close.'"
She added, "Just like, 'Me, Jen and Courteney Cox, you know?' No, 'cause we've never met and I was like, 'She's going to think I'm such a weirdo.'"
Still on the topic of her faux friendship with The Morning Show star, Elisabeth compared their red carpet interaction to the viral moment Jen reunited with Brad Pitt at the award show: "Well, everyone thinks that moment with Brad where they were holding hands was a big deal, but honestly, she seems to just be doing this with everybody," adding, "I mean, she's just very handsy."
Switching gears, Elisabeth dished about her upcoming film The Invisible Man, where she plays a woman who is haunted by her late abusive boyfriend in the re-imagining of the 1897 sci-fi novel by H. G. Wells. As she explained the storyline to Jimmy, she shared that she's found her calling acting in scary movies.
"It's really fun," she gushed. "I loved it. I did a small part in Jordan Peele's movie Us and that was where I sort of discovered, like, oh, this is my genre because basically, you can do the craziest s--t and everyone loves it."
Watch:
Elisabeth Moss Wants a Rom-Com Next...Or Else!
During the 2019 mystery thriller, Elisabeth's dramatic acting chops were put to the test with some intense moments. "I was doing a scene where I'm, like, dragging a knife, like, across my face in that movie and, like, smiling and, like, crying at the same time," she continued. "And then Jordan walks in and he's like, 'Amazing, amazing. Oh, my God, this is so great.' And I was like, 'This is my jam.'"
Despite starring in The Invisible Man and performing the stunts herself, Elisabeth confessed that the final product still left her spooked. "When I first watched it, I watched it in a screening room by myself—which was an odd choice," she shared. "And I did actually jump several times. Yeah, it's dumb. Like, I did that…but when I watched it, I was like, 'Oh, my god!'"
The Invisible Man hits theaters Friday, February 28.