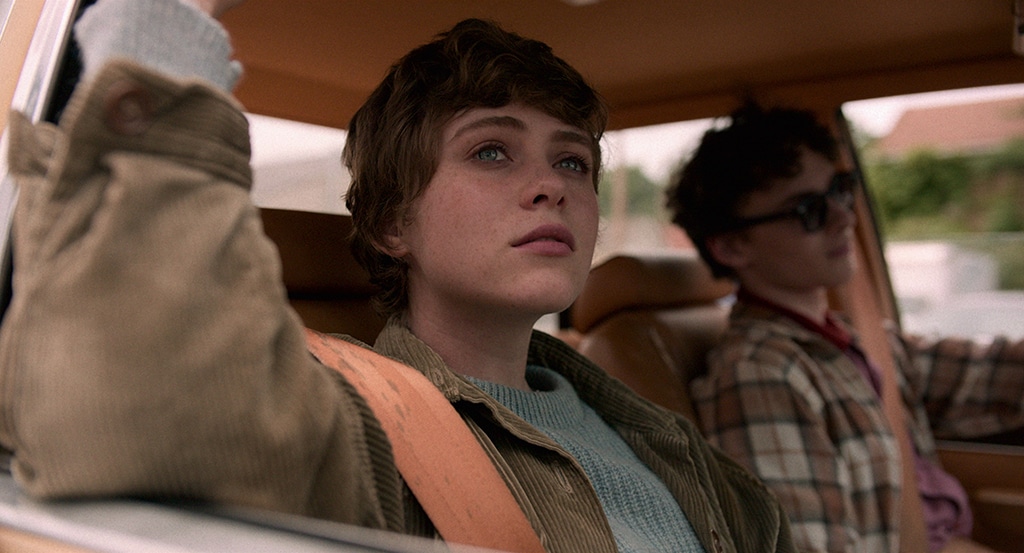 Netflix
At just 18 years old, I Am Not Okay With This star Sophia Lillis is doing something she's more than OK with. "I've always wanted to be a girl with superpowers," she told E! News.
As Sydney in the new Netflix series, she's got those superpowers and so much more.
Since commanding audience's attention while battling Pennywise in 2017's It, Lillis went on to play a young Amy Adams in Sharp Objects and lead her own movies with Gretel & Hansel and Nancy Drew and the Hidden Staircase. Now, she's taking on her own TV show as the lead of I Am Not Okay With This, a new series poised to be Netflix's next big thing.
Based on the graphic novel of the same name by Charles Forsman, I Am Not Okay With This follows teenager Sydney. She's a high schooler who isn't exactly part of the popular crowd, her friend circle is limited, and at home she's dealing with a fractured relationship with her mother while still processing the suicide of her father. As if going through all of that in high school wasn't bad enough, Sydney begins to develop those aforementioned superpowers. From the moment she read the project, which hails from the same producers of End of the F—king World, Lillis wanted the part.
"I really loved End of the F--king World, and I felt like this project would be a lot of fun to work with. I also really like dry humor, and you can see how Jonathan [Entwistle], the director, put his British humor into the End of the F--king World and I was so happy. I wanted to do something more humorous with my projects. I thought this would be like a great next step," Lillis said.
While the show is "still kind of dark," the coming-of-age humor comes through. "I thought that that would be a lot of fun," she said. "I also really like Sydney as a character. I feel think like she's very relatable, she's very funny. And she tries to make the best out of horrible situations. And I just find her a lot of fun and I really wanted to…become Sydney."
For Lillis, the comedy aspect of the series was key. With just a handful of acting credits, Lillis has become known for her horror, and the 18-year-old was anxious to try something new "because I feel like it's all part of a learning process," she said.
"Once you work on a project with a very specific role and very specific story and once you got the hang of that, you're thinking, 'Oh, let me do something that I'm not comfortable with and something that I haven't done before,' and try to learn like that. And I always want to experience new things and I want to experience as much as I can within the moment," Lillis said in a phone interview before I Am Not Okay With This dropped on Netflix.
Watch:
Most Anticipated Movies Coming to Theatres 2020
Sydney isn't your typical female character in a young adult-skewing series. She's not perfect. She's struggling with her sexuality, her family life and schoolwork. And then there's the whole superpower thing. That's exactly what appealed to Lillis.
"I liked her reactions a lot because you can see that she's trying her best to fix things and it always kind of goes to s—t," Lillis laughed. "I love that…I always wing everything, I always try my best and become more of an intuitive person than, you know, basing everything on logic. I just try my best to do what I can and see what sticks and see if it works. And that's what she kind of does."
The seven-episode series tells a familiar high school tale, with a mysterious super-powered element. It has all the makings to be a runaway hit for the streamer, including an in-demand rising star as the leading—and relatable—character, like 13 Reasons Why and Stranger Things before it. So, how is Lillis preparing for the attention that comes with being a bonafide Netflix star with a series available around the world?
"I'm not. [Laughs.] I don't really think much about it. I don't know if it's going to get big or not. I don't really know what the reaction is going to be. I hope it's positive. If it does get big, then that's great! [Laughs.] But I don't really think too much on that element because I don't really think of it as like, you know, important," she said. 
At the end of the day, after the binge, Lillis said she hopes viewers take one thing away from the show: "Wanting a season two," she laughed. "Yeah, that's it."
I Am Not Okay With This is now streaming on Netflix.