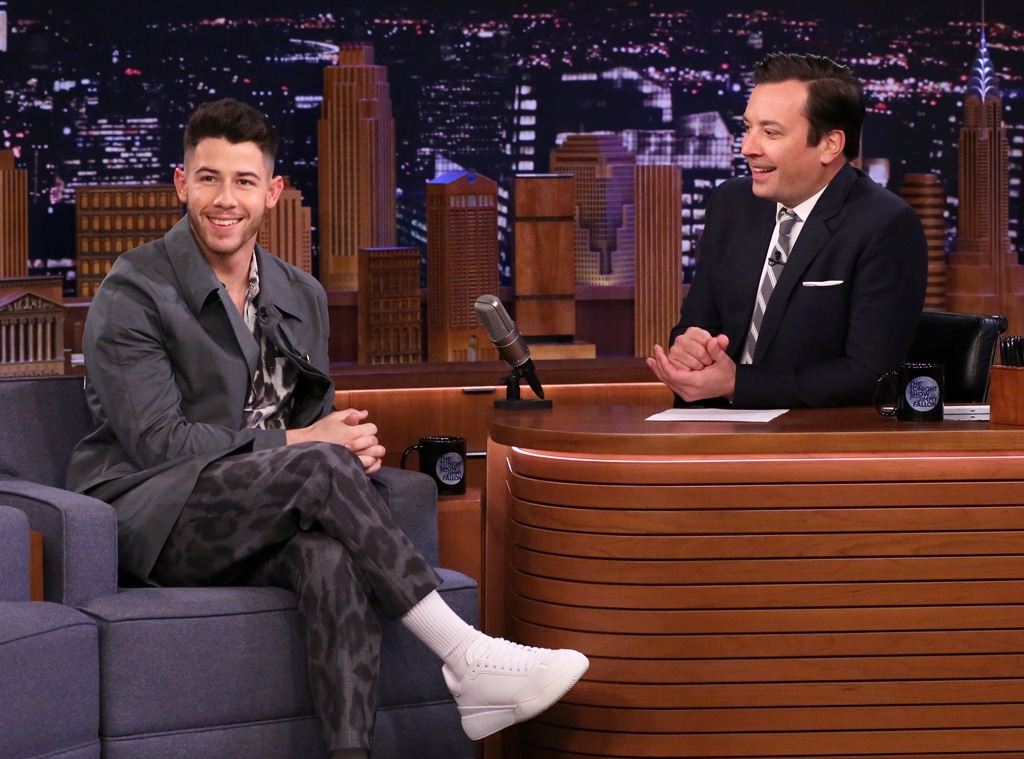 Andrew Lipovsky/NBC
We've all been there, Nick Jonas.
On Tuesday, the Jonas Brothers singer stopped by The Tonight Show Starring Jimmy Fallon to dish about being a coach on season 18 of The Voice, but all host Jimmy Fallon could talk about was #SpinachGate from the band's performance at the 2020 Grammy Awards.
When Nick took the stage with his brothers Joe Jonas and Kevin Jonas, fans were quick to point out he had some leafy greens in his teeth. The moment, of course, went viral and lead to countless memes and jokes at his expense. But perhaps the greatest one came from none other than The Voice alum Adam Levine.
"Here's the thing that's really frustrating about this," Nick told the late night host, who graciously showed the audience a photograph of the infamous spinach. "There was spinach in my teeth from my breakfast which I hate hours before. So, the entire day, no one thought to be like, 'Hey, man, there's something back there.'"
Once he found out that #SpinachGate had taken off on the social media, the "Jealous" singer said, "The first message on my phone was from Adam Levine and he was like, 'Nice performance. You had a little schmutz in your teeth.'"
Forever humbled by the experience, Nick added, "It just goes to show you that you can be performing on the Grammys and be nominated and still have spinach in your teeth."
Still on the topic of #SpinachGate, Nick revealed that his brothers were to blame for the "hiccup," as he called it. Before their performance, Joe and Kevin had a brotherly teeth check and didn't include Nick.
He continued, "We were doing an interview, like, two or three weeks ago and the guys are talking casually about how…they're like, 'Oh, you know, the bummer for Nick is that we checked each other's teeth before we went on stage.' And I sat there going, 'Excuse me.' They left me out of it."
Switching gears, the duo talked about how Nick was settling into his new coaching gig on The Voice. While admitting that he expected fellow coach Blake Shelton to be the "tough" one out of the group, which also includes Kelly Clarkson and John Legend, Nick joked that it was John that gave him the hardest time out of all the judges. 
"He came out and the gloves came off," the "Only Human" singer said. "But he's got a reputation. He's got the EGOT now. And apparently, he's the sexiest man alive," adding, "It's real…you cannot leave yourself open or they will pounce."
All kidding aside, Nick couldn't be happier to be among the music icons. "So, safe to say, we have a good chemistry together and it was a lot of fun."
No visit to The Tonight Show would be complete without a hilarious game. To show off their musical skills, Nick and Jimmy faced off in a round of Slay It, Don't Spray It, a karaoke-styled game where players are tasked with reciting the lyrics to popular songs exactly right or being sprayed in the face with water.
First up was Nick, who rolled "I Kissed A Girl" by Katy Perry. Starting from the song's chorus, Nick began confidently and remembered the missing lyrics: "Don't mean I'm in love tonight." Since he nailed the challenge, Jimmy was blasted with water.
Watch:
Necessary Realness: The Jonas Brothers Hit No. 1
Flustered, it was Jimmy's turn to take the mic next. For his turn, he had to sing along to Train's "Drops of Jupiter." Going into the round uneasy, he couldn't remember part of the song's chorus and was sprayed with water again. He exclaimed, "Who knows that line?! Everyone knows Katy Perry. They know the whole song."
Still confident from his first turn, Nick hit the buzzer and got "Sugar, We're Goin Down" by Fall Out Boy. After jamming out to the pre-chorus, the "Sucker" singer mastered the chorus and successfully recited the missing lyrics, which led to another spray for Jimmy.
See who won the game in the video above!
(E! and NBC are both part of the NBCUniversal Family.)