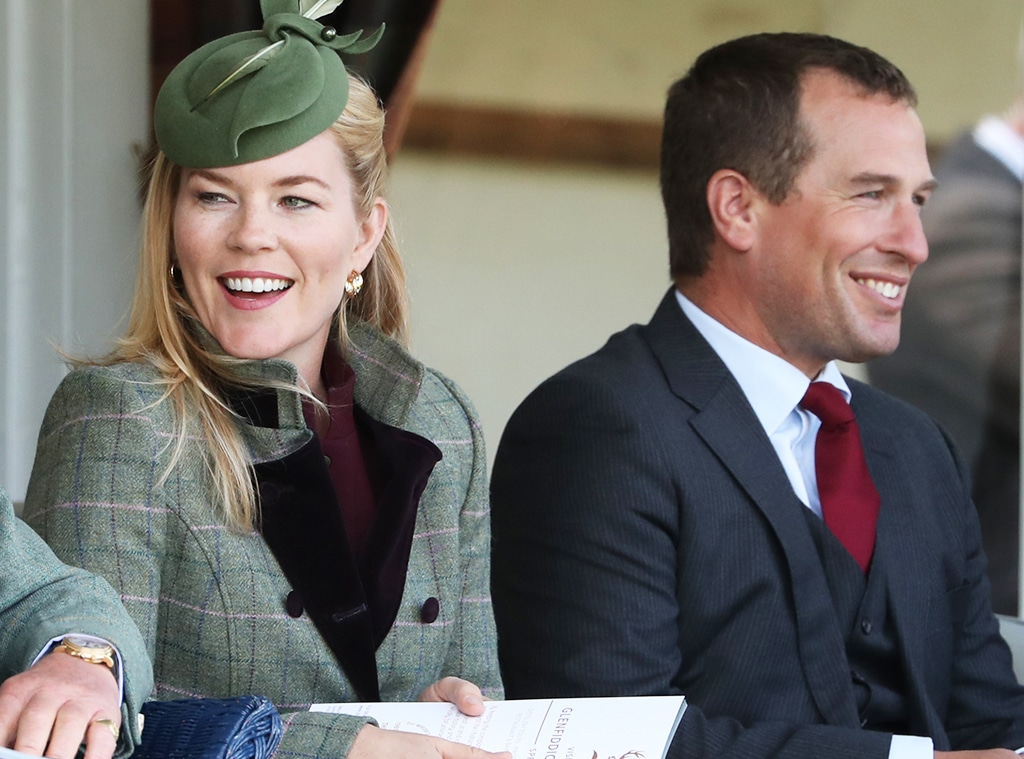 Andrew Milligan/PA Images via Getty Images
For a family so fundamentally averse to divorce, the royals sure do a lot of divorcing.
Queen Elizabeth II could have used a PR break after an already disconcertingly eventful start to the new year. But just as the dust was seemingly starting to settle around the smoldering crater left when Prince Harry and Meghan Markle blew up their position within the royal family, there came word that another implosion was taking place nine spots down the line of succession.
Some months after privately separating, Peter Phillips, son of Princess Anne and the queen's eldest grandchild, confirmed that he and wife Autumn Phillips are getting divorced after 12 years of marriage.
"After informing HM the Queen and members of both families last year, Peter and Autumn jointly agreed to separate. They had reached the conclusion that this was the best course of action for their two children and ongoing friendship," a spokesperson for the family said earlier this month. "The decision to divorce and share custody came about after many months of discussions and although sad, is an amicable one. The couples' first priority will remain the continued well-being and upbringing of their wonderful daughters Savannah and Isla."
Both sides of the family "were naturally sad at the announcement, but fully supportive of Peter and Autumn in the joint decision to co-parent their children. Both Peter and Autumn have remained in Gloucestershire to bring up their two children where they have been settled for a number of years. Peter and Autumn have requested privacy and compassion for their children while the family continues to adapt to these changes."
Considering the "many months of discussions," the queen wasn't blindsided by this announcement, but the Phillips' statement did come shortly after The Sun ran with the news that their marriage was over—so the report seemed to hasten their public comment.
Regardless, it's a sad outcome for any family, as Peter well knows. His parents, Anne and Capt. Mark Phillips, separated in 1989 when Peter was 11 and—despite an initial declaration that they had no plans to divorce—divorced in 1992. Anne remains married to Timothy Laurence, the second husband she got a head start with while still married to the first. Mark and his second wife, Sandy Pflueger, with whom he has another daughter, Stephanie Phillips, announced their intention to divorce in 2012.
Peter and his younger sister, Zara Tindall, were not given royal titles, Princess Anne figuring the lack of monarchical baggage would allow them a more normal childhood—and adulthood, for that matter. "Her advice generally about life has been invaluable," Peter said about their mother in a 2010 BBC special celebrating Anne's 60th birthday. "Whenever we may have got slightly above our station she'd be the first one to bring us back down to earth."
He went to Gordonstoun School in Scotland—Prince Philip's now co-ed alma mater that he insisted Prince Charles attend back when it was all-boys and further from home than Charles would have liked—and had a grand time, playing rugby and serving as a head boy. He spent his gap year in Australia, then attended the University of Exeter.
Chris Jackson/Getty Images
Armed with a degree in sports science, Peter went to work for Jaguar as a corporate hospitality manager, then was an account manager for Williams Grand Prix Engineering, whose Formula One team is ROKiT Williams Racing. Since 2018 he's been chairman and CEO of City Racing, which stages horse races in city centers around the globe. 
He met Autumn Kelly in 2003 at the Canadian Grand Prix, held in her native Montreal. Autumn—who has two siblings, older brother Kevin and a twin brother, Chris, and divorced parents—graduated from McGill University and was working as a management consultant when she met Mark—whom, because no royal title preceded him (and apparently he didn't put on airs), she had no idea was a member of the royal family for weeks until she glimpsed him in a TV special about Prince William, in honor of the future king's 21st birthday.
As fate would have it, Autumn—who fresh out of university had turned down a job with the Canadian Security Intelligence Service—was already planning to move to England to work for a computer firm, and once she had relocated her relationship with Peter got more serious. They eventually moved in together, splitting time between a flat in London and a cottage at Gatcombe Park, Anne's estate in Gloucester.
The couple's engagement was announced in July 2007, and Autumn started being included in more big events, such as the queen's 80th birthday celebration and the monarch and Prince Philip's 60th wedding anniversary dinner that November. Her fiancé's grandmother also invited Autumn to join her on an extensive tour of the Scottish isles, which are very near and dear to her heart.
Autumn was raised Catholic and gave it up to join the Church of England—a necessity if Peter was going to retain a place in the line of succession (he's currently 15th)—but she kept her Canadian passport (and has retained her Canadian citizenship to this day).
She and Peter married on May 17, 2008, at St. George's Chapel at Windsor Castle, the spot where Harry and Meghan would wed 10 years later. Kate Middleton's solo presence while William was attending a friend's wedding in Africa also signified that the two of them, dating off and on for several years, were truly serious (though it didn't work out for Harry and his date, Chelsy Davy).
Max Mumby/Indigo/Getty Images
Welcoming Savannah in 2010 and Isla in 2012, Peter and Autumn have led a relatively private life while also being included in all the big family events and traditions, such as weddings, Christmas with the queen at Sandringham, Trooping the Color and the annual Royal Ascot. Their big eyebrow-raising moment to date occurred early on, when they sold their wedding photos to Hello! for a reported £500,000, without securing the queen's approval.
"It's not great," a senior royal source described the situation to The Telegraph at the time. But life went on. 
"They're just a family, they're happy, they have great relationships with each other—they're very close," Autumn told the CBC in 2016, adding that the queen "knows more about Canada than I ever will."
She and Peter were all smiles at Royal Ascot in June, though their last public appearance together appears to have been in September at the Braemar Gathering, a centuries-old annual event frequented by the queen, in Aberdeenshire, Scotland. 
Appearances aside, apparently their domestic bliss was unraveling behind the scenes—and they weren't the only ones.
Yet another marriage was breaking up while all eyes in Britain and beyond were on Harry and Meghan's decision to step down as full-time royals, as well as on Prince Andrew's increasingly sordid-sounding ties to late businessman Jeffrey Epstein—who the Duke of York still had a friendship with after Epstein became a convicted sex offender—and his reported reluctance to cooperate with authorities in their ongoing investigation.
A week after Peter and Autumn Phillips confirmed their separation, the queen's nephew, David Armstrong-Jones—the only son of the monarch's late sister, Princess Margaret—announced that he and his wife of more than 26 years, Serena Stanhope, were also divorcing. They have two children together, son Charles, Viscount Linley, 20, and daughter Lady Margarita, 18 (who was a bridesmaid at William and Kate's wedding when she was 8 years old).
In royal speak, David was Viscount Linley (he has been David Linley in his professional life) and became Lord Snowden, or 2nd Earl of Snowden, when his father died in 2017; his dad, photographer Antony Armstrong-Jones, became Lord Snowden when he married Margaret in 1960. They separated in 1976 and divorced in 1978. 
As a child, David—founder of a high-end furniture and design business who has gone from fifth to 21st in line to the throne over the course of his 58 years—spent a lot of time with his aunt, the queen, when his mother was busy traveling.
And though he's never been a working royal, David remains "very, very close to the Queen and Prince Charles. He goes to Sandringham at Christmas and turns up at Balmoral in the summer," a friend of his recently told the Daily Mail.
Richard Young/Shutterstock
He and Serena have also led their lives somewhat privately, though David's late mother—who defiantly thumbed her nose at royal propriety time and again—remains the subject of endless fascination. And the press is always perfectly happy to pounce on a scandal, such as when David and his sister, Lady Sarah Chatto, sold some of Princess Margaret's possessions, including her Politmore tiara (which she wore at her wedding when she married their father) at auction, netting roughly £10 million, reportedly to go toward paying the inheritance tax on her estate.
Coincidentally, David and Serena were described to the Daily Mail as "the Glumleys" when they were photographed not looking particularly joyful at Peter and Autumn Phillips' wedding in 2008.
"Serena is not a charity lunch girl—she's happiest doing the school run," a family friend told the paper. "But David's away so much in Russia and the States making money [with his bespoke furniture business] that she'll be making another life for herself if he's not careful." Between 2010 and 2014, the press-shy Serena owned a home goods boutique, Serena Linley Provence, in Knightsbridge.
As of 2017, at least, they were still living the high life together, vacationing at Chateau d'Autet, their country home in Provence, with Charles and Margarita.
"He is the hardest-working royal—albeit not for the royal family," David's friend told the Mail. "He is endlessly abroad through his Christie's role. He is their go-to rainmaker executive [as the auction house's honorary chairman for Europe, the Middle East, Russia and India]. But all the travel put a strain on the marriage.
"Serena spends most of her time in Gloucestershire. He lives in Kensington. It's been a slow drift apart. I think the impetus for the split is with her but she is very sad about it. It is going to be tough for David. Everyone is surprised. Even if things weren't perfect between them, they are both very family oriented. Their main focus now will be on ensuring that their two children and them remain a family unit even if they are no longer living together as a couple."
Max Mumby/Indigo/Getty Images
"The Earl and Countess of Snowdon have amicably agreed that their marriage has come to an end and that they shall be divorced," read the statement from their household last week. "They ask that the press respect their privacy and that of their family."
The most infamous split in modern royal history, however, remains that of Prince Harry's parents, Prince Charles and Princess Diana, who separated in 1992 (capping off the queen's infamous "annus horribilis" featuring the end of three of her four children's marriages) and divorced in 1996, barely a year before Diana died in a car wreck.
David and Serena's wedding in October 1993 at St. Margaret's Chapel in Westminster, a far splashier affair than Princess Anne's second wedding attended by 30 people the previous December, was a welcome bright moment at the time, coming after so much turmoil.
David M. Benett/Dave Benett/Getty Images
In addition to wanting to protect his wife and son Archie from the emotional and physical dangers of media scrutiny when it gets too close for comfort, Prince Harry is surely aware of just how many marriages in his family have ended in divorce in the past 30 years. Meghan's parents also divorced when she was a kid—and Meghan divorced her first husband in 2013.
So, with two more splits—apparently the divorce rate in the royal family since the queen got married in 1947 is now exponentially higher than the national average among all people in the U.K.—making headlines, Harry and Meghan may rest more assured than ever that they've made the right choice.
But they have also stated their intention to become financially independent and, although they've agreed to stop using the term "royal" in future business and charity endeavors once they detach fully on March 31, the reason for their celebrity is unshakable—and every attempt at personal financial gain will be met with the utmost scrutiny, even if they're going by plain ol' Harry and Meghan.
Max Mumby/Indigo/Getty Images
Peter Phillips—who has never even been a working royal—and Princess Diana's niece Kitty Spencer popping up in Chinese milk ads recently proved that point.
"It just feels tacky, and it feels like a conflict of interest, and it feels very much like they are cashing in on their royal connections," Vanity Fair Royal Editor Katie Nicholl told the magazine. "Whether or not they're HRH, they're related to the queen. They are members of the royal family and they're using that for their own commercial gain."
Like Harry's cousins, Meghan has experience working in the private sector—and while one door is closing for the couple, another is opening wide for opportunities that royal watchers saw coming years ago, albeit not necessarily for Harry.
"Royals aren't marrying other royals and aren't marrying into the upper classes," royal commentator Richard Fitzwilliam told BBC News when Peter and Autumn tied the knot and subsequently sold their wedding photos. "They're marrying into the middle class and they're marrying for love. Which of course is how it should be and it has this sort of reviving effect—new ideas, new trends—and it means that royal houses won't be so alone. They won't be so fossilized."
It's just that in Harry and Meghan's case, being a little bit alone may work out better in the long run.