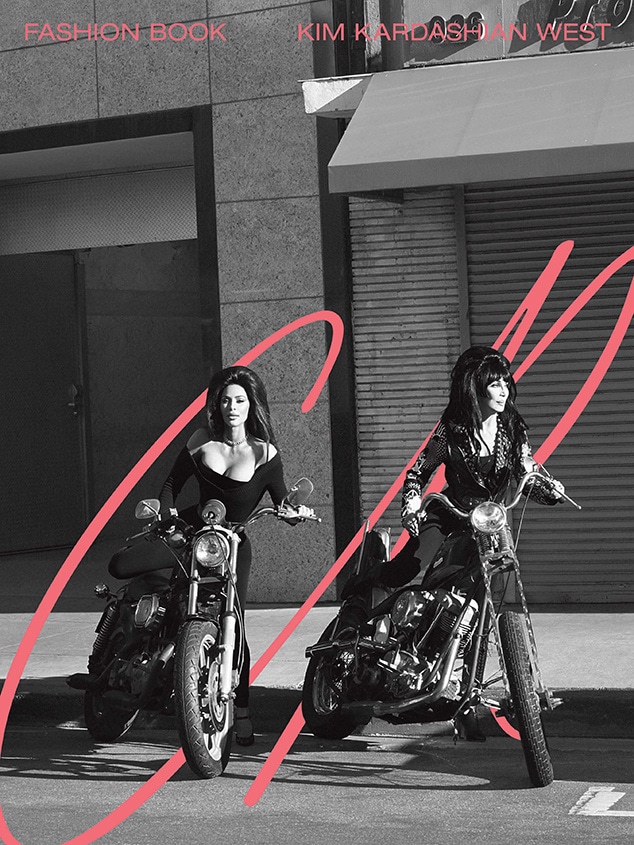 Mert & Marcus
Kim Kardashian's dreams are coming true!
In the middle of working on prison reform and becoming a lawyer, the Keeping Up With the Kardashians star had the privilege to participate in a very special photo shoot.
As it turns out, Kim was able to team up with the one and only Cher for Carine Roitfeld's new CR Fashion Book Issue 16.
"A whole cover with @Cher!!!! Now you know Cher is my style icon of life so shooting this was a dream come true!" Kim revealed on Instagram. "(My other style icon @naomi was on set too) What is this life! So happy to share these pics with you guys for the @crfashionbook cover! I felt like Mermaids."
Between the epic motorcycles and big hair, there is plenty to admire about Kim's latest shoot. And for those not convinced that Kim loves Cher, perhaps we should refresh your memory.
Whether attending her Las Vegas concert or dressing up as the "Believe" singer for Halloween, Kim is a ride or die Cher fan. "Dream come true. Love you @Cher," the E! star shared on Instagram Stories when sharing more photos from the shoot.
Fabulous photos aside, Kim also shared some insight into all the work she is doing for the criminal justice system. As it turns out, being a mom inspired the businesswoman to get involved.
"My evolution on this is probably some combination of growing up, getting married, having kids and my life being so different than what it was when I was starting out," she shared. "Now, I feel like I have a duty to myself and to my children more than the public and I want to be a good role model for my kids."
Kim added, "I'm raising four black kids in this society and our system is so discriminatory against black and brown people. I want to do as much as I can to make their lives easier…I never knew much about the system until I started to dig in, and once I learned and saw how many things were wrong, I really couldn't stop."
Kim's criminal justice journey is expected to be shown in an upcoming documentary titled Kim Kardashian West: The Justice Project coming soon to Oxygen.
The CR Fashion Book Issue 16 hits newsstands everywhere on March 12.