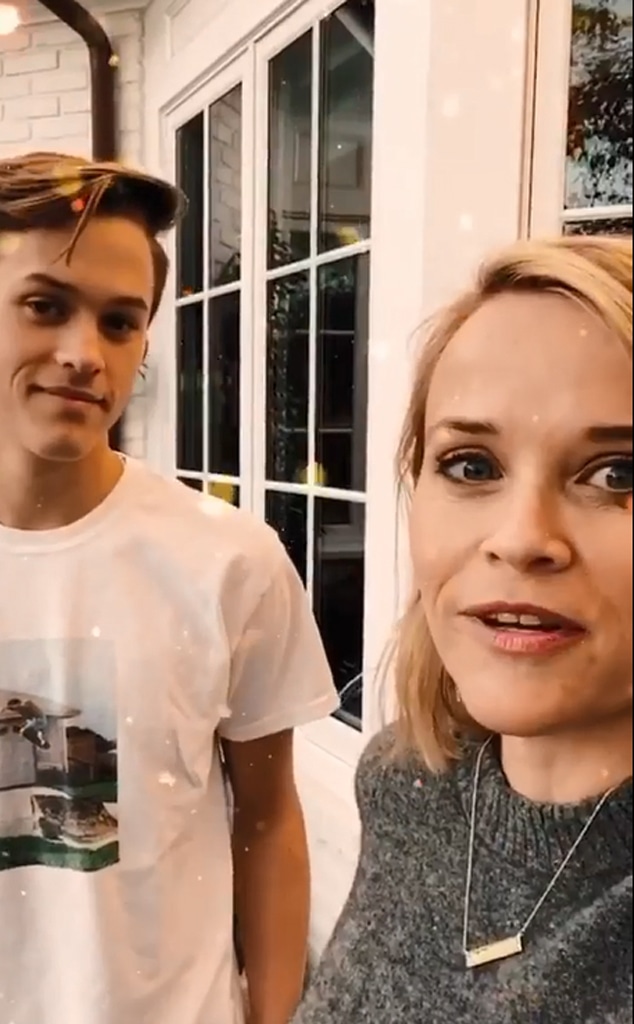 Instagram
Reese Witherspoon is comfortable using TikTok jargon in everyday life. 
On Monday, The Morning Show star proved once again that she's the coolest mom on TikTok with a sweet video. Joined by her son Deacon Phillippe, who she shares with ex Ryan Phillippe, Reese received an adorable crash course in dapping, which is a handshake that often requires hooking thumbs, pounding fists or chest bumping.
"Deacon, thank you for teaching me about TikTok," the mom of three said. "It's been so much fun. I have another question though: You said that you're going to dap somebody up. What does that mean to dap somebody?" To which the 16-year-old replied, "It's basically just a handshake that I do with my friends."
After getting a quick introduction, Reese was eager to learn the move. But alas, the mother-son duo got off to a rocky start. "Is dapping, like, when you go like that…" Reese asked, as she began to do a dab.
"No, no, no," Deacon said as he watched his mom go into a dab stance. "That's dabbing…That trend died, like, two years ago."
As the lesson continued, Reese did her best to follow her son's lead and mirror his movements. Despite the simple nature of the handshake, the Legally Blonde star had some difficulty working out the logistics.
"Okay, there's lots of things happening here," she joked while trying to grab onto Deacon's hand, awkwardly wiggling her fingers in between his in the process.
Still trying to make sense of it all, Reese asked, "Do we make a noise, or anything?" Amused and slightly embarrassed by his mom's naivety, Deacon said, "No, we don't make a noise. That's weird."
After a series of hilarious attempts, the Big Little Lies star finally mastered the dap. "That's all it is?" she exclaimed as she nailed the move. Excited that she got it all down, Deacon showed his mom how to add some flare to the move by bringing in some finger guns and chest bumps.
His proud son moment quickly faded once Reese started dabbing and pointing at the camera. Embarrassed again, he said, "No, that's not needed."
Watch:
Reese Witherspoon Brings Ava Phillippe to "Big Little Lies" Premiere
Thrilled that she knows how to dap, Reese took to Instagram to show off her new skills with her 21.7 million followers. "More important life lessons from @DeaconPhillippe... #dapping," she captioned the post. The video received tons of love from Reese's celeb pals, including Mindy Kaling, who commented, "The Reese and @deaconphillippe show is all I want to see."
This isn't the first time that Deacon has given his mom a TikTok lesson. Back in October 2019, the teenager helped the Little Fires star get her account up and running by introducing her to some TikTok dances, starting with the Milly Rock.
 
"This is so embarrassing," Deacon said to the camera as Reese jumped into what she calls the "rolly, rolly, rolly." Now, she's a TikTok pro!