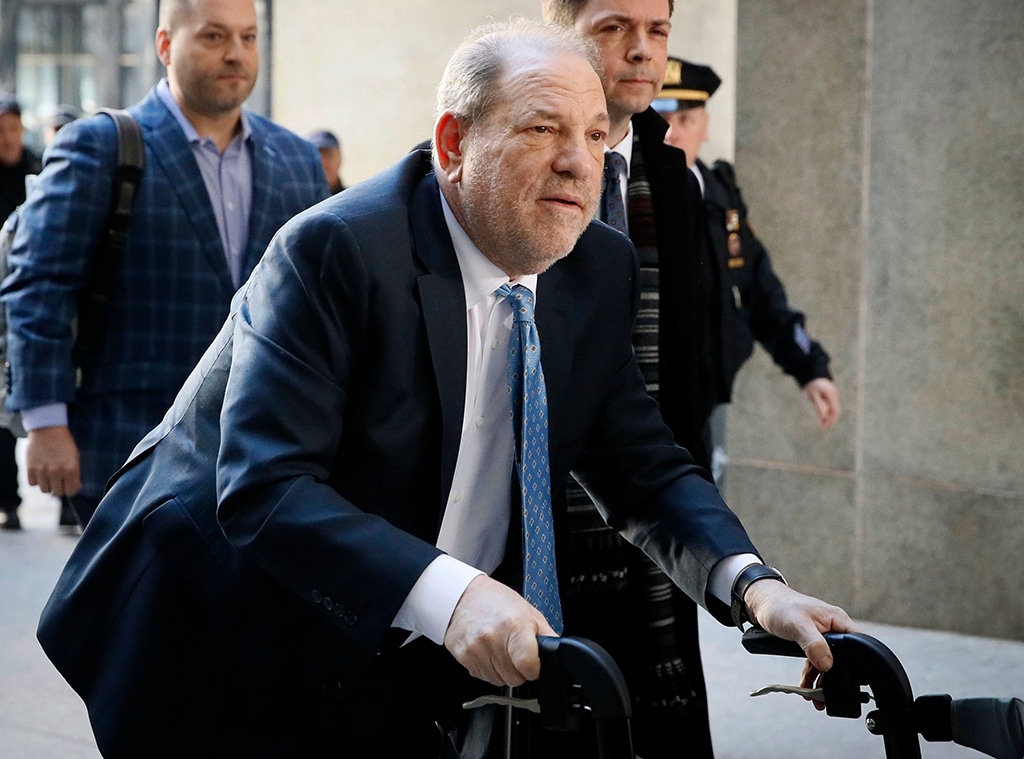 John Minchillo/AP/Shutterstock
Harvey Weinstein has been found guilty on two counts of rape in his New York City trial.
The former Hollywood producer was found guilty rape in the third degree and criminal sexual act in the first degree, a jury announced Monday after coming to a verdict. Weinstein, after a two-year trial, was found not guilty on two counts of predatory sexual assault and one count of rape in the first degree.
Weinstein, who has denied all claims of non-consensual sex, was convicted of third degree rape of Jessica Mann. The 67-year-old was also convicted on a count of criminal sexual act in the first degree of Mimi Haleyi.
In response to the verdict news, the Time's Up movement as well as many celebrities have spoken out about the producer's convictions.
"This trial -- and the jury's decision today -- marks a new era of justice, not just for the Silence Breakers, who spoke out at great personal risk, but for all survivors of harassment, abuse, and assault at work," Tina Tchen, president and CEO of the TIME'S UP Foundation, said Monday.
"We owe a debt of gratitude to Mimi Haleyi, Jessica Mann, Annabella Sciorra, Dawn Dunning, Tarale Wulff, and Lauren Young and all the Silence Breakers for their bravery and resolve as they faced this man in court," Tchen continued. "We continue to believe them -- all of them -- and continue to be in solidarity with them."
She concluded her post with this message, "While we celebrate this historic moment, our fight to fix the broken system that has allowed serial abusers like Harvey Weinstein to abuse women in the first place continues. Abusers everywhere and the powerful forces that protect them should be on notice: There's no going back."
Watch:
Rosie O'Donnell Not Surprised By Harvey Weinstein Scandal
Let's take a look at more reactions to the Weinstein verdict:
Ashley Judd: "For the women who testified in this case, and walked through traumatic hell, you did a public service to girls and women everywhere, thank you #ConvictWeinstein #Guilty."
Rosanna Arquette: "Gratitude to the brave women who've testified and to the jury for seeing through the dirty tactics of the defense. We will change the laws in the future so that rape victims are heard and not discredited and so that it's easier for people to report their rapes."
Ellen Barkin: "Right now Harvey Weinstein is on his way to prison. These are the women who put him away...Mimi Haleyi Jessica Mann Annabella Sciorra Dawn Dunning Lauren Young Tarale Wulff."
Mira Sorvino: "The beginning of #justice. More to come, my sisters. #weinsteinguilty"
Alyssa Milano: "With the cards historically stacked against survivors in our existing legal system, this is a win for survivors everywhere, and a testament to the progress our movement has made."
Rose McGowan: "Today is a powerful day and a huge step forward in collective healing," the actress said in a statement. "20 year ago, I decided to come after Harvey Weinstein because I heard about him doing this to someone else and someone else and someone else. And today, because of the brave women who have beared their deepest hurt for the world to see, he is in Rikers Island. For once, he won't be sitting comfortably, and he will know what it is like to have power wrapped around his neck. Today is not a referendum on #MeToo. This is about taking out the trash...but here we are. We achieved a huge cultural shift. We achieved that already with what happened. Today the trash man came. And all the little girls and little boys in this world may now one day have a voice. Only 2% of rapes in this world see a conviction. It is a bizarre thing to feel privileged to have a voice after being raped, but here we are. I believe we can be better in this world, as people & as humans, and we are one more step forward in that direction."
Reese Witherspoon: "Today's historic win in the Weinstein trial is a testament to the bravery and resilience of the #SilenceBreakers, and a victory for survivors everywhere," the actress tweeted. "This is just the beginning. Join  @TIMESUPNOW's fight for safety, equity & justice in every workplace."
Roxane Gay: "May Harvey Weinstein spend what remains of his life behind bars, thinking about all the terrible crimes he committed against women and may find some measure of peace in his punishment," the author tweeted.
Ronan Farrow: "Today's outcome in Harvey Weinstein's New York trial is the result of the decisions of multiple women to come forward to journalists and to prosecutors at great personal cost and risk," the journalist tweeted. "Please keep those women in your thoughts today."