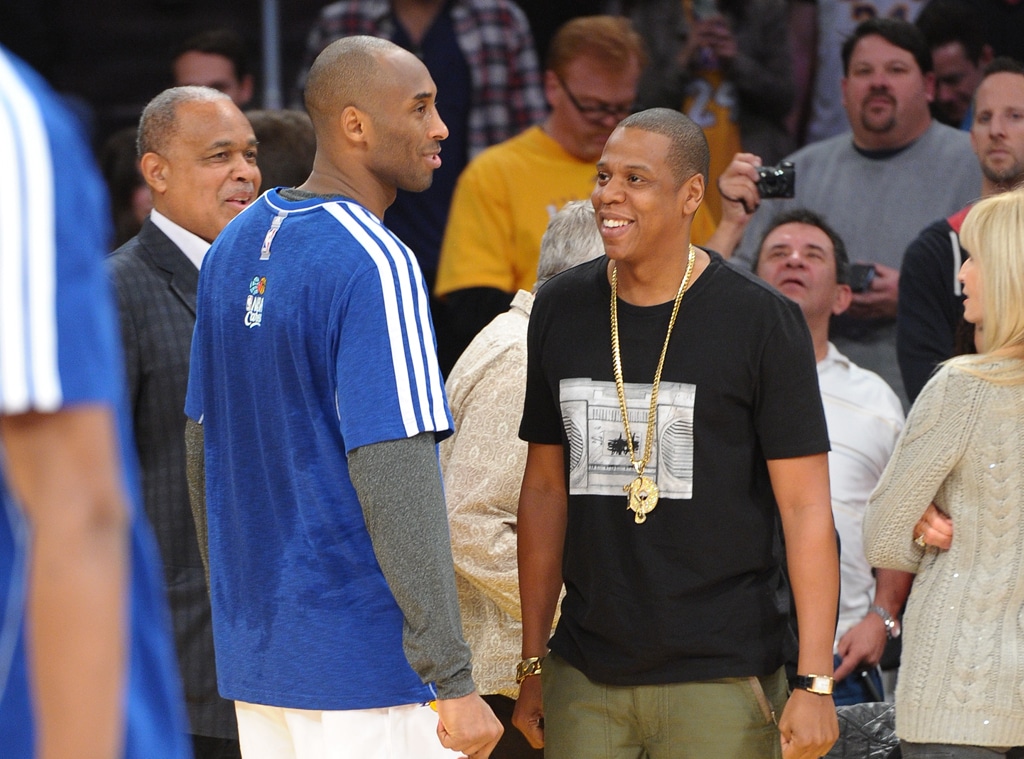 Noel Vasquez/Getty Images
Jay-Z is remembering his friend Kobe Bryant.
On Tuesday, the rapper recalled the last time he saw the legendary athlete before he passed away last week in a helicopter crash. During the inaugural Shawn "JAY-Z" Carter Lecture Series at Columbia University, the father of three shared that he and Kobe had developed a deep friendship over the years and their last encounter occurred over the holidays at his and Beyonce's New Year's party. Bonding over their daughters, Jay-Z said that he remembered Kobe gushing over his 13-year-old daughter Gianna Bryant, who was among the nine victims of the accident.
"He was just in the greatest space that I've seen him in," Jay-Z said. "And…one of the last things he said to me was, 'You gotta see Gianna play basketball.' And that was one of the most hurtful things because he was so proud."
"The look on his face was like…I looked at him and said, 'Oh, she's going to be the best female basketball player in the world,'" he continued. "He was just so proud of what he said."
Feeling the loss of his longtime friend, the "Big Pimpin'" rapper concluded, "So, that's really a tough one and my wife and I took that—taking that—really tough. That's all I'll say on that. Just a great human being that was in a great space in his life."
Like Jay-Z, Beyonce also honored Kobe after the devastating news of his death broke. Taking to Instagram, the "Crazy in Love" singer posted a picture of the L.A. Lakers legend and his daughter sharing a sweet moment together.
"I will continue to diligently pray for your Queens," Beyonce wrote, referencing Kobe's wife Vanessa Bryant and their remaining three children Natalia, 17, Bianka, 3, and Capri, 7 months. "You are deeply missed beloved Kobe." She also shared separate photos Gianna and a young Kobe.
Watch:
DJ Khaled, Common & More Remember Kobe Bryant at 2020 Grammys
The Carters are among several musicians that have paid tribute to Kobe. During their 2020 Super Bowl Halftime Show, Jennifer Lopez and Shakira honored him with a large cross that illuminated on the field as "Let's Get Loud" played. The colors purple and gold also lit up, which was a homage to the Lakers.
Lil Wayne also used his music to commemorate the NBA superstar's legacy. For the eighth track on his new album Funeral, the outro features a 24-second-long silence, honoring his Lakers jersey numbers. The lyrics also seem to reference the basketball team by calling out their signature team colors: "Yellow pill, purple drank."
Fellow rapper Drake posted a picture of the "Farewell Mamba" jacket he sported at Kobe's final Lakers game in 2016, writing, "it can't be." Upset by the news, Cardi B shared a sweet photograph of Kobe, Vanessa and their girls, captioning the post, "Unbelievable." At the time of his passing, Chris Brown wrote "DEVASTATED!! RIP KING," and later debuted a number of paintings he has made in honor of Kobe.