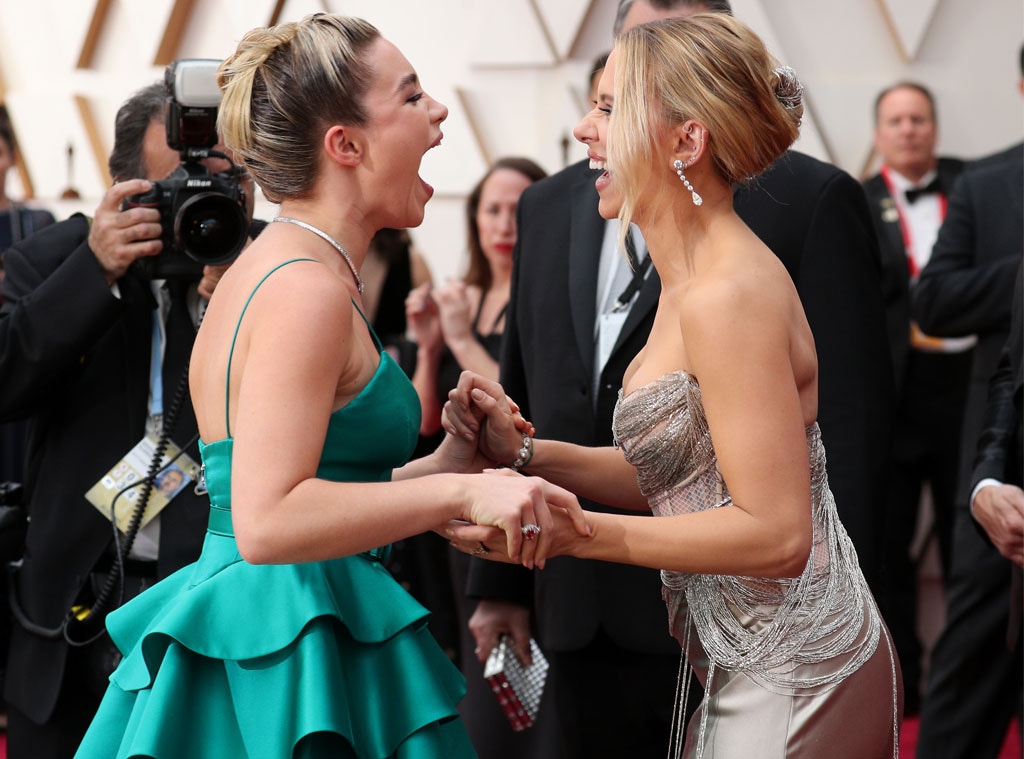 John Salangsang/BEI/Shutterstock
It's all led up to this... the 2020 Oscars! 
In just a few short hours, the Dolby Theatre will roll out the red carpet and welcome inside dozens of the biggest celebrities for Hollywood's most anticipated celebration of the year. And with expected appearances from stars like Brad Pitt, Charlize Theron, Tom Hanks and so many more, you won't want to miss a second of all the action. 
There's not an event more exclusive than the Academy Awards, and that's where E! News comes in. All throughout Oscars Sunday we'll be bringing you exclusive details from the red carpet, backstage and inside the ceremony—in real time, of course! 
RED CARPET!
3:02 p.m. PST: The Office co-stars and IRL pals Mindy Kaling and B.J. Novak arrive together and fans go wild. 
3:21 p.m. PST: America Ferrera holds hands with someone from her team as she rubs her pregnant belly. America's hubby Ryan Piers Williams holds the train of her gown. 
3:47 p.m. PST: Billie Eilish waits for her turn at the E! Glambot as her brother and parents wait patiently. 
3:51 p.m. PST: Janelle Monae gets some help with her extravagant gown as she walks down the red carpet.
Alli Rosenbloom for E! News
3:58 p.m. PST: Catriona Balfe and her husband Tony McGill walk hand-in-hand down the stairs.
4:06 p.m. PST: Sandra Oh and a friend are engrossed in conversation as she gasps and says, "Oh my!"
4:10 p.m. PST: Laura Dern spots her friends from a far and greets them with a kiss and hug, saying, "It's so good to see you!"
4:20 p.m. PST: Shia LaBeouf and his Honey Boy co-star Zack Gottsagen hold hands as they squeeze through the red carpet.
4:31 p.m. PST: James Corden and wife Julie link arms while walking inside the Dolby Theatre. 
4:35 p.m. PST: Saoirse Ronan wraps her arm around her mom and walks right behind Al Pacino.
Alli Rosenbloom for E! News
 4:38 p.m. PST: Camila Morrone rushes to her seat after walking the carpet sans boyfriend Leonardo DiCaprio. 
CEREMONY!
4:47 p.m. PST: Shia introduces Zack to Corden, who turns him around and points to Bradley Cooper. He smiles and waves at Zack. 
4:38 p.m. PST: Bradley lingers around the front row to avoid the traffic jam as everyone rushes to their seats. 
4:49 p.m. PST: Spike Lee spots Cynthia Erivo and blows her a kiss. 
4:50 p.m. PST: Brie Larson and her boyfriend chit-chat with the stars of 1917 before catching up with Kathy Bates. 
Alli Rosenbloom for E! News
4:51 p.m. PST: Billie is overjoyed to meet Timothée Chalamet, and the pair hold hands as they gush over each other. 
4:52 p.m. PST: Laura Dern greets Marriage Story co-star Adam Driver and his wife with a kiss on the cheek. 
4:53 p.m. PST: Rami Malek and Bradley bring it in for a big hug. 
4:54 p.m. PST: Brad Pitt is spotted reapplying chapstick as an usher rushes him to his seat. He pats Leonardo DiCaprio on the back before taking a seat next to him. 
5:20 p.m. PST: Tom Hanks gets out of his seat during a commercial break to catch up with Leonardo. He's still wearing the hat that Janelle gave him during the opening number. 
Alli Rosenbloom for E! News
5:30 p.m. PST: Gal Gadot and husband Yaron Varsano make a beeline toward the bar. Yaron waits for the drinks as Gal grabs popcorn from a nearby snack table. 
5:35 p.m. PST: Gal and Yaron spot Kristen Wiig and Maya Rudolph presenting on a nearby monitor and they run over to watch it. 
5:38 p.m. PST: Salma Hayek orders tequila with lime from the bar. She then rushes back to her seat. 
6:07 p.m. PST: Billy Porter sips on a glass of champagne as he greets a friend.  
6:24 p.m. PST: Bradley Cooper poses for a selfie with Tom Hanks and Rita Wilson. 
6:30 p.m. PST: Leonardo gets into Eminem's performance, throwing his hands up to the beat. 
6:36 p.m. PST: Kristen Wiig and Gal Gadot are seen doing a silly dance while running into each other in the aisles. 
6:45 p.m. PST: Charlize Theron approaches Brad Pitt to congratulate him on his Oscar win. Pitt kisses the Bombshell star on the cheek.
Alli Rosenbloom for E! News
7:09 p.m. PST: Greta Gerwig enjoys a mid-show snack of wasabi crackers. 
7:32 p.m. PST: David Furnish meets Elton John at the side of the stage and helps him down the stairs following his performance. Elton immediately greets Janelle Monae with a kiss. 
7:33 p.m. PST: Margot Robbie shares a sweet moment with Brad Pitt and her hand is over her heart as they talk. 
8:02 p.m. PST: Parasite director Bong Joon-ho is stopped by Charlize Theron after his Oscar win.
8:19 p.m. PST: Rami Malek photo bombs a selfie with Charlize Theron, Salma Hayek, Regina King, Tom Hanks and Rita Wilson. 
8:32 p.m. PST: The cast of Parasite poses for a selfie after being named the Best Picture winners. 
Thanks for tuning in! Until next year's scoop!