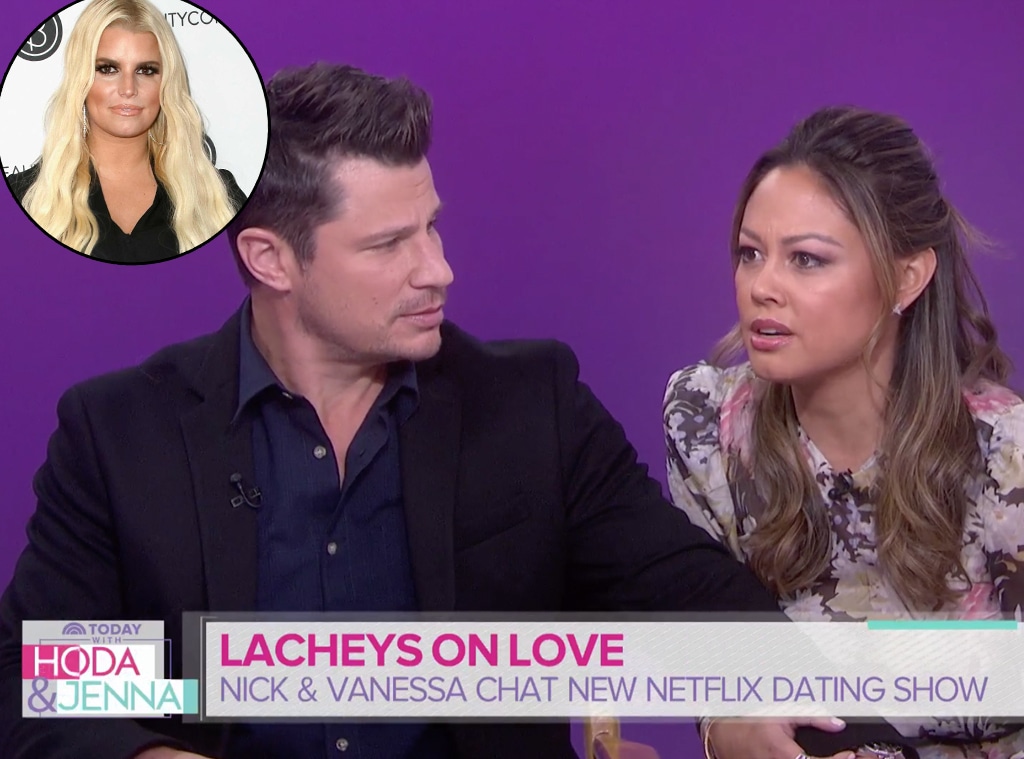 NBC; Getty Images
Vanessa Lachey is just trying to speak her truth.
The Love Is Blind host has taken to social media to defend herself after her headline-making interview with husband Nick Lachey earlier this week. On Monday, the couple appeared on the Today show to talk about their new Netflix series when co-anchor Hoda Kotb mentioned Nick's ex, Jessica Simpson, and her new memoir.
"I interviewed Jessica Simpson for her book, Open Book, and she talked about how she has her life with her husband and her children, and she was really, really happy for y'all," Hoda said to Nick and Vanessa, adding that Jessica mentioned the couple had "sent me something beautiful when we had our children."
After Nick responded to a question about the memoir, Vanessa referred back to the "gift" they allegedly sent Jessica.
"I feel bad, I'm sorry, you said somebody sent her...it wasn't us, but thank you, whoever sent it," Vanessa said.
After an awkward pause, Nick jokingly asked Vanessa, "What did you send?"
"I didn't...I don't know her address," Vanessa replied. "But thank you whoever sent it from us."
After their appearance on the show, video of the couple's reaction to the "gift" went viral, with social media users weighing in on the interview moment.
"Anyone else catch @VanessaLachey deny doing something nice for @JessicaSimpson on the today show? I feel like that was 10000% not necessary... and super awkward," one Twitter user wrote.
After seeing the tweet, Vanessa, who shares three kids with Nick, replied, "How. I'd love to know. Truly... I think it's weird accepting credit for something you didn't do or give. Even weirder to bring up something so random. Just giving facts. Wanted to make sure we were truthful."
She also asked, "Should I have pretended to give it? Dang. Can we get a do over and I will tell them it was big beautiful basket. ;-). Kidding, sorry you think that, just wanted to be truthful. That's all. But the gift sounds lovely!"
Vanessa was also accused of throwing shade at Jessica in the interview, but she says that's simply not the case.
"Sorry you think that, just didn't want to take credit for something we didn't do. That's all," Vanessa tweeted. "Seems weird to ignore sending a big beautiful gift basket and taking that credit. Either way... hope you have a Beautiful day!"
As fans of the celebs will remember, Nick and Jessica were married for three years until they announced their split in late 2005. Nick went on to date Vanessa, who appeared in Nick's "What's Left of Me" music video. The couple tied the knot in 2011.
Jessica is now married to former NFL star Eric Johnson, who she shares three kids with. You can read all of the biggest bombshells from Jessica's new memoir, HERE.