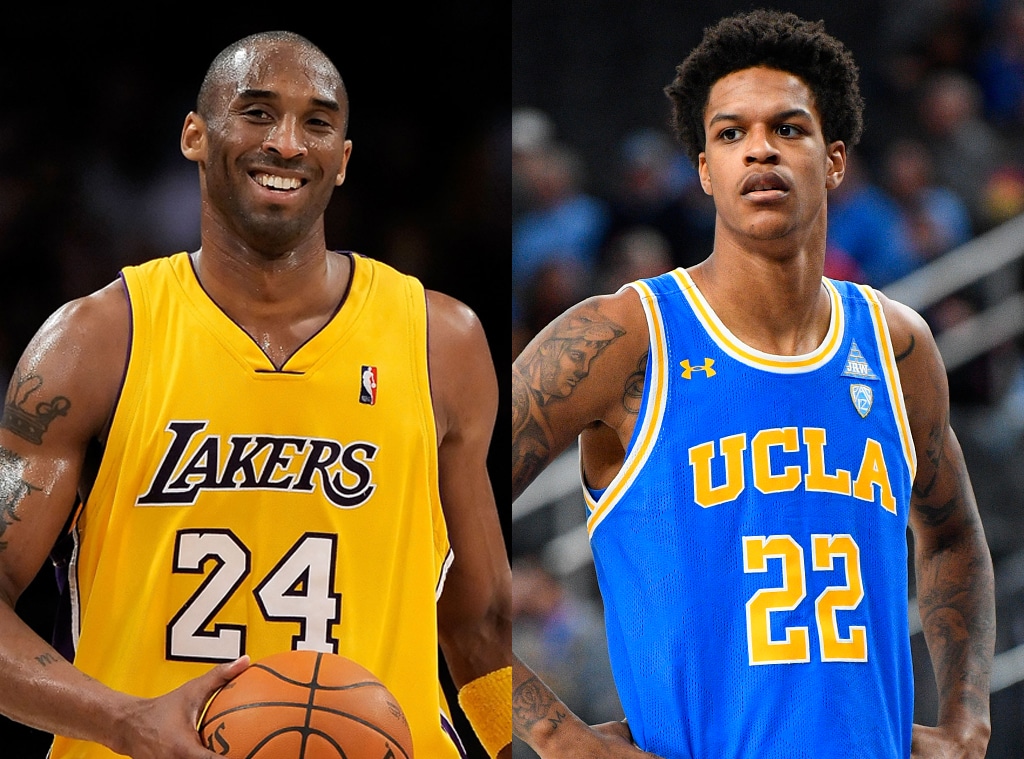 Kevork Djansezian/Getty Images, Brian Rothmuller/Icon Sportswire via Getty Images
Shaquille O'Neal's son is honoring Kobe Bryant.
On Tuesday, Shareef O'Neal took to Instagram to show off the new ink he got in honor of the late NBA legend, who died one week ago with his 13-year-old daughter Gianna Bryant and seven others in a helicopter crash.
Paying homage to Kobe's L.A. Lakers legacy, the 20-year-old athlete had his jersey numbers 8 and 24 tattooed on his leg, along with an illustration of his jersey and Kobe shooting a basketball. Known for his work ethic on and off the court, Shareef had the words "Mamba Mentality" and its logo tattooed on his shin to commemorate his famous slogan.
LeBron James also honored Kobe with a permanent tribute. On January 31, he unveiled the tattoo he got to commemorate the all-star athlete. Like Shareef, he paid tribute to Kobe's "Mamba" legacy by getting the words "Mamba For Life" tattooed on his thigh. Above it, is the tattoo of a snake, which is a nod to Kobe's Black Mamba nickname, a rose and his Lakers numbers.  
In the wake of Kobe's sudden passing, Shareef has been reflecting on his relationship with the basketball superstar, who played alongside his dad on the Lakers, on social media.
"You always wanted me to be the best I could be.." he wrote on Instagram, posting a picture of himself sitting next to Kobe's jerseys at the Lakers' Jan. 31 tribute game. "You always made sure I was happy, you put me before you put yourself and when we had our moments you made me feel like I was great ... 8|24 2 . I love you , I thank you , I miss you."
On the day that the devastating news broke that Kobe had passed away, Shareef shared screenshots of his last exchange with Kobe, which occurred hours before he died. "You good fam?" Kobe's final message reads, which he sent to check in on Shareef after announcing he'd be leaving the UCLA Bruins. The 20-year-old replied, "Yeah! Just been getting this work in trying to figure out my next move…How you been?" Along with the screenshots, Shareef also posted a sweet throwback picture of Shaquille and Kobe from their Lakers days. 
Watch:
Shaq Remembers Kobe Bryant: "It's Always Gonna Hurt"
He wrote, "The first were messages from THIS MORNING!!! .. I wish I didn't sleep in so I could've talked to you .. I can't even think straight right now.. I'm glad we got to bond over the years .. not only were you a great uncle you were a coach and a mentor to me too .."
To conclude the emotional post, Shareef continued, "I love you man..thank you for everything you've done .. for this city , for the basketball world , and for me ... I won't let you down .. you always counted on me and lifted me up. Love you unc."