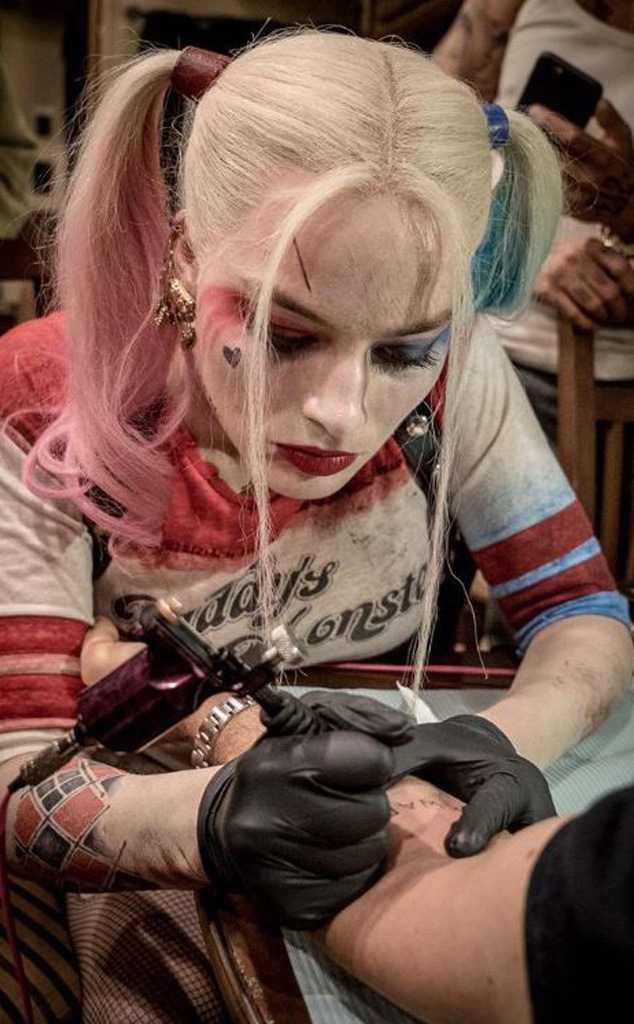 Twitter
Sorry, world. Margot Robbie's tattoo parlor is out of business.
During an appearance on Tuesday's The Tonight Show Starring Jimmy Fallon, the Once Upon A Time...In Hollywood star dished on why she hung up her tattoo gun for good after a "particularly bad" experience.
As the actress explained, she's not trained in the art, but she bought a tattoo gun on eBay. And during downtime on set of the first Suicide Squad, she would open up "Harley's Tattoo Parler Parlour" and would tattoo her co-workers with the word "SKWAD." The film's director David Ayer got one on his right forearm and tweeted the photo, which showed Robbie in her Harley Quinn costume mid-tattoo. 
Will Smith also tried his hand at the art, giving Joel Kinnaman some ink on his bicep. Jai Courtney got inked by Robbie, and don't worry, she got a "SKWAD" tattoo, as well!
As she told Jimmy Fallon, "Mine's on my foot, right here. I did my own one. But I've hung up the tattoo gun, yeah. I don't do it anymore. I had a few mishaps, and I thought I should quit."
And that's where the story got interesting.
As the Bombshell actress shared, "One of my good friends was getting married in Australia and had the hens—the bachelorette [party], as you would say—the night before. And of course, there was a lot of drinking, and then we're like, 'Oh, we'll get matching tattoos!' Because that's a great idea."
"I was tattooing my friend on her back," she continued, "and another friend had drawn it on in biro, like in pen, and then I tattooed it. And then when I showed her afterwards, she was like, 'Oh, I didn't know that's what I was getting.'"
Uh oh. That's definitely not what an amateur tattoo artist wants to hear just after they've finished creating some very permanent designs.
Unfortunately, Robbie didn't reveal what the design was, but as she went on, "I was like, 'Oh, God. What did you think you were getting?' She was like, 'Doesn't matter, I like it either way.' And I was lucky she was cool about it, but do you know who was not cool about it? Her mom, the next day at the wedding, when she walked down the aisle as one of the maids of honor in a backless dress and this red, raw, scabbing tattoo."
"And her mom was filthy with me," the 29-year-old added. "She, like, rassed at me at the wedding. She was so angry, and I thought, 'I really shouldn't do this anymore.' I don't know if Patricia's okay with it yet. I hung up the gun."
Watch:
Margot Robbie Talks Political Differences From "Bombshell" Character
There is one person should would do it for, though. As the 2020 Oscar nominee quipped, "Unless you want one, Jimmy, in which case I'll do it."
But alas, Fallon is not as brave as the Suicide Squad cast and Robbie's friend. "No, no, no. I don't have the guts," he declared.
Then an audience member shouted, "Do it!" As the host sarcastically replied, "Oh, okay."
Something tells us Fallon won't be debuting a "SKWAD" tattoo anytime soon.
(E! and NBC are both part of NBCUniversal.)