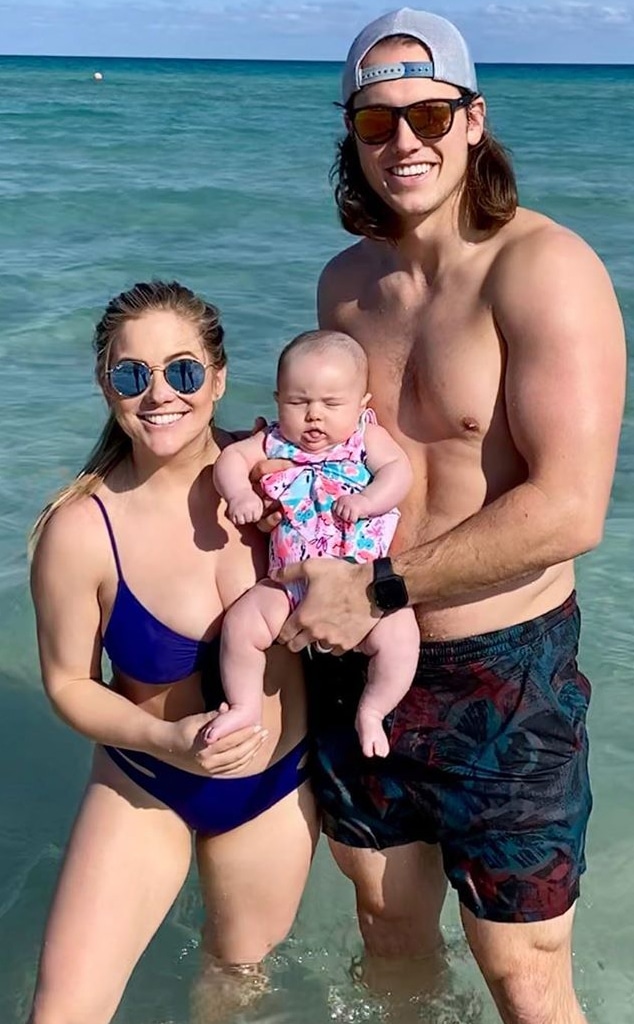 Instagram
Shawn Johnson has no time for mommy shamers.
The Olympic gymnast and husband Andrew East took their baby girl, Drew Hazel East, 3 months, on a vacation to Miami this weekend. And while relaxing on the beach, the little one reached an adorable milestone by doing her first flip (with the assistance of her mom, of course).
In the video, Johnson sits on her knees as she carefully and slowly turns her daughter (lovingly nicknamed "Roo") upside down, then back to right side up. East comes in at the end of the video and gives the 3-month-old a big kiss. Given that her mama is an expert at flipping, this is quite the adorable video.
As Johnson captioned the post, "Roo's first flip!! @drewhazeleast (she was PERFECTLY safe... so don't even haha) #momlife #milestone @andrewdeast."
But one Instagram user didn't think the baby was as safe as Johnson said.
"While she may have been perfectly safe, sometimes you are a bit rough handling such a young baby, and not making her warm enough when you take her out," they wrote in the comments section.
As they continued, "She needs at least socks if not shoes, as well, and hats."
Fans of the athlete came to Johnson's defense, telling the user to mind their own business. But Johnson gave her own response.
As she clapped back, "Are you holding her? Have you physically felt her sweat when she wears socks? Or felt her strength when she stands? Or seen her fuss until she stands up because she hates laying down. Nope. You haven't. I'm her mama. I know."
Outside of having to respond to online criticism, the family of three seems to have had a swell time at the beach! The proud parents (who also run an Instagram account for little Drew) posted a bunch of other videos from their vacation.
Watch:
Pregnant Shawn Johnson Talks Cravings & Picking Baby Names
In one of the too cute posts, the trio takes on the viral trend that is the #StandUpChallenge, and of course, they rocked it. In another, baby Drew is seen chilling in sunglasses and a bucket hat, and her parents can't get enough of it.
As Johnson wrote in the caption, "I want to be as cool as her. (also... why do I feel like she's already talking back and full of sass. Oh boy)."
Don't worry, Johnson. Your Olympic gold medal makes you very cool, indeed.