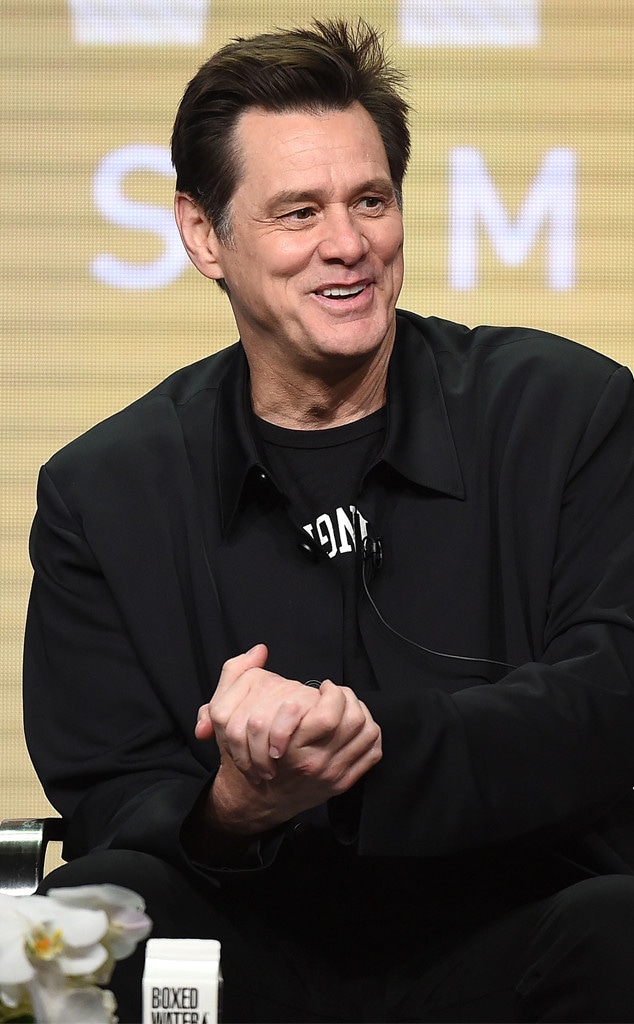 Frank Micelotta/Picturegroup/Shutterstock
Alrighty then!
On Tuesday, Jim Carrey paid a visit to Good Morning America and didn't hold anything back. After being introduced by host Michael Strahan, the funnyman showed the former athlete that he was happy to be in the GMA studio with a serenade. "Strahan," he sang in the tune of Foghat's "Slow Ride" while strumming his leg like a guitar. "Take it easy."
Then, before Strahan knew it, Carrey jumped out of his seat and pretended that he was about to snap a football. Looking at the anchor, he joked, "Come on, man. Let's see if you still got it," to which NFL alum replied, "I don't want it. I'm afraid. I don't, trust me."
Once back in his seat, Carrey interrupted Strahan's introduction by bringing up the Iowa Caucuses. Still in a joking mood, the Ace Ventura: Pet Detective star said, "I'm just glad it didn't turn into streptococcus. I'm glad about that."
After cracking a joke, he finally buckled down for the interview. While on the topic of his upcoming film Sonic The Hedgehog, Carrey shared that his role as villain Dr. Robotnik inspired him to play the beloved '90s video game with his 9-year-old grandson.
"We've been gaming together," he said. "But I'm not motivated to win, that's the trouble. He can beat me because I'm Robotnik and whenever I get the controls, I just throw that character down on the spikes immediately. I have no motivation to win whatsoever." 
But just like that, Carrey was out of his seat again after realizing that his microphone wasn't working. Instead of waiting for the audio team to switch out the mic, he leaned his face into Strahan's lapel to talk into his, which left the former New York Giants defensive lineman looking uncomfortable.
"I'll just talk like this. Let's watch the clip," he said mimicking Strahan. "I couldn't have said it better myself."
Following the clip, Strahan celebrated the Liar, Liar star's passionate fanbase, which launched the comedian into another crazy stunt. "I love them," he said to the crowd. "Especially this guy." After pointing to a child in the audience, Carrey got up and gave the young fan a handshake. Feeling the love, he began doing "The Wave" with the little boy. 
Watch:
Jim Carrey Enjoys Playing the Villain in "Sonic the Hedgehog"
As he wrapped up the interview, Strahan thanked Carrey for making their time together so memorable. "You're fun, man. I could do this all day long," he said as he shook the actor's hand. "I think we all could. I feel like I'm getting a private show." 
Trust us, you need to watch this one for yourself!
Sonic The Hedgehog hits theaters on February 14.