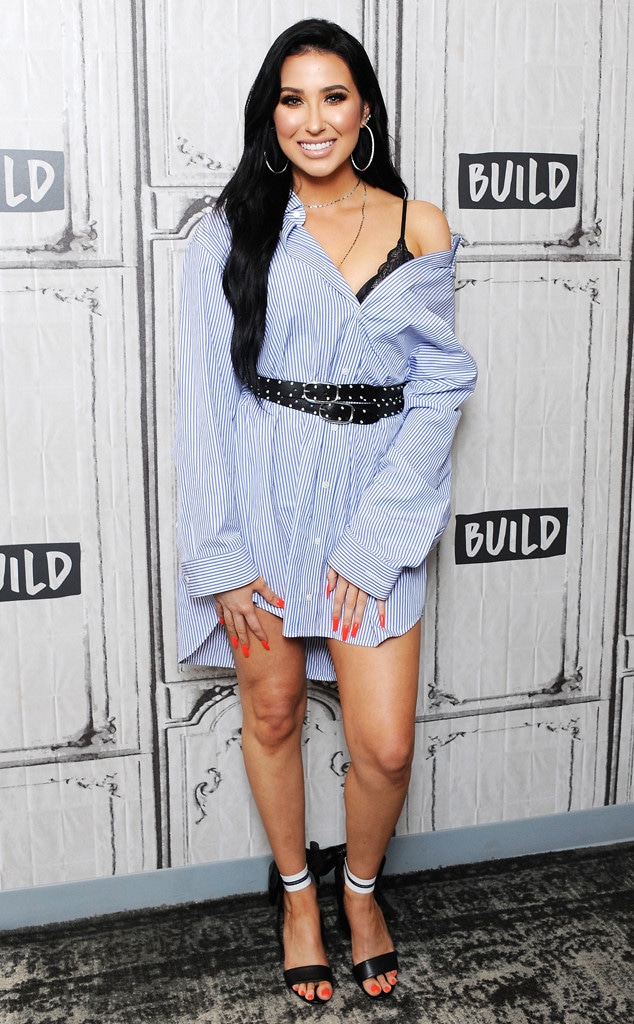 Desiree Navarro/WireImage
Jaclyn Hill is speaking out.
On Monday, the YouTuber opened up about the aftermath of her Jaclyn Cosmetics line debut in a vulnerable video, where she recalled self-medicating herself with alcohol because of the backlash she received following her failed lipstick launch in 2019. Addressing her recent four-month YouTube hiatus, the star got candid about her battle with anxiety and depression, noting that the negative comments she had been receiving from viewers were very triggering for her.
"I just have to say right now, I see the tweets and the comments all the time," Hill said in her confessional get ready with me video. "And if we're being totally transparent and honest with one another, yeah, filming gives me major anxiety now because I know that every single thing I do, people are, literally, going to go with a fine-toothed comb and a microscope and pick apart everything."
"I can't tell you how many times I sit down to film and press record and just cry, turn the camera off and leave the room," she continued. "And I'm like, 'I'll do this tomorrow. I'll do this later.'"
She added, "Because I just get triggered by it because I've gone through so many things. And I have made so many mistakes. That's another thing, is I feel like I can't ever talk about things openly because people are gonna be like, 'You're playing the victim. You're being a victim. Jaclyn 'Victim' Hill.'"
Expressing these feelings of being overwhelmed and discouraged by her community then helped Hill segue into her relationship with alcohol, which worsened as she struggled to cope as she navigated through one of YouTube's biggest scandals. 
"I was like, 'Oh, my god. Even my fellow peers, like, people I look up to, like, really genuinely are questioning my integrity right now,'" she said, explaining that she didn't know her Jaclyn Cosmetics lipstick had fuzzies on them. "At the end of the day, to cope with my anxiety and my depression, I turned to alcohol and started drinking to fix what I was feeling mentally."
"It was just dark and I turned to alcohol," Hill continued. "And so, when I would start to get anxiety, I just immediately, I'm like, 'Alright, um, I need a shot. I need a drink. I need a cocktail. Like, I need something.' Like I just numb it instead of using Xanax or Valium or an Ativan, or whatever prescription drug, I had been using alcohol to self-medicate."
Her excessive alcohol consumption led to changes in her weight and appearance, which then fueled more hateful comments on social media. "On days where I would be so filled with anxiety and I would drink more than other days, I would wake up in the morning and my face would be so swollen and my eyes would be so puffy and I would just cry," she recalled. "So, when people tell me, 'You're fat. Your face is swollen. You need to stop getting fillers.' It triggers me in a way, like, 'Oh, my God. I wouldn't look like this if I didn't make such poor decisions. I wouldn't look like this if I didn't hurt myself by self-medicating with alcohol.'"  
After detailing her struggle with alcohol, Hill revealed that she has been seeking treatment to overcome her self-medicating habit. In addition to trying different types of therapies, the famous YouTuber has also enlisted the help of a doctor to get her back on a healthier lifestyle.
She also took the opportunity to encourage her followers to spread some kindness whenever they can. "Those of you out there that have good thoughts, who see a picture and watch a YouTube video and think something positive, comment," she said. "Comment on anyone's video or picture or tweet that you like. Any positivity that you can bring into the world is so necessary. If you have anything nice to say, say it."
Hill added, "Because the people who have nasty things to say, they are proud to give their opinion and we should be too."