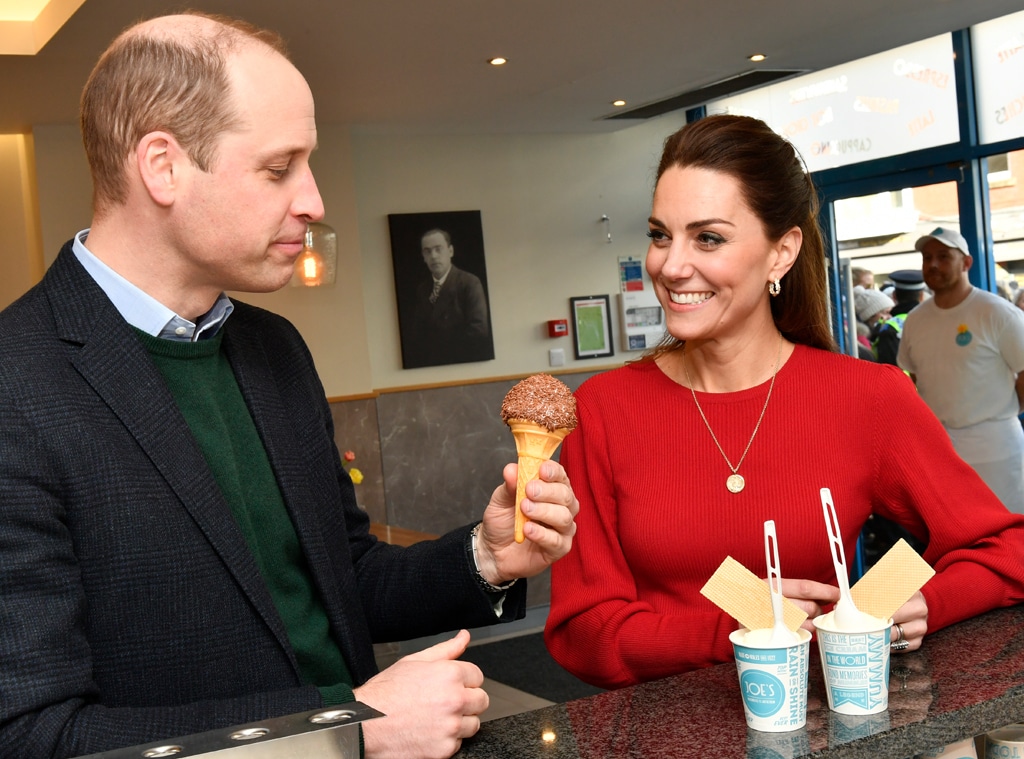 Arthur Edwards - WPA Pool/ Getty Images
I scream, you scream. We all scream for ice cream—even Prince William and Kate Middleton.
The Duke and Duchess of Cambridge enjoyed a sweet treat during their visit to South Wales on Tuesday. The royal couple stopped by Joe's Ice Cream in Mumbles for a few scoops. After William told managing director Adrian Hughes he likes chocolate, he was given two options: vanilla ice cream with chocolate sprinkles and chocolate ice cream with a wafer in a cup. As for Kate, she opted for the parlor's signature vanilla ice cream with a wafer in a dish. 
"They wanted to know what the secret was but we didn't divulge," Hughes said. 
The dynamic duo also spoke with local families. After William spotted a child reading Julia Donaldson's Room On The Broom, he said he reads the same book to Prince George, Princess Charlotte and Prince Louis "all the time."
Kate also had a mini-reunion and ran into two of her teachers from St. Andrews prep school: Denise Evans-Alford and Kevin Alford. Denise taught physical education while Kevin taught French and German. They taught her siblings, Pippa Middleton and James Middleton, as well.
"It's such a small world," Kate said after giving the instructors a hug.
This wasn't the only stop on the Cambridges' itinerary. Earlier in the day, William and Kate visited a lifeboat station, where they met volunteers. William also presented volunteer James Bolter with a medal to mark his 20 years of service. In addition, they spoke with Paul O'Dwyer, who was rescued by the crew last summer, and watched a lifeboat launch as part of a training exercise.
Later in the day, they stopped by the Tata Steel plant to learn about its role in U.K. manufacturing. They also visited the Bulldogs Boxing and Community Activities center, which aims to inspire children and promote personal development through boxing and fitness. Of course, they greeted several well-wishers throughout the day, too.
Kate wore a red Zara dress and Bianca double-breasted coat by Hobbs London for the outing. She accessorized her look with a blush and red heart scarf by Beulah London and the "Small Darley" bag by Mulberry. In addition, she sported a pair of Rhumba knee-high suede boots by Aquatalia.