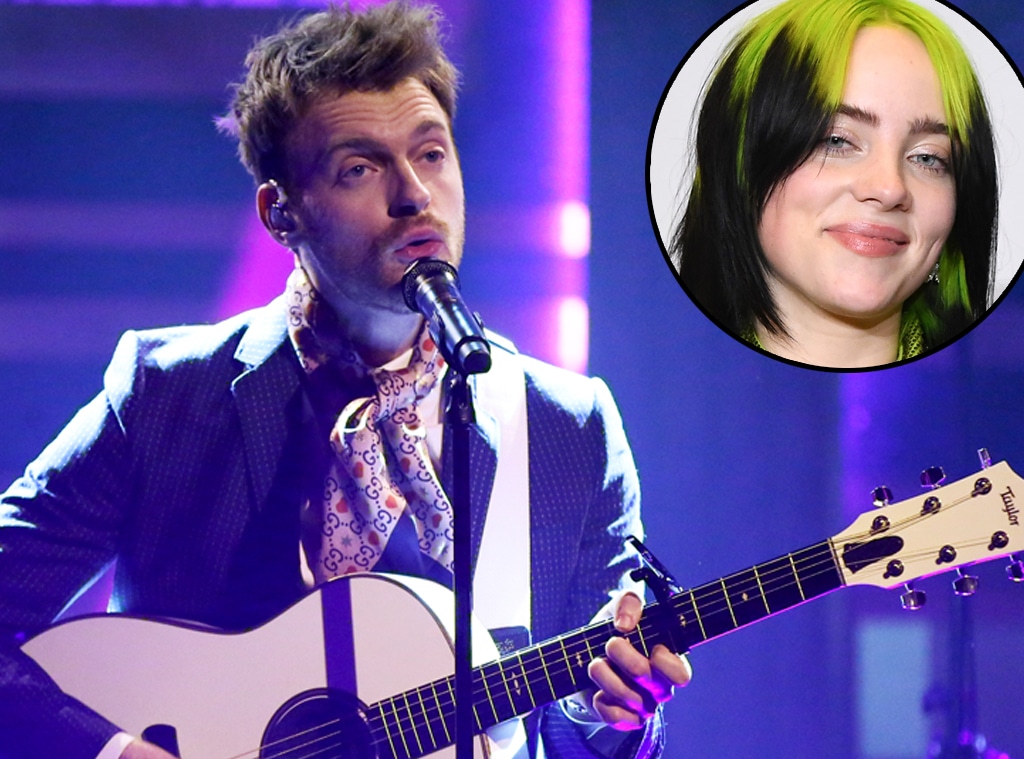 Andrew Lipovsky/NBC, Steve Granitz/WireImage
Finneas O'Connell is a musical genius, duh.
On Monday, Billie Eilish's older brother stopped by The Tonight Show Starring Jimmy Fallon, where the 22-year-old Grammy-winning producer and songwriter broke down his process for host Jimmy Fallon, revealing that the brother-sister duo loves to incorporate everyday sounds into their music.
"So, I'll walk around with—just an iPhone will work—but sometimes I'll bring, like, a little mobile recorder and I'll just, like, if hear an interesting sound, I'll just record it," he said. "And then later, I'll listen through them and I'll go like, 'I wonder how can I use that?'"
For Finneas, the method comes from wanting his music to have an original spin. "Well, I mean, because, like, computers and everything have gotten so much cheaper and accessible," he explained. "I feel like a lot of music producers have, like, the same toolbox. And I think, like, to me, as a producer, like, I want something to set my stuff apart."
Excited to give Jimmy an example of when his recordings made their way into a song, Finneas recalled an interesting one that Billie obtained from the dentist, which they incorporated into their song "Bury A Friend."
"We both have, like, Invisalign, like, dental teeth straighteners and she was at the dentist and they were, like grinding down…with that, like, horrible, like—whatever ASMR is, like, it's the opposite of that. Like, the most unpleasant," he said. "And so she came home from one of those appointments and was like, 'I recorded it!' And I was like, 'Great!' And we put it right in 'Bury A Friend.'"
With his laptop ready, Jimmy compared the original recording of the dental drilling tool to the song and was blown away. Looking through Finneas' sound catalog, he asked him explain some of the other recordings that found their way into the musicians' Grammy-winning album when we all fall asleep, where do we go?
For the entry labeled "crosswalk," Finneas shared that the sound came from the noise that played while pressing a crosswalk button in Australia. "That's just, every time you cross a street in Australia, you hear that," he told Jimmy. Then, he revealed that the rhythmic sound was later used in the chorus of their song "Bad Guy."
Jimmy wasn't the only person stunned by this revelation. After playing the chorus and hearing the crosswalk button sound play, the cameras caught The Roots' drummer Questlove with his jaw dropped.
Switching gears, Jimmy asked Finneas, who has written for musicians like Selena Gomez, Halsey, Camila Cabello and more, to explain his songwriting process and how he can tell which song should to the artists he's working with.
"Well, predominately, if I'm writing for another artist, I'm sitting there with them and we're writing it together," he said. "So, that kind of works itself out, right? 'Cuz they're in the room and we're talking about their lives." But when it comes to Billie, he shared that he'd give any song to his little sister because of how talented she is.
"Her voice just makes any song sound better to me," he gushed. "And so, if she wants a song, I'm like, 'Take it. It'll be better if you do it.' The only ones I really keep are ones where I'm like, 'This is like a diary entry.' It's so personal that, like, I feel like only I can sing it—even though, like, her voice would sound better on it, but it's the story of my life."
Before concluding the interview, Finneas teased the project that he and Billie just wrapped up: The James Bond theme song for No Time To Die. "I'm so excited," he dished, who then realized that he couldn't reveal too much. "One of the double-O agents is in the crowd and I get a hypodermic dart in my neck if I say anything…I can tell you something. It's great."
Watch:
Billie Eilish & Finneas Celebrate Early Grammy Wins
He did, however, say that fans can expect the new track soon. Dying to know the vibe of the song, the late night host treated the "Break My Heart Again" singer to some renditions of his favorite Bond theme songs. Impressed by his extensive knowledge of the tunes, Finneas joked, "They're gonna release a compilation album but it's gonna be only you."
No Time To Die hits theaters on April 10.
(E! and NBC are both part of the NBCUniversal family.)