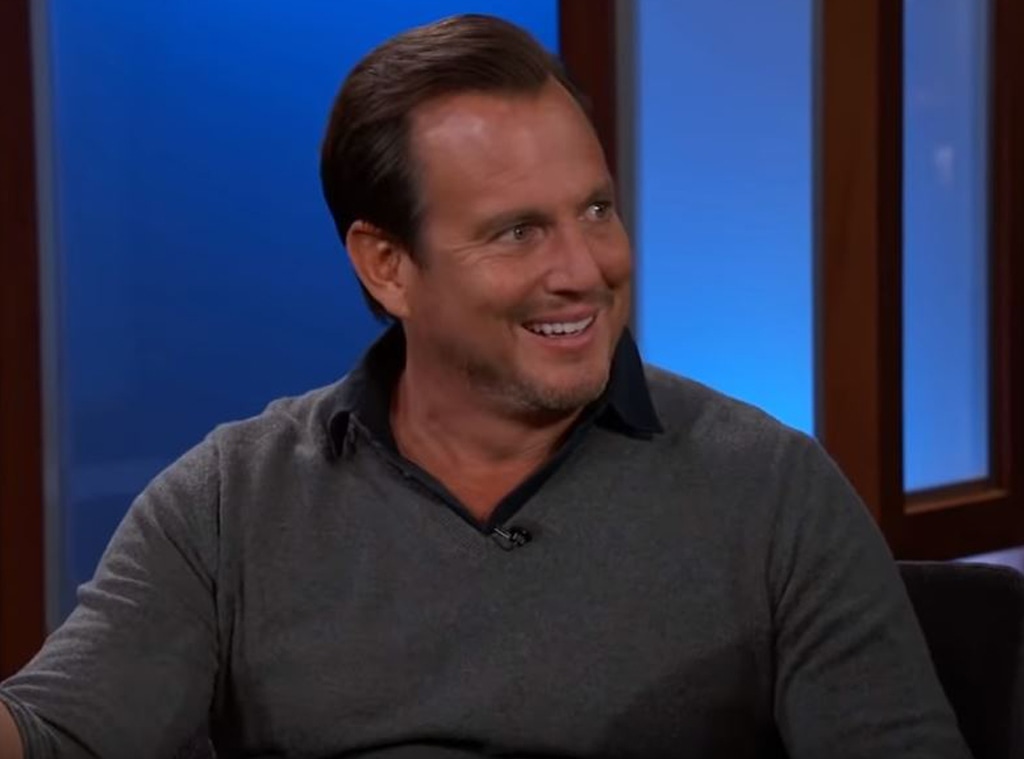 YouTube
Will Arnett and Jimmy Kimmel are good buds, so an appearance from the BoJack Horseman star on Jimmy Kimmel Live was bound to be hilarious.
And hilarious, it was, as the two stars trolled each other all throughout Arnett's appearance on Monday night's episode. The two went into, as Kimmel described it, "an inside joke hole," during which the Arrested Development alum dished on his house and his idea for a vape company.
As Kimmel teased, "Tell me about your Super Bowl experience yesterday in your prefabricated home." Giving his friend a devious grin, Arnett replied, "You never miss an opportunity."
As the host was beside himself with laughter, Arnett explained to the audience, "There are two things that get Jimmy, you ready? One is that I live in a prefabricated home that was built in a day. It kills him 'cause he knows it took three years. The other is that I was gonna start a vape company."
Here's how the kid-friendly vapes would work. "The angle," Arnett explained, "was it was gonna be not nicotine, 'cause that's bad for kids and I'm all about the kids. It was gonna be like, Vitamin C, Vitamin B flavor. You'd have it!"
As Kimmel joked, "So, in the morning, before the kids went to school, like, 'Don't forget to vape your Vitamin C!'"
Arnett, making fun of himself, then added, "It seemed like a good idea until it turned out the vapes were killing everybody."
Speaking of kids, The Lego Batman Movie actor later shared a story about his and Amy Poehler's two sons, Archie Arnett, 11, and Abel Arnett, 9, coming to the set of his new show, Lego Masters.
"There are no kid contestants on the show," he said, "but it was great because my kids came a lot, which was fun, 'cause we have 3 million pieces on set of Lego, so it's a dream just for an adult, too."
Teasing his pal some more, Kimmel chimed in, "Don't think it's passed me that you keep saying Lego instead of Legos. Is that the plural? Is that what they told you, you must refer to it as Lego? I almost feel like you're taunting me at this point."
As Arnett jokingly replied, "Told me? I just laid that trap for you. Oh, man. Oh, Kimmel."
Watch:
Will Arnett Predicts the Super Bowl
Circling back to his sons, the actor continued, "I'm wearing an earpiece in there as they're sort of talking to me. They're talking to a contestant, at which point I hear, 'Uh, Dad.' I'm like, 'Oh, my God.' And it's Archie who's in my ear, and I can't say anything 'cause this person's talking to me. And he goes, 'If you can hear me, move your left arm.'"
As he went on, "And then, he's like, 'Okay, now just nod. Now shake. Now shake, shake one more and switch your weight.' They yell cut, and I go up and I'm like, 'Hey man, when I'm talking to somebody, you can't be in my ear!' Very confusing."
Now, put away your Legos and check out the rest of the interview to hear the story of the father-son moment Arnett had with his own father when accepting his star on Canada's Walk of Fame.