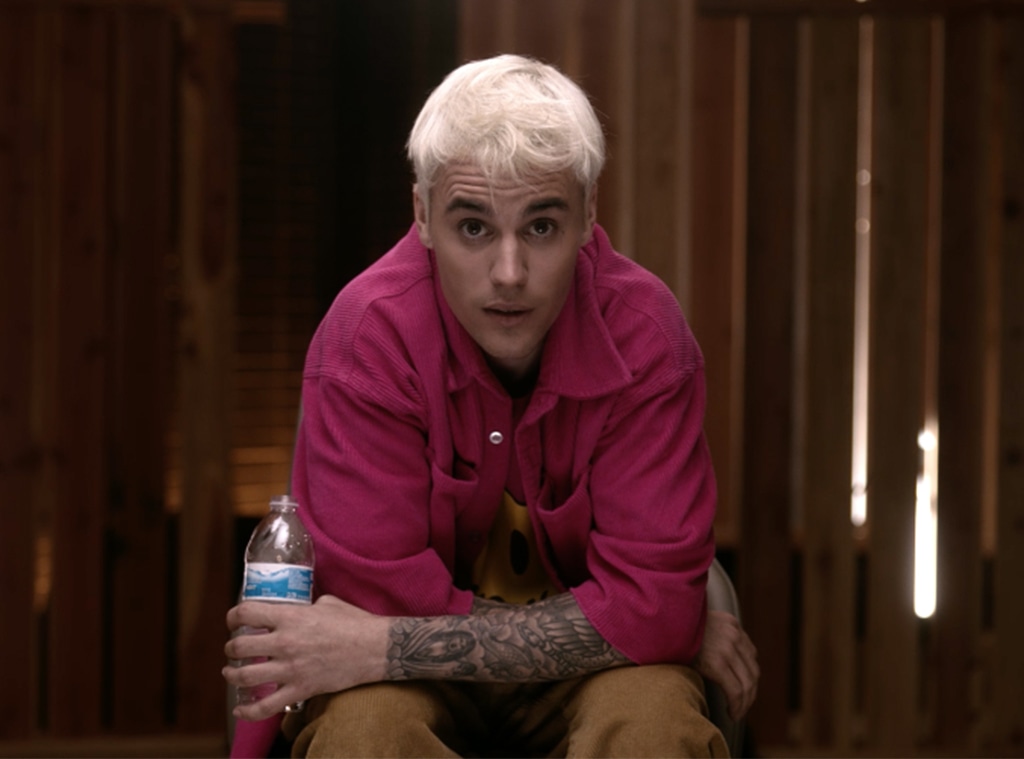 YouTube
Justin Bieber won't let his past become the blueprint for his future. 
The pop star appears alongside wife Hailey Bieber, manager Scooter Braun and several other members of his inner circle in the most revealing episode of his YouTube docu-series yet. Titled "The Dark Season," Justin speaks candidly about his journey to get sober and reclaim his mental, physical and spiritual health after years of turmoil. 
On Gradually Becoming Addicted to Drugs:
Bieber says he first smoked marijuana at 13-years-old, which he became "dependent" on through his teens. It eventually progressed to much more lethal substances, with the 25-year-old recalling, "There was a time when I was sipping lean, popping pills, doing Molly, shrooms, everything." He describes it as an "escape," explaining, "I was young, like everybody in the industry and people in the world who experiment and do normal, growing up things. But my experience was in front of cameras and I had a different level of exposure. I had a lot of money and a lot of things." 
On the Lasting Impact of His Troubled Childhood:
Looking back, Bieber blames his upbringing on the behavior he exhibited through 2013 and 2014, which involved multiple vandalism, assault and DUI arrests. "I started valuing the wrong things in this business, because there was things dangling in front of me," he says of that time in his life. "If I get this, I'll be happy. If I do this, I'll be happy. These are things that I think a lot of people with secure households learn at a young age. I never heard that security in a family. I never had that consistency. I never had the reliability and the accountability."
"My parents never gave me those tools to be a good team player," Bieber later remarks. 
On Reaching His Breaking Point and Reconnecting With Hailey: 
It wasn't until Bieber says he felt "like dying" that he decided to get clean. Recalling a particularly dire moment, he reveals, "My security would come into my room at night to check my pulse. People don't know how serious it got. It was legit crazy, scary. I was waking up in the morning and the first thing I was doing was popping pills and smoking a blunt and starting my day. It just got scary."
Hailey, who he married last year, didn't get involved in Justin's personal life "until he chose to get sober," she says. 
On Treating His Mental Health: 
Bieber's struggle with anxiety and depression isn't a new revelation, but the extent to which he's treating it may surprise some fans. In addition to taking anti-depressants, the singer relies on hyperbaric oxygen therapy to relieve stress. Bieber has an oxygen chamber that he uses both at home and at the recording studio. He also works closely with brain disorder specialist Dr. Daniel Amen, who is predominantly featured in the episode. 
On His Battle With Lyme Disease and Another Devastating Diagnosis: 
After suffering from decreased energy levels, Bieber says he underwent a series of extensive tests in 2019 that revealed he has Lyme disease and Epstein-barr, a virus linked to mono. Cameras follow Bieber as he undergoes NAD IV therapy, which has become a regular part of his regimen toward healing. "I'm committed to getting better and committed to doing whatever I have to do, whether it's inconvenient or not, because I know ultimately it's not only for me," he shares. "Being the best me is gonna help me be the best husband, the best father, the best friend that I can possibly be. And for all the fans that want to enjoy the music that I make. I can't do it if I'm not healthy. I haven't been healthy for a long time."
On His Message to Others Like Him:
Bieber understands he's not alone in his struggle. That's why he wants other to know, "Sometimes when life throws you things you can't control, your natural attitude is to be upset or to be disappointed or discouraged. When you fight through those feelings, that are just feelings at the end of the day, and you choose to put your effort into your work or into your passion… By just being here and forcing myself to get out of bed... It might not seem that hard to some people to get out of bed, but it's been really hard for me to get out of my bed. I know a lot of people feel that same way, so I just want to say you're not alone. There's people that are going through it with you. Life is worth living. If you're not gonna give up, the only thing to do is push forward."