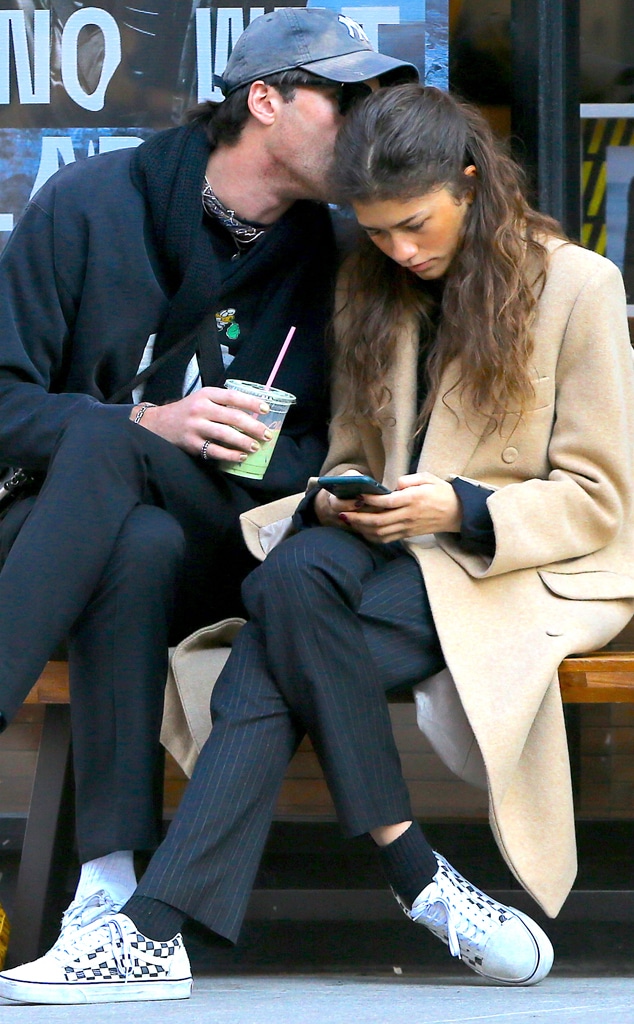 AbacaPress / SplashNews.com
More than friends? 
Rumored couple Zendaya and Jacob Elordi have been in denial about their possible romance for some time now. The pair has adamantly denied any speculation of being together, but new photos of the two feature them looking quite cozy together. The two were spotted spending time in the Big Apple together when paps snapped a pic of Jacob sweetly kissing the Euphoria star on the head. 
"They were showing each other things on their phones and laughing," an eyewitness told E! News. "She seemed to be really enjoy being with him. At one point he reached over and kissed her on the forehead. She had a big smile on her face and was very comfortable with them."
Later on during their afternoon outing, the source said Jacob snapped several photos of Zendaya with his camera. "They walked in sync and looked happy together. Zendaya couldn't help but break into a big smile from time to time. At the end of their date, Jacob hailed a cab for them and got the door for Zendaya. She hopped in and looked over at him with a big smile again," the eyewitness described.
At the end of January Zendaya presented Jacob with the Rising Star honor at the American Australian Association Arts Awards in New York and referred to him as her "best friend." Jacob has also squashed rumors of a romance, most recently in an interview with GQ where he called the star one of his closest friends. 
"She's super dope to work with," he told the magazine at the time. "She's an incredible artist and a very caring person to all of us. But we're all really close. There is not one weak link in that show. We've spent so much time together and everyone is just so cool to work with."
He also told the publication at the time, "She's like a sister to me." The pair work together on the hit HBO series Euphoria, but sparked romance rumors in Aug. 2019 after pictures of them vacationing together in Greece hit the internet. 
While pics together across the globe have continued to raise eyebrows, the two have stayed true to saying that they are just friends. Jacob even opened up further about their on set bond in an interview with The Hollywood Reporter. "We were like a tight-knit family," he shared. "We spent so many hours on set."
Both Zendaya and Jacob have kept pretty tight lipped in the past about their dating history, but one thing is for sure, they would definitely make a cute couple!