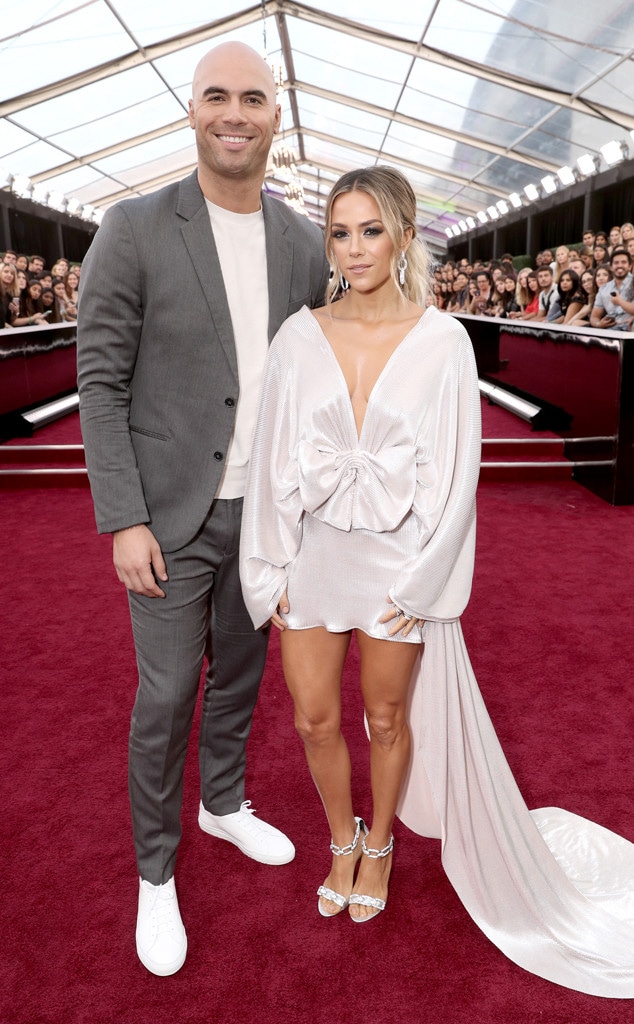 Todd Williamson/E! Entertainment/NBCU Photo Bank via Getty Images
Jana Kramer is shedding some light on her marriage to Mike Caussin.
In an all-new episode of iHeartRadio's Whine Down podcast, the country singer reunited with her husband for their first show together in more than a month.
And from the very beginning of the episode, the couple was ready to be honest and vulnerable about what has been going on in their lives.
"The fact of the matter is we are still two people with real life problems and we still reserve our right to privacy to a certain extent and its out choice to come out and share a lot of this with you," Mike explained. "This past month, we still have growing to do in our relationship together and both individually. For me, it was really a time to really dig into and face the facts of things that I could do better in my own recovery and growing as a person and growing as a husband."
The former NFL player continued, "I had to get real with myself and I had to realize that there are a lot of things in my life I'm not doing different and it feels at times that I'm going through the motion but even if I'm not relapsing or acting out or stepping outside of our marriage, if I'm still breaking boundaries or not being completely honest with things, how is that sober? How is that life changing? How is that living with integrity? It's not. We needed time to again grow individually and grow as a couple. We're not trying to dance around anything or withhold anything from our listeners."
Soon after, Jana would share some more perspective into what has happened in the past month.
"The reality is there was a boundary that was broken that was harmful for me because it was a discovery but again, it wasn't a physical acting out so that's why I'm very careful and I do want to protect you as well because I don't want people to think that it was a physical relapse but it was also such a big discovery with a boundary that was harmful to me in our relationship," she shared. "I've always said it's not about the act. It's about the lie. It's about the discovery because that brings me back to day one of the discovery."
Watch:
Jana Kramer Gets Real About Mom Challenges
At the start of the new year, fans started to speculate that the couple's marriage was struggling. Jana took to Instagram with a cryptic message that read, "2019. Ur coming to a very interesting end....and for now, all I have to say is... Time heals all wounds." She also reportedly removed (then added) the word "wife" on her Instagram bio. For the entire month of January, Mike was also not a co-host on the Whine Down podcast.
When taping today's new podcast, however, both parties expressed plenty of hope and optimism that better days are ahead. In fact, they are both involved in intensive therapy.
"It's just been a really heavy month," Jana shared while holding back tears. "It's the heaviness but it's all the gratefulness that we can still be sitting here conversating but it's also that fear too. That's been the hardest part of this month."
Jana shared, "I do feel hopeful with the tools that we've been learning but it's also very scary…I want so badly to move forward and to have that marriage that we've always talked about and to see the man that you say you're always going to be."
Listen to Jana and Mike's entire conversation on Whine Down wherever you stream your podcasts.