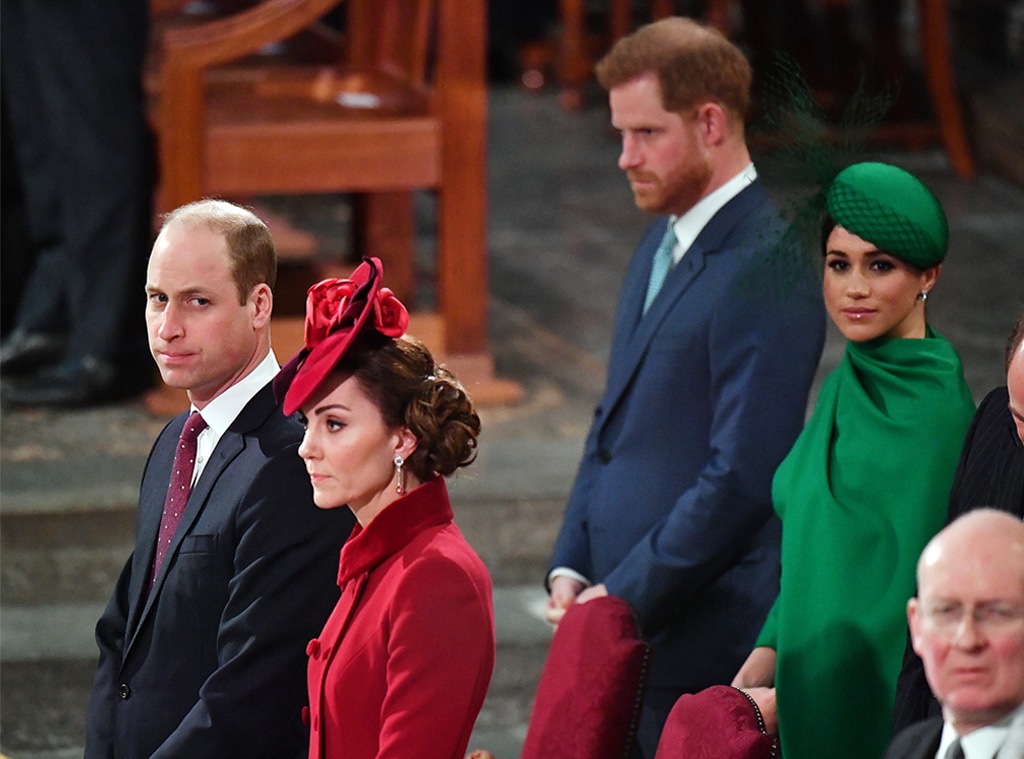 Phil Harris - WPA Pool/Getty Images
All eyes have been on Prince Harry and Meghan Markle since their bombshell announcement on Jan. 8 that they planned to split their time between Britain and North America and would be seeking financial independence while still representing Queen Elizabeth II, Harry's grandmum, on the world stage.
Though it wasn't news to the royal family that the Duke and Duchess of Sussex wanted to distance themselves, the queen didn't know the statement was going out on that day—and the palace's terse response, noting that these were complicated matters that were aaaccctually still being discussed, was another bombshell in its own right.
Harry and Meghan's flowery way of saying they were over it was immediately followed by an emergency meeting convened by the queen with Prince William and Prince Charles, who has long envisioned a more streamlined way of doing royal business as the monarchy heads into the future, but who also still wanted Harry to be an active member of the Firm.
Ten days after Buckingham Palace found itself in crisis mode, the deal was done, with Harry and Meghan no longer working royals at all because—as relayed by an uncharacterstically tender-sounding statement from the queen explaining the terms of her grandson's pivot to a more private life—it just doesn't work that way.
And with that, William and Kate Middleton were left to tote the weary load as the remaining full-time royals of their generation.
Not that you'd know from looking at the Duke and Duchess of Cambridge that there's anything wearying about what they've been asked to do, which is work overtime—not only by putting in more hours, but also by jam-packing their existing schedule with extra significance to communicate to the People that all will be fine. That, in fact, everything is fine already! 
And when Kate and William are just out there, doing their thing, everything does indeed seem fine.
But Meghan and Harry returned to London this month to make their final official appearances as royals ahead of their official March 31 exit from The Firm, including at the annual Commonwealth Day Service at Westminster Abbey—their first time out in public with Kate and William in months.
Body language experts had at it as Kate and William sat formally alongside Prince Charles, Duchess Camilla and the queen in the row ahead of Meghan and Harry and the Earl and Countess of Wessex. The seating arrangement was the same as last year's and mandated according to proximity to the throne, but any naked eye could see the Cambridges and the Sussexes talking to everyone else but each other.
"Possibly [Kate] was tired but she didn't look overjoyed," a source told Vanity Fair royal editor Katie Nicholl. "To be honest I think Kate has taken it all badly. She Harry and William were once such a happy trio, she thinks what has happened is all very sad."
"It's not been an easy few months for anybody," a royal source told People, meanwhile. But while moving forward into this next chapter is "bittersweet for Meghan and Harry," another source said, "Harry is looking straight ahead at his future with his family."
"He's not looking back," the source added.
Kate and William certainly haven't spoken publicly about the seismic shift in the royal family since they went back to work in 2020 after their holiday break, starting with a visit by both of them to Bradford Hall, in West Yorkshire, on Jan. 15.
Much was read into William's remarks that day when he talked about the importance of confronting challenges and doing everything possible to press forward amid the obstacles life throws at you.
"We just need to deal with them and we need to move forward rather than just be stuck in paralysis and pretend they don't happen," he advised.  
Pretty par for the course, really, considering the family's "never complain, never explain" motto that's historically been practiced from the top down, but at least it's perfectly good advice. William had also shared that he and Kate were making a point of getting out more often, to "see as many places in the U.K. we may not have been to very much, to try and understand some of the more complex challenges, some of the slightly more tucked away challenges, that people find hard to talk about."
Also in January, Kate made several stops in quick succession around Great Britain to meet with preschool-age children, teachers and care-givers, early education and childhood development being especially close to her heart and part of a long-term project she's embarking on to survey the quality of life of the nation's youngest residents.
TOBY MELVILLE/POOL/AFP via Getty Images
"I had a tiny, tiny baby in the middle of Anglesey," the mother of three recalled during a visit to a daycare center in Cardiff, Wales. "It was so isolated, so cut off. I didn't have any family around. William was still working with search and rescue doing night shifts. If only I'd had a center like this."
"As a parent, I know how much we cherish the future health and happiness of our children," Kate also said. "I want to hear the key issues affecting families and communities so I can focus my work on where it is needed most. My ambition is to provide lasting change for generations to come."
Her efforts also included her first-ever podcast interview, with Happy Mum Happy Baby host Giovanna Fletcher, an unprecedentedly candid, relatable mum-to-mum sit-down for the duchess.
Chris Jackson/Getty Images
"I didn't expect any of it, I've never heard her speak so openly before," Fletcher told Vanity Fair after the episode went live.
Kate and William also honored survivors at a service at Westminster's Central Hall on U.K. Holocaust Remembrance Day, which this year marked the 75th anniversary of the liberation of the Auschwitz death camp.
"The dust feels like it's settling and we're able to see—or at least notice—what other members of the royal family are up to," ABC News royal correspondent Omid Scobie noted on his podcast The HeirPod in late January.
Jonny Birch/BAFTA/Shutterstock
If anyone was going to get away with making light of royal family turmoil right in front of the royals themselves, it was going to be Brad Pitt. Though he did send Margot Robbie in at the moment of truth to deliver the punchline. 
"Oh, and he says that he is going to name this Harry 'cause he is really excited about bringing it back to the States with him—his words not mine!" Robbie said at the 2020 BAFTAs on Feb. 2, accepting Pitt's supporting actor honor for Once Upon a Time...in Hollywood in his absence. 
True story, that was written down and everything! And Prince William and Kate Middleton, who regularly attend the "British Oscars," had a good laugh.
Which must have felt nice, considering.
Though William and Kate have been the very picture of keeping calm and carrying on, their upper lips as stiff as the day is long, they are still just people, both of whom have been partially blamed for Harry and Meghan's ultimate inability to stomach the constant scrutiny and outright attacks on the duchess' character that prompted them to move across the Atlantic.
In fact, much has been said about the perceived lack of support from all corners of the most prominent royals when the going got especially rough for Meghan and Harry. Just how rough came into focus when the couple talked to friend and journalist Tom Bradby for an ITV special while they were in Africa in October, and Meghan said out loud that her friends had warned her before she married Harry that the British tabloids would ruin her life, and that, yes, she thought the press had treated her unfairly.
Even more heartbreaking was Harry's admission that photographers' flashes going off in his face still reminded him of his late mother, Princess Diana, who was being tailed by paparazzi when the car she was riding in smashed into a pillar in Paris' Pont de l'Alma tunnel in 1997—and some paps kept snapping away at the wreckage.
William and Kate were said to be very concerned about Harry and Meghan's well-being. But at the same time, some wondered why the Cambridges weren't doing more publicly to support the Sussexes.
By the time Meghan and Harry decided that they'd take a six-week break from their lives and spend Christmas elsewhere than with the queen at Sandringham (Kate and William have done it before, but not while such turmoil was brewing), it certainly seemed as if something would have to give.
And it did. After a pleasant holiday on Vancouver Island, Meghan only briefly returned to England with Harry and they didn't even bring son Archie with them. Upon her return to Canada, Meghan was all smiles in a photograph of her taking a walk with their two dogs and her son snuggled in his carrier. Alas, apparently the photos were surreptitiously taken by a fellow hidden in the bushes, so that was bad... but she did look happy. As did Harry when he landed at the local airport a few days later.
Both sad and funny at the same time, seemingly every report about what Meghan and Harry are up to since the initial leg of their move (they haven't picked a place to semi-permanently live just yet) has completely missed the mark, whether it was that Meghan would be giving her first post-Megxit interview to Ellen DeGeneres and participating in a reality show with her best friend, or that the Obamas were advising the couple on their next move. 
No, no and no.
Back in England, Kate and William haven't missed a beat publicly, though they obviously have feelings about the matter.
"I've put my arm around my brother all our lives and I can't do that any more; we're separate entities," William told a friend while Harry and Meghan's exit package was under discussion, as reported by the Sunday Times. "I'm sad about that. All we can do, and all I can do, is try and support them and hope that the time comes when we're all singing from the same page. I want everyone to play on the team."
At the same time, he expressed hope that he and his younger brother would be "singing from the same song sheet" again soon.
Reports were quick to relay that Kate had not reached out to Meghan amid all this drama, the two never having been exceptionally close, though always seemingly perfectly cordial. But a source told Us Weekly that the Duchess of Cambridge was missing her brother-in-law, always having had a special place in her heart for Harry since before she and William were married.
"She wishes she could speak to Harry," the insider said. "She misses him and fears she'll never be close to him again."
"This is not how they wanted to handle this, but Meghan and Harry's hand was forced," a friend of the couple told People in January. "There is so much bad blood in that family—it's toxic."
The source added, "If relationships had been better, things would have been different."
Andrew Matthews/AP/Shutterstock
William, who is second in line to the throne, always knew that, between he and Harry, the onus would be on him to keep the monarchy's engine purring. But once Harry made the not always given decision to be a full-time royal after he got out of the army, William figured that Harry would play a certain role in the ongoing modernization of the storied institution known as the royal family. He probably didn't guess when Harry was about to marry Meghan that their ranks would be down two instead of up one so quickly.
"They'll always love each other as brothers, but right now things have never been so bad," a source told The Sun. "William feels betrayed and let down by Harry."
On the other hand, "Harry feels like William and Kate never gave Meghan a chance. And now they're leaving the country in this state."
There's pretty much no one comparable as far as popularity, crowd appeal and energy level to help shoulder what William and Kate need to do. The queen is 93 and has been steadily streamlining her schedule and re-distributing her patronages for years. Her children Charles and Princess Anne are full-timers, but they're 71 and 69.
Royal watchers have always liked William's cousins Princess Beatrice and Princess Eugenie, and over the years they've been welcome surrogates for the family while also having jobs in the private sector. Even more impressive, they'd always managed not to be tainted by scandal, despite their parents Prince Andrew and Sarah Ferguson's best efforts to top all comers in the scandal department.  
David M. Benett/Dave Benett/Getty Images for Animal Ball
But in November, Andrew had no choice but to step down from his royal responsibilities in the wake of his tone-deaf interview with the BBC about his association with convicted sex offender Jeffrey Epstein, who died in an apparent suicide in August while in jail awaiting trial on sex-trafficking charges. Since then, the renewed disgust (it may have been a new interview but it was about years-old mistakes) with Andrew has kept Beatrice and Eugenie from engaging in much public life lately.
Eugenie even took a two-month break from social media. Her first Instagram post since before her father's troubles blew up came on Jan. 22, a photo with husband Jack Brooksbank to mark the two-year anniversary of their engagement.
A New York prosecutor's assertion that Andrew has not cooperated with the FBI's requests to talk to him, despite the Duke of York's public statement in November in which he said he'd cooperate with authorities, have not helped matters.
In her annual Christmas speech, the queen alluded to recent disturbances in their ranks, noting that "the path, of course, is not always smooth, and may at times this year have felt quite bumpy, but small steps can make a world of difference."
Once again, a statement that can be as personal or as practical as you want it to be.
Since her subjects have become accustomed to a certain degree of distance between the queen's actual life and the image she projects, it was all the more stunning when, in clarifying what would be happening with Harry and Meghan last month, she said what for her are deeply personal things, such as "my family and I," with regard to their collective support.
"Although we would have preferred them to remain full-time working Members of the Royal Family, we respect and understand their wish to live a more independent life as a family while remaining a valued part of my family," her statement read. 
Now that is a royal "we."
Anthony Harvey/BAFTA/Shutterstock
To everything a season, and royal watchers guessed that the attention pendulum will swing back toward Kate and William now that Harry and Meghan won't be as available for a public picking-over as they were as working royals.
"I do think the Cambridges will have a new moment in the spotlight," guessed royal expert Juliet Rieden on The HeirPod with Scobie.
At least in Rieden's native Australia, she meant, though it seems a safe bet that the U.K. will follow suit.
"It has started happening already," she shared. "Certainly the Duchess of Cambridge is very popular here in Australia. You see her in the headlines, a lot, in a very positive way. There haven't been any negative things to say about the Duchess of Cambridge."
Which does make public life easier, doesn't it?
Chris Jackson - WPA Pool/Getty Images
It's disconcerting to think that Harry and Meghan's decision, borne of the feeling that they had no other choice but to move in order to give their son the best life possible and protect their own emotional well-being, will have no effect whatsoever.
Alas, Scobie predicts that once the Sussexes are back at work—whatever that ultimately looks like—"whether people want it or not, the tabloids are going to pit them against [the Cambridges], and it's going to be a constant conversation about who's overshadowing who."
So traditionalists can rest assured that at least one thing may go back to being exactly as it was before.
(Originally published Feb. 4, 2020, at 3 a.m. PT)