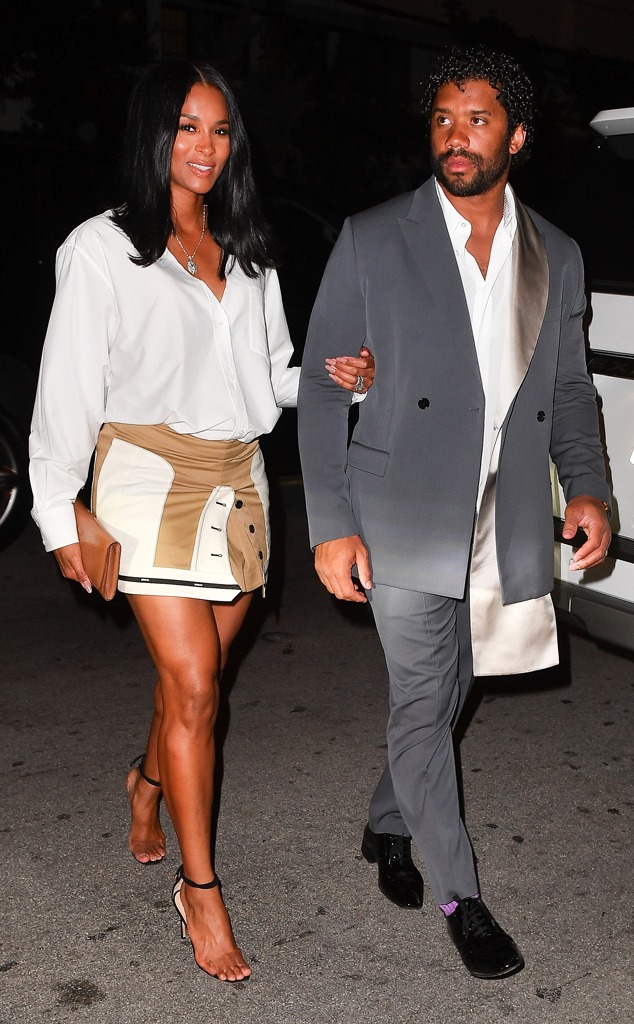 Robert O'Neil / SplashNews.com
There were only two numbers Ciara and Russell Wilson were rocking at the 2020 Super Bowl: Kobe Bryant's numbers. 
A week after the iconic athlete died in a helicopter crash at 41 years old, the superstar pair headed to Miami, where they proudly sported the former Los Angeles Lakers player's two famous numbers at the annual game. 
In snaps shared on social media, you can see the songstress and her Seattle Seahawks quarterback husband donning Lakers jerseys with 24 and 8 on them. In some of the shots, you can also see the performer's growing baby bump. Just days earlier, the pair announced they have another baby on the way. The two are parents to 2-year-old daughter Sienna, as well as 5-year-old Future, who Ciara welcomed with ex Future. 
After news broke of the helicopter crash, which took the lives of Bryant, his 13-year-old daughter Gianna and seven others, Ciara took to social media. 
"This news is heartbreaking. I am lost for words," she wrote. "Praying for @VanessaBryant, the Bryant family, and other families that have lost someone. Rest In Paradise Kobe and Gianna."
"You were one of my greatest inspirations," Wilson wrote over on his page. "You will forever be missed. #RIP Kobe and Gianna. #MambaMentality."
While the event was for football, the late basketball legend was not far from everyone's mind. Ahead of kickoff, a moment of silence was held in honor of all the victims of the crash and an image of Bryant and his daughter was displayed along with the names of those lost. In further tribute, the competing Kansas City Chiefs and the San Francisco 49ers teams lined up on the 24-yard lines, a nod to Bryant's iconic number. 
During Jennifer Lopez and Shakira's halftime show, a cross lit up in purple and yellow, the colors of his longtime team. 
As Lopez said during a press conference ahead of the game, "I think it's affecting everybody so much because it's just reminding us again how fragile life is and how we have to appreciate every single moment and how we have to love people when they're here and not wait."