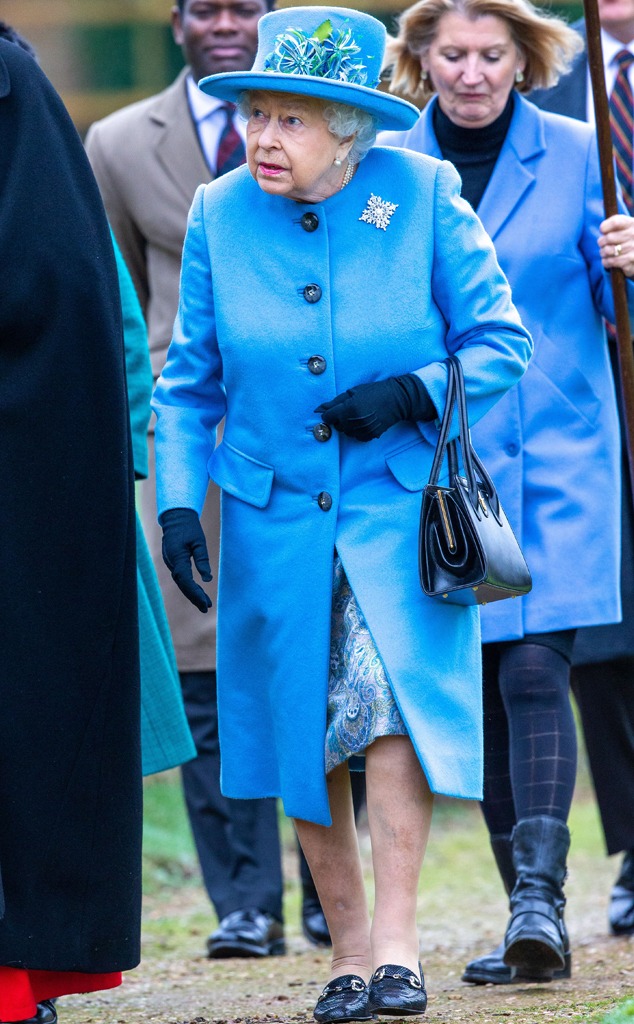 Geoff Robinson/Shutterstock
No hard feelings here!
Over the weekend, Queen Elizabeth proved that she and her grandson Prince Harry are still on good terms following his and Meghan Markle's royal exit last month. Paying tribute to the soon-to-be former Duke and Duchess of Sussex, Her Majesty donned a Canadian snowflake brooch as she attended a morning service at Sandringham.
While this special piece of jewelry was gifted to her by former Canadian Governor General David Johnston in 2017, her decision to wear it in the wake of Harry and Meghan's unprecedented decision to step back from their royal duties appears to be a touching and subtle nod to the couple.
This isn't the first time that Queen Elizabeth has expressed her well wishes to the new parents. After meeting with Harry, Prince William and Prince Charles to create "workable solutions" for the 35-year-old as he transitions his new role outside of the royal family, she issued a statement and laid out the new royal framework.
"Today my family had very constructive discussions on the future of my grandson and his family," she said in a statement back in January. "My family and I are entirely supportive of Harry and Meghan's desire to create a new life as a young family."
Her statement continued, "Although we would have preferred them to remain full-time working Members of the Royal Family, we respect and understand their wish to live a more independent life as a family while remaining a valued part of my family."
Part of the new game plan also included a new title for William, who is now the Lord High Commissioner to the General Assembly of the Church of Scotland. According to the Royal U.K. website, "The Lord High Commissioner's role is to maintain the relationship between the State and the Church, and a long-standing tradition of appointing a Lord High Commissioner originated in the latter part of the 16th Century."
Watch:
Queen Elizabeth II Finalizes Split, Harry & Meghan Will Lose HRH Titles
Like his grandmother, William also showed that there are no signs of tension between him and his brother at the 2020 BAFTAs. After Margot Robbie made a #Megxit reference while accepting the award for Best Supporting Actor on Brad Pitt's behalf, the Duke, who was also joined by Kate Middleton, appeared in good spirits.
Margot said, "Oh, and he says, um, he is going to name this Harry 'cuz he is really excited about bringing this back to the States with him…His words not mine!"
Brad's joke was then met with a roar of laughter from the crowd, including the Duke and Duchess. Cameras panned over to William and Kate and showed them  laughing and giving the actress a round of applause.