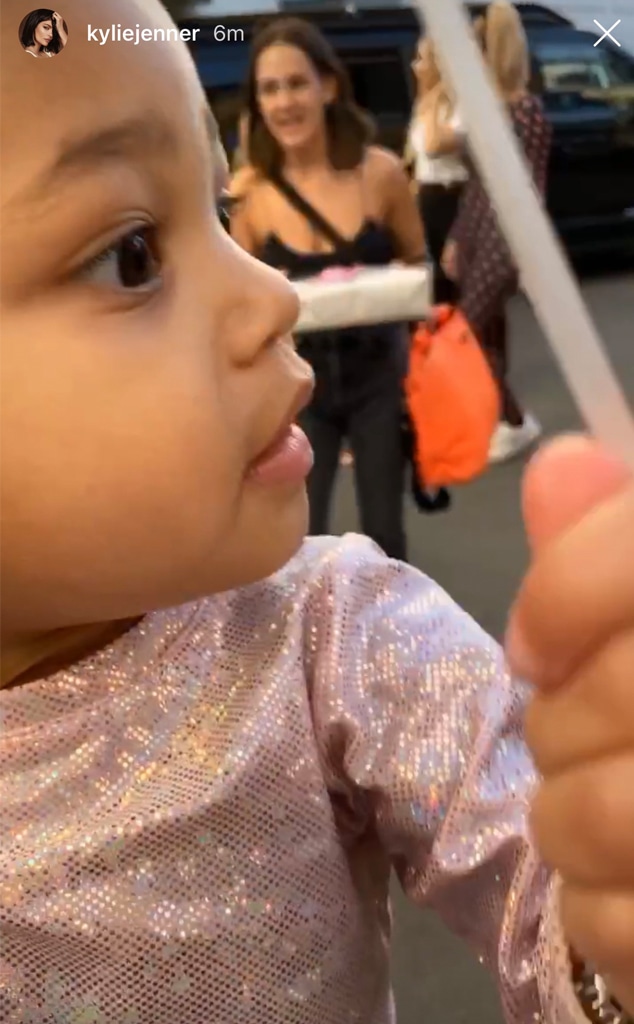 Kylie Jenner/Instagram
Stormi Webster's celebrating another trip around the sun with the most lavish birthday celebration. 
Kylie Jenner and Travis Scott are celebrating their little one's birthday with another Stormi World -themed party! It's safe to say that Stormi World might now be an annual tradition, which is also a direct homage to her father's album, ASTROWORLD. 
Last year, Kylie went all out for her daughter's birthday for her first Stormi world party. This year, she's turning it up a notch. 
On Saturday afternoon, Kylie took to Instagram Stories to share an inside look at Stormi World 2, where her 2-year-old daughter and her friends will get the chance to explore three themes: Trolls World, Frozen World and Stormi World. 
And because Disneyland works hard, but Kylie works harder, Stormi's mommy even had customized maps made so party-goers don't get lost. 
Ahead of the birthday party, Kylie shared a picture on Instagram Stories of birthday presents all wrapped up and ready for her baby girl, writing, "I can't wait for my baby to wake up in the AM." But it looks like the biggest and most exciting present of all was this party. 
Earlier this morning, the 22-year-old beauty mogul took to Instagram to share a sweet and touching birthday tribute to her daughter on her special day. 
In a post, alongside a series of pics of the baby girl throughout the years, Kylie wrote, "And just like that she's two, happy birthday to my Stormi. "February 1st 4:43pm the moment my life changed forever. We were meant for each other stormiloo."
Of course, the queen of birthday posts and captions, Kris Jenner, also shared a sweet birthday message to her granddaughter. 
"Happy second birthday to my beautiful precious Stormi," she wrote on Instagram. "You are such a bright light and so full of joy and song. Your smile and energy light up a room... I cherish every moment we spend together, what a huge blessing you are!! You are such a huge part of my heart and I love you to the moon and back!!!!! Xoxo Lovey. #HappyBirthdayStormi."
It's safe to say Stormi is having a jam-packed week of birthday celebrations. Last weekend, Kylie and her sisters took to Instagram to share pics from the beautiful butterfly themed party that was meant to not only celebrate Stormi but also the Kylie Cosmetics Stormi Collection.
Then earlier this week, Kylie and Travis reunited to celebrate Stormi's birthday at Disney World in Orlando, Fa. Fans also spotted Kourtney Kardashian, Kris, Corey Gamble, North West and Penelope Disick taking in all the Disney magic. 
Before the festivities began, Kylie took to Instagram to share a video of herself dressed in a pink sparkling outfit, with a butterfly crown filter, writing, "Take us to StormiWorld, please."
Then in her Instagram Stories, she began sharing videos of her, Stormi and her friend Stassie Karanikolaou on their way to Stormi World. 
"Wanna go inside?," Kylie said in another video after Stormi gestured to wanting to go into her party. Can you blame her? It's her party, after all!
Pointing to the customized maps of Stormi World, Kylie asked, "Where should we go first?" We can only assume Stormi chose to go into Trolls World first. After all, we've seen Stormi's obsession with the movie play out on social media.
After they made their way through Trolls World, the trio stepped into Frozen World—that looked straight out of the Disney movie. 
We can't wait to see what fun Stormi and the rest of her cousins get into once they arrive! 
Watch:
Kylie Jenner Shares Stormi's Seriously Impressive Snowboarding Skills