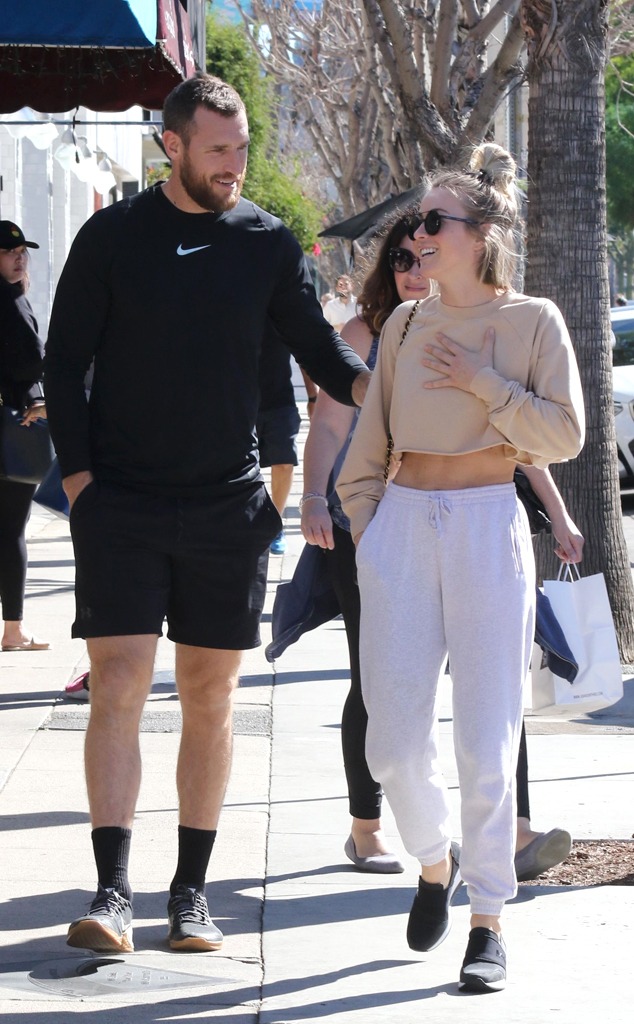 Phamous / BACKGRID
As the saying goes: Brunch is always a good idea!
On Saturday morning, Julianne Hough and Brooks Laich enjoyed a brunch date at the celebrity hot-spot, Joan's on Third. For their low-key outing, the two kept things casual and simple with their fashion.
The 31-year-old actress slipped into a beige long-sleeve crop top that she paired with off-white joggers, black sneakers and large sunglasses. She opted for a fresh-faced look and appeared to have little-to-no makeup on. Her hair also looked chic, as she sported a messy top-knot hairstyle.
As for the 36-year-old hockey player? He donned a black long-sleeve Nike shirt, matching shorts and sneakers.
If anything, the celebrity pair seemed to be in good spirits as photographers captured the duo looking playful, smiling and laughing with each other during their morning hangout.
"Julianne and Brooks had a casual breakfast. They sat outside and ordered breakfast," a source told E! News of their outing. "Julianne was sipping on tea and water and seemed to be under the weather."
The source added, "They talked quietly over breakfast and stayed very focused on one another and their conversation. They smiled and laughed at each other, [and] they seemed very happy together."
As some fans of the couple might know, the two have sparked marriage troubles in recent weeks.
While the pair has yet to address or acknowledge rumors about their marriage, a source previously told E! News there's still "a lot of love and kindness" between them.
"Julianne and Brooks care a great deal about each other," an insider recently shared. "They are navigating through the up and downs of this relationship together. They prefer to deal any issues privately because they share many friends and family and they wouldn't want to involve them in their relationship challenges."
The insider added, "Brooks is still very much a part of Julianne's family and regularly spends time with [her brother] Derek."
A separate source shared similar sentiments about their relationship.
Apparently, the former Dancing With the Stars judge "isn't sure" married life is for her.
"Brooks still has hope and thinks they can get through it," the source shared. "They just want to work on this privately before making any final decisions."
Additionally, the couple has each posted cryptic message about love and romance amid speculation on their marriage.
"My new motto," Brooks began his Instagram post in mid-January, "But first, happiness."
"Lately I've been re-assessing many things in my life, and one of the most important things I've been looking at is how I spend my time every day," he continued. "I'm redefining my priorities and putting happiness at the forefront. I'm making changes to my daily routine and prioritizing the things that bring me the most joy. Everything else lines up behind those."
The professional hockey player said he started implementing his "new approach" and admitted he was "absolutely loving it" so far.
"I'm gonna play with it some more, dial it in, and then share with you what my day looks like," he said. "I'm sharing this with you to encourage you to assess your life, how you are spending your time, and what you are prioritizing daily. Do you wake up with a 'to-do' list every morning, or do you wake up and do things that bring you complete and utter happiness?"
Additionally, Julianne shared her own message earlier this week.
"To love someone long-term is to attend a thousand funerals of the people they used to be. The people they're too exhausted to be any longer. The people they don't recognize inside themselves anymore. The people they grew out of, the people they never ended up growing into," a quote read on her Instagram Stories. "We so badly want the people we love to get their spark back when it burns out; to become speedily found when they are lost."
"But it is not our job to hold anyone accountable to the people they used to be. It is our job to travel with them between each version to honor what emerges along the way," the message continued. "Sometimes it will be an even more luminescent flame. Sometimes it will be a flicker that disappears and temporarily floods the room with a perfect and necessary darkness."