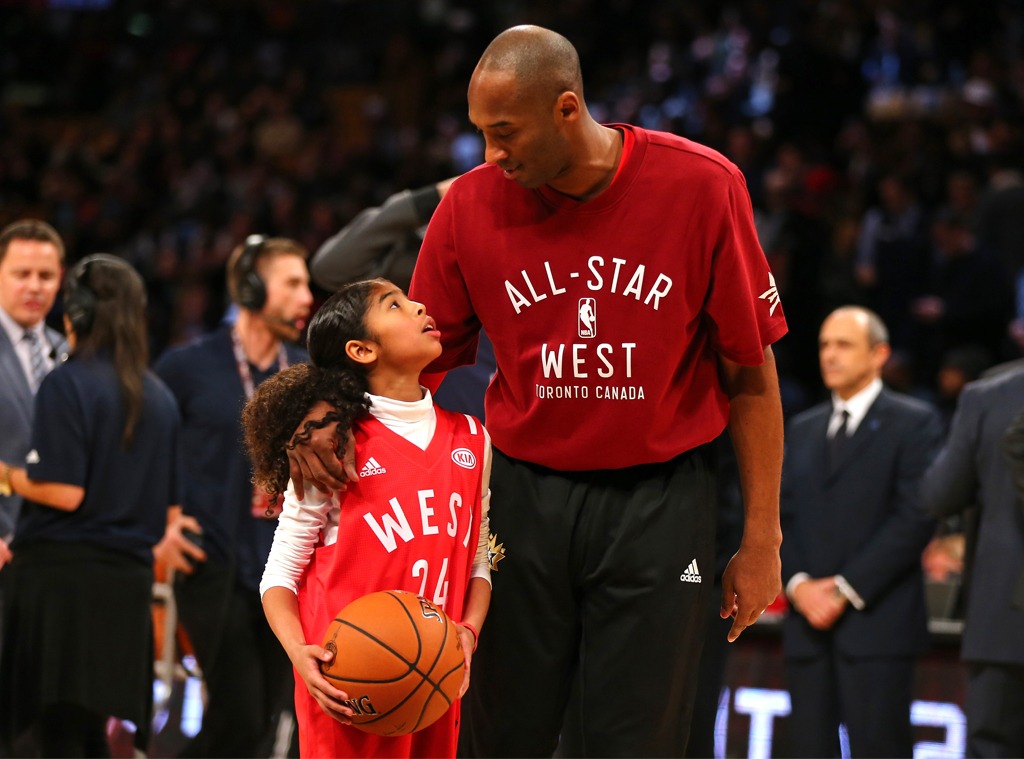 Elsa/Getty Images
The NBA plans to carry on Kobe Bryant and his daughter, Gianna's, legacy. 
On Friday afternoon, the organization announced they will be making a joint donation of $100,000 with the National Basketball Player Association to the MambaOnThree Foundation. 
In addition, the NBA, NBPA and Nike revealed they will be honoring Gianna and Kobe by featuring their respective jersey numbers, 2 and 24, on the All-Star uniforms. "In addition, both teams will wear jersey patches displaying nine stars, representing those who lost their lives in the crash, including John, Keri and Alyssa Altobelli, Sarah and Payton Chester, Christina Mauser and Ara Zobayan," they shared. "The players will be wear the jerseys during the NBA All-Star Game at the United Center in Chicago on Sunday, Feb. 16 at 8 p.m. ET." 
The patches will also be worn during the NBA Rising Stars event on Friday, Feb. 14 and the State Farm All-Star Saturday Night participants competing in the Taco Bell Skills Challenge, MTN DEW 3-Point Contest and and AT&T Slam Dunk events on Saturday, Feb. 15.
This is just one of the many ways the nine victims are being honored. From heartfelt tributes to the creation of foundations, people across the country are doing everything in their power to make the best of this tragedy. 
There are numerous ways for fans to get involved too. People can donate to The MambaOnThree foundation, which was created with the sole intention of providing support to the loved ones of the seven other victims of the helicopter crash. For those wishing to donate to further Kobe's work with young athletes, there's the Mamba Sports Foundation, which was founded by Kobe in 2018 as part of his desire to support under-served communities and athletes. 
Just this Friday, the Mamba Academy was reopened to its athletes and the public. They announced on Instagram, "Our hearts are heavy. Our head is heavy. It is our duty, though, to continue our mission—Kobe's mission—to help the next generation of athletes and leaders achieve their full potential. And, with your help, we're going to do just that."
Meanwhile, there will be a pre-game tribute to all nine victims on Friday night, but the Staples Center kindly requests all fans stay home to watch as it will not be shown on the L.A. Live or Staples Center screens.